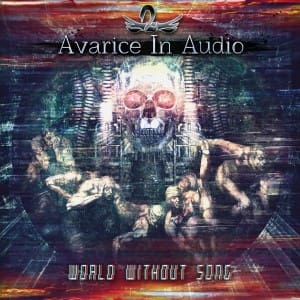 The Avarice In Audio trio – featuring Studio-X frontman Lawrie Bayldon on production and music – returns with a brand new EP, "World Without Song". The EP is announcing their new album which is scheduled for an early Spring 2016 release and which is titled "Apollo & Dionysus".
The dark electro club title track was penned by Gerry Hawkins and Chris Anderson (formerly of Dream Recall) and was produced together with Ascension Ex.
You can listen to a few tracks below.
Next to the title song you get remixes by Acylum, Crowns Of Bone, Seraphim System, Axiom and Benjamin's Plague. Also included is a B-side song, exclusive to this single titled "Last Judgement".
The EP is available via Bandcamp. You get 2 tracks now, plus the complete EP when it's released on 25 September 2015, that in 2 days from now.