'Click Interview' with K.I.F.O.T.H.: 'The Album Is Written In Journalistic Style And With A View To Processing The Summary Report On The State Of The World'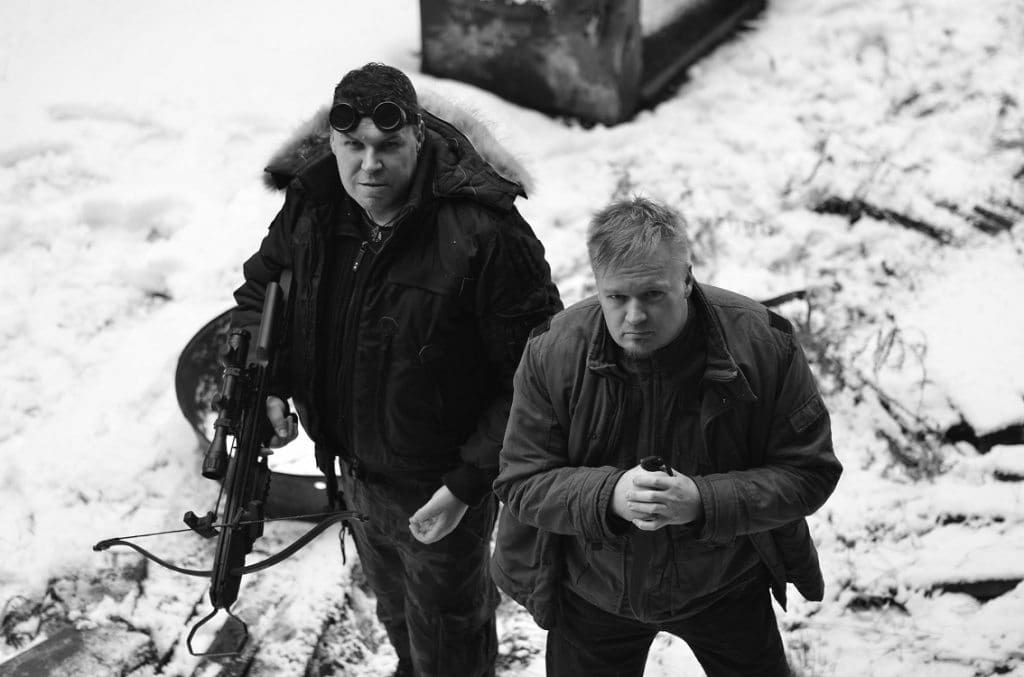 Kneel In Front Of The Hangman, later on renamed into Kneel In Front Of The Executioner is already active since 1993. Set up by K-head (music) and mirColon (vocals) the Slovakian duo rapidly caught the attention of the international EBM community. After self-released albums, 2 albums released on Out Of Line and 2 more full lengths released on Vendetta Music, KIFOTH is back on track releasing "Extensive Report" on EK Product. That is what they've to say about it.
(by Inferno Sound Diaries)
Q: Can you remind us how K.I.F.O.T.H. saw the daylight and what have been your sources of inspiration?
K-head: It all happened on a hot Friday in the Summer of 1994 when the festival "Young Apollo" featured amateur bands. Two teenagers put on their Amigas doing their first live show. Some people couldn't believe what they heard. But a few enthusiastic people started to dance on the last songs. Nevertheless, the show finished the fans wanted more songs. So after the official end of the festival at 10PM both guys again expand their system. Youthful blond mirColon began to sing the songs again as it was the first time. When they started the song "Ježiš Kristus" (Jesus Chirst), the lyrics start with 'heaven is crying …', the storm has been started.
mirColon: We launched the first recording tracks somewhere during Spring 1993. We were classmates. We had different ways to attract, amuse and express ourselves. Firstly, we talked about improvisation. After a time, the song arose spontaneously thoughtfully. At that moment some famous albums resonated in our minds: "Last Rights", "Too Dark Park", "Tactical Neural Implant", "Caustic Grip", "Tyranny For You". We lived for concerts of local groups like The Dark, Morbid Fancy, Vanessa, Ocean. The philosophy of KIFOTH is not a mainstream one, but it is direct and very rough. Therefore the choice of the EBM style sat very properly.
Q: There's a hiatus of 7 years between your previous album (cf. "Violence Corporation") and the new work "Extensive Report". What happened in the meantime and what does this new album mean to you?
K-head: We'd to go through different phases during that break. The last album was released in 2010 and the next 2 years we played mainly live gigs, however in parallel more changes started to happen in our private lives and we both became fathers. mirColon moved from Slovakia to Czech Republic, where his leaving now. As we are not a professional band, you can imagine what happened; work, family, concerts… there was not so much time for a creative process. That was the first phase.
At 2012 started the next phase, the creative one. We composed 8 tracks from the new album until the end of 2013. The 3 tracks left were achieved in 2014 and then all material landed in the shelf for one year. Even if the style remains the same, the new tracks had far different sound from previous work and we got the idea to rework old tracks to make them fit for the next live shows.
KIFOTH played several gigs in 2015 to test how the new set list works. It worked perfect and to be honest with you during that time we also recorded material for an entire live CD, which we plan to release after "Extensive Report" as there are included tracks from that album. At 2015 we added some new layers to the tracks to get a more common sound and recorded the vocals as well. Honestly, we struggled with the final mix during an entire year because each of us had a different idea about the mixing. Once we finally finished our work our label had stopped their activities. Luckily for us we have very good friends who put us in touch with EK Product, which is a very flexible label. So, the new alum has been released on March 3rd 2017.
Q: "Extensive Report" sounds to me as your post accomplished and sophisticated work to date. Tell us a bit more about the composition of the album and how do you see this work in the long career of K.I.F.O.T.H.?
K-head: This is the album on, which I put the most efforts in production and mixing. Maybe that's why it took so much time to get released. It's something special to me as l had the complete sound in my head since the first day I composed the first song "Proxy War". I had a clear image about the mood and sound of the album.
mirColon: "Extensive Report" is clearly a shifting; desired shift. I'm talking about shifts in our sound bank. Developments in sound engineering, recording, mixing and working together. Similarly, the shift in the main concept of the album. "Extensive Report" is a call to use new methods of writing, designs, programming. The album is written in journalistic style and with a view to processing the summary report on the state of the world. It deals with the topic of overpopulation of the planet, depletion of resources necessary for our civilization. The album tells the story of manipulation, coercion, enslavement, but also the mad devastation of the planet Earth.
And back to the previous question. What means to me this album? Today, it is satisfaction. Feedback from fans, reviewers, professionals in the industry proclaims that this step didn't work sick at the same time, it's not a step towards the mainstream. I am happy to get notes from fans telling "I was expecting this …". I am satisfied that there is a debate of the songs and I am pleased that despite 7 years processing of the topic, the subjects are recorded to date.
Q: I've been impressed by all synths and equipment you've collected over the years. Tell us a bit more your studio, favorite gear and global production of your work?
K-head: To be honest with you I like to buy just a few synths to get a good sound especially for the bass & strings and now I realized I got 22 synths! Bob from Samhain is currently abroad, so he brought over some equipment to my studio. We have currently around 50 PCs, so it all looks like we became collectors. On one side it's nice to have such a variety of sounds, but on the other hand it's disturbing in creativity. Many times when I'm in the studio I'm spending just 1-2 hours to play with sounds. It's lot of time. I'm not composing on piano, but I just need some interesting sounds which can inspire me. Next comes a melody line and I'm already thinking about arrangements. I'm often spending a few hours to create just a loop, but sometimes when I get a good sound I can compose an entire song just in 2 days.
Usually before we release an album I create around 50 short tracks from 2-3 minutes, but in the end the album will maybe feature 12 songs from the list. I previously made more music on computer, except for "Fundamentum Divisionis". Now all samples are made on hardware synths and I use Cubase just as sequencer.
About favorite gear I have some typical patterns, which are probably used by other musicians dealing with EBM. I like the Moog, Virus B and Nordlead for the bass lines and Yamaha, Roland plus some VST to be more complex for the strings. Aggressive synth leads are mainly taken form Waldorf or DSI and of course drums are from any gear supported with samples. To put a bit of old-school elements it's cool to use Proteus or Ensoniq and than mixing and layering. For analogue sound effects, which I'm doing all live, there is no real programming, but just recording by turning knobs from the MS20 though Moog and Waldorf up to Novation. On the new album 16 different synths were used and some VST's, what need a lot of effort in mixing to get a consistent sound.
Q: You've worked with multiple labels (VUZ Records, Out Of Line, Vendetta Music and now EK Product) so what have been your experiences so far and what do you expect from a label?
mirColon: I would take the opportunity to thank them all to have ever got the chance to get in touch with all those great label owners. I highly appreciate all of their efforts. KIFOTH is not the band in search of a full time activity (I mean we are not professional musicians). So far, we maybe have disappointed some labels, but our experiences remain positive. Fact is that KIFOTH and the label both are one team. We support each other, we spend and share energy, we love and hate as well.
About expectations: cooperation is important, positive influences, the music is made by KIFOTH, design by the team, marketing by the label; the will to make it next time different but better.
Q: A last word about the side-projects you've been involved to. Is there anything new in the pipeline and what will be the next steps for K.I.F.O.T.H.?
K-head: There are few: Eclipsed, Baphomet, Mindscape, but I have not that much time and I'm also doing some remix works for friends active in different groups while I'm also doing some technical support for The Dark which would like to publish some unreleased 90s tracks.
I can tell you Eclipsed, which I'm doing together with Solo (Samhain, Last Influence Of Brain) is planning an album for next year.
I hope Baphomet will finally release some material later on this year, but I first have to see if one other member will join in; I can't say who right now, but it will be announced soon.
For Mindscape (has been never released, but played many times live) which I'm doing together with Bop and Solo, we have tons of sessions recorded, but no idea how to use it now. We don't know if we would just release a kind of 'archive' or mixing new ideas.
We plan to do a short live tour in Autumn with KIFOTH and maybe also a few gigs in Spring 2018. Then we will work on the next album. I already have some ideas in mind. It will be for sure different than "Extensive Report"; at least I will try to make as much sound design as possible.
Courtesy by Inferno Sound Diaries
Since you're here …
… we have a small favour to ask. More people are reading Side-Line Magazine than ever but advertising revenues across the media are falling fast. Unlike many news organisations, we haven't put up a paywall – we want to keep our journalism as open as we can - and we refuse to add annoying advertising. So you can see why we need to ask for your help.
Side-Line's independent journalism takes a lot of time, money and hard work to produce. But we do it because we want to push the artists we like and who are equally fighting to survive.
If everyone who reads our reporting, who likes it, helps fund it, our future would be much more secure. For as little as 5 US$, you can support Side-Line Magazine – and it only takes a minute. Thank you.
The donations are safely powered by Paypal.