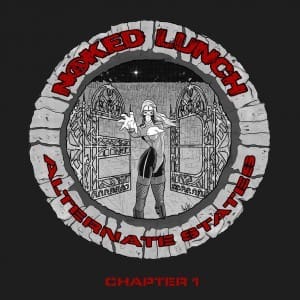 Out now via Bandcamp is the download EP "Alternate States : chapter 1" by Naked Lunch. Naked Lunch should ring a bell with many amongst you as the band was featured on the now legendary "Some Bizzare Album" with other acts such as Depeche Mode, Soft Cell, etc.. Not all that surprising since Tony Mayo, the lead singer, had close connections with Stevo Pearce and aided with pulling the artists for this album together.
The cult track "La Femme" from that "Some Bizzare Album" was re-recorded for this new EP with extra vocals by Jet Noir. Jet Noir joined up with Naked Lunch in 2013 when the recording of their "Beyond Planets" album was underway. The tracks on "Alternate States : chapter 1" were then mixed by Dean Baker (Galahad) and mastered by Martin Bowes of Attrition. 4 extra tracks complete the EP which is out now and can be downloaded now.
Interesting detail about "La Femme" is that the song was originally called "Le Femme" but Phonogram to who the "Some Bizzare Album" album was licensed to changed it to grammatically correct French, missing the point of the androgyny of the electronic music scene (and that the song was about that).
Naked Lunch are one of the one of the first synth based groups and was formed in 1979 by Tony Mayo. Mick Clarke was an early addition shortly followed by Cliff Chapman and Paul N. Davies and then, in 1981, by Mark Irving. Although they called it a day in 1985, 2010 saw Tony Mayo link up again with early member Paul Davies to write new material. Mick Clark and Cliff Chapman joined in 2011, Mark Irving in early 2012. The band released the album "Beyond Planets" in 2014 after signing with Sub Culture Records for digital distribution. In 2014 Naked Lunch toured the UK with Combichrist and in 2015 with Covenant.