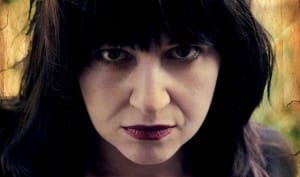 Out by early June is a vinyl reissue of "Conspiracy of women" aka "C.O.W." by Lydia Lunch. This classic early spoken word CD was originally released in 1990, but is now available on vinyl on Nicolas Jaar's label Other People. The release includes the new remix of "Why was I born an American" featuring Weasel Walter's invasion. You can pre-order this release right now.
In related news, Lydia Lunch has been collaborating with Herculean guitarist Weasel Walter (Flying Luttenbachers), fret-destroying bassist Tim Dahl (Child Abuse) and Bob Bert (Sonic Youth/Pussy Galore) under the Retrovirus flag. The album, "Urge To Kill", was recorded live in studio in November 2014 and offers new versions of classics from Lydia Lunch's immense catalog.
Note that the "Urge To Kill" album is out on CD (buy it here) and white vinyl (299 copies only – get your copy here).