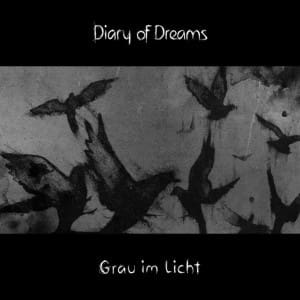 The German Darkwave band Diary Of Dreams returns 1 1/2 year after the "Elegies in Darkness" album. Out by mid-October is "Grau Im Licht" featuring 12 new tracks.
Like the title of the article already reads, there will be no limited / special editions for this album, the only one to be released will be the regular version, which you can order now right here.
Here's what Adrian Hates has to say about his decision not to release a limited edition: "This time there will be only one edition but be sure that this edition is very beautiful though. It has a big booklet in a 6 panel Digipak and the whole artwork was hand painted by a fantastic Spanish artist called Damián Baena. I am very happy i had the opportunity to work with him! Personally i think the artwork of this CD is one of the most beautiful ones we ever released… and maybe the next album will have a limited edition again. We will see… after all it depends on the development of the music industry and therefore of course it also depends on you (the music buyer)! Your support is needed!"
You can order the album right here.