Genre/Influences: Synth-pop.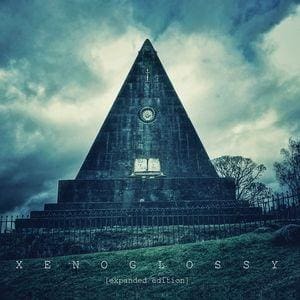 Content: While the new album (cf. "Garmonbozia") of Machinista is still in the flow, this new release is a look back to the band's debut album "Xenoglossy". This great piece of synth-pop music was originally released in 2014 by Juggernaut Music. This re-edition features the original album plus an extra disc with 13 remixes.
AnalogueTrash did a similar release for Atomzero's "Symbiosis".
Speaking for myself, I am more into the work of "Xenoglossy" revealing the great synth-pop approach of ex-Cat Rapes Dog member John Lindqwister and ex-Vision Talk member Richard Flow. Some of the finest cuts remain the ones you maybe discovered at the EP "Arizona Lights". Songs like "Salvation", "Pushing The Angels Astray", "Wasted" and "Arizona Lights" belong to the best of synth-pop music.
The sound of this band is characterized by melancholic sequences and ultra, carrying and melodic leads. Lindqwister is a talented and charismatic singer so in the end we have to admit that all requested ingredients to obtain a great synth-pop release have been assembled.
But next to the familiar songs originally featured at the "Arizona Lights"-EP this work reveals a few more surprises. "Molecules And Carbon" is one more sonic illustration of the great writing skills of the band. Efficient synth-pop music is precisely what emerges from this track, which is melodic and danceable.
"Xenoglossy" is filled with multiple catchy passages. The danceable aspect is quite present on this album although a few quieter pieces are featured as well. This is not exactly their most sexy side although it brings a nice twist between 'harder'- and 'softer' cuts.
The last track is a noticeable one as well. Machinista realized a cover version of the legendary Bowie song "Heroes". The song is quite recognizable and I think this is the kind of cut that would be especially praised during live shows.
The 2nd disc reveals 13 remixes. This is maybe an unlucky number, but we here can speak about an exception to the rule. There are 5 remixes of "Molecules And Carbon" plus remixes of songs like "Take Comfort In Being Sad", "Salvation", "Pushing The Angels Astray", "Crash" and "The Blues And The Reds".
A nice twist of more recognized- and upcoming bands have been invited to show their skills in remixing. I heard excellent remixes from bands like Tolchock and Spacebuoy, but I also have to mention Vogon Poetry and the minimalism of Judas plus 2 remixes by Erotic Elk.
Conclusion: "Xenoglossy" remains a brilliant piece of synth-pop in the purest Swedish tradition while the bonus disc reveals a few cool remixes. There are several hits on this debut full length!
Best songs: "Salvation", "Molecules And Carbon", "Arizona Lights", "Pushing The Angels Astray" + "Molecules And Carbon – Spacebuoy Glam dance Mix", "Salvation – Mostly harmless Remix by Vogon Poetry".
Rate: (DP:8)DP.
Band: www.machinistamusic.com / www.facebook.com/machinistamusic
Label: www.analoguetrash.co.uk / www.facebook.com/analoguetrashofficial