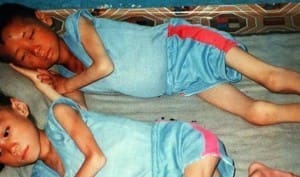 As we reported a few days ago, Laibach has announced they will be playing in Pyongyang, North Korea in August 2015. Unlike other media which took over the press release as is, Side-Line took a critical take on it, which of course was not well received with some of the hardcore fans of the band. But while a part of the fans still think this move is part of what Laibach is all about, more and more fans are starting to question the whole event even if it might be a hoax elaborated by the band.
And some even go a bit further. The (former?) Laibach fan Frank Gorissen for instance has decided to part ways with his Laibach collection "as a reaction against their plans to party with the leading gang of the totalitarian regime of North Korea."
The money Gorissen will get from this sale will be donated to Amnesty International. Says Gorissen: "I guess there must be guys and girls out their who don't give a fuck about what's happening in NK, so you can start bidding. The die-hard Laibach fans who follow their band like sheep without brains get the opportunity now to complete their collection of what I would call "worthless shit from a band that is blind for the suffering of the NK people, the starvation, the tortures, the executions and the concentration camps. Or worse, Laibach admires totalitarian regimes in general and that of NK in particular that much, that they agree and accept the horrible oppression and the crimes against humanity that are inextricably linked to this kind of regimes."
Gorissen will still continue the sale even if the band meant it as a joke or a hoax: "I continue this sale anyway showing that I disgust the fact that jokes were made by Laibach over the horrible situation of the oppressed NK people." You can read his full post right here on Facebook.
Contacted by us earlier today, the North Korean embassy in Berlin confirmed us that the band will indeed play the country. But if that is just the embassy people playing along with what could be some welcome propaganda or if it's for real is hard to say.
Let us know what you think.