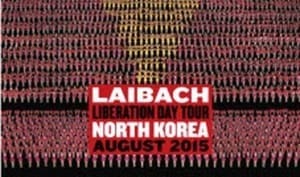 Laibach, the band which always prided itself on protesting against totalitarian regimes, has announced they will be playing in Pyongyang, North Korea. It's a pretty strange move for Laibach coming out one of the former communist countries of Eastern and Central Europe, which they used to compare with nazi-Germany in their early days.
Times they are changing, and probably the money offered was big enough to convince the band to take this rather dubious move.
The band will be playing live in Pyongyang in August 2015 and probably as a gesture of (misplaced) goodwill their press release holds no comments whatsoever on the murderous communist regime. Instead it talks about "a reclusive garrison state as well-known for its military marches, mass gymnastics and hymns to the Great Leader, as for its defiant resistance to Western popular culture." And the revisionist like statement continues by saying that "Laibach's Liberation Day Tour will coincide with the 70th anniversary of the Korean peninsula's liberation from Japanese colonisation and subsequent division into two enemy states which confront each other in an uneasy truce to this day." Weird that Laibach goes protesting against something that took place over 70 years ago, yet shows no criticism whatsoever to the current tyranny reigning in North Korea.
You can also be sure they'll never be granted access to Japan in the future to perform live there. Laibach have just returned from a tour across North America and it looks like it that they only announced this tour right now to avoid being forbidden the entrance in North America for their finished tour.
The concerts will also be the subject of a documentary film scheduled for premiere in 2016. Laibach anno 2015 is no longer the band it used to be.