Genre/Influences: Industrial-metal.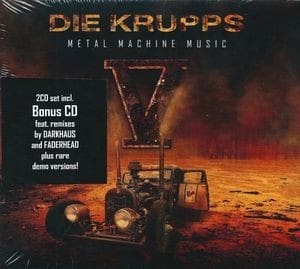 Content: After being active for 30 years in the EBM/industrial-metal scene, it seems nothing has changed for Die Krupps.
Mastermind Jurgen Engler, currently living in Austin-Texas (USA), still can't choose between pure electronic music and guitars and succeeds in combining both in a powerful way!
This new album, in which the guitars are more in the foreground, fits perfectly in the list: "I" (1992), "II – The Final Option" (1993), "III – Odyssey Of The Mind" (1995) and "IV – Paradise Now" (1997).
Right after the instrumental intro "Die Verdammten", "Kaltes Herz" smashes you in the face, for sure one of the fastest and hardest songs Die Krupps ever released. "Battle Extreme" was already released as a 1st single (and video) together with "Fly Martyrs Fly", both noticed at #1 in the German alternative charts.
The best song for me is "The Truth", which is full of great riffs and which also lyrically reminded me a bit of "The Truth" of Clawfinger.
When I heard "Road Rage Warrior" and looking at the album cover, I thought that perhaps this album should have been the ideal soundtrack for the movie "Mad Max: Fury Road".
The best danceable song for the clubs definitely is "The Vampire Strikes Back", although it was already earlier released on the sampler "Wing Commander: Prophecy".
"Alive In A Glass Cage" sounds more melodic and has a sing-along factor, followed by "Branded", full of electronic pumping bass-lines, sirens and trash riffs.
"Kaos Reigns" is just like "Kaltes Herz" a very hard and fast song, but this time with an eastern melody on top of it. A lot of sampling was done on "The Red Line", followed by "Bonded By Blood", a typical Die Krupps song in the good old style.
Last track "Volle Kraft Voraus" is a remake of this classic from 1982 of the album "Volle Kraft Voraus!".
The 2nd CD consists of demo-versions of six of the new tracks plus two remixes of which the remix of "Kaltes Herz" by Darkhaus was by far the best.
This album was not only digital released but also as a DCD digipack, bundle (DCD digipack + t-shirt) and as a limited edition box (DCD digipack + gloves + signed photo + sticker).
Conclusion: Die Krupps shows again that they easily can keep their position of true founders and pioneers of this genre!
Best songs: "Fly Martyrs Fly", "The Truth", "The Vampire Strikes Back", "Alive In A Glass Cage", "Bonded By Blood".
Rate: (WH:8½)WH.
Band: www.diekrupps.com / www.facebook.com/diekruppsofficial
Label: www.spv.de / www.facebook.com/spvhannover