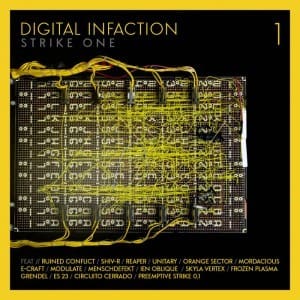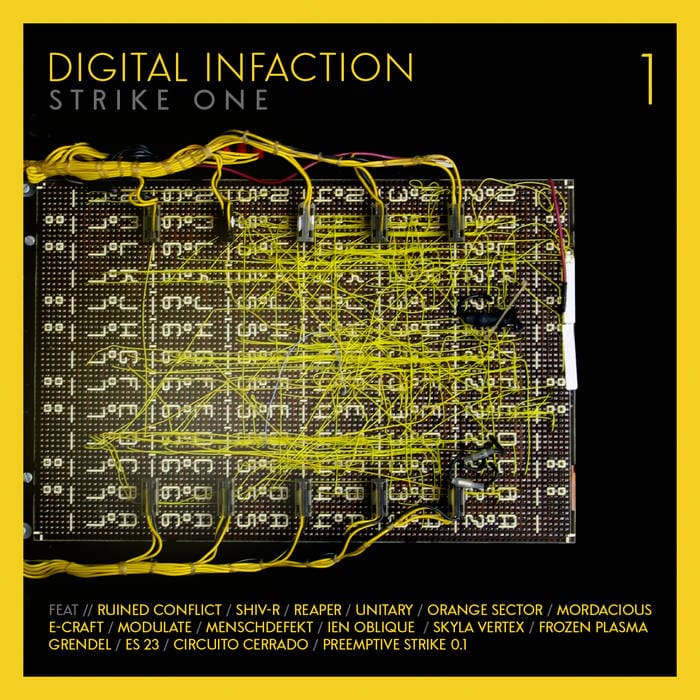 Genre/Influences: EBM, dark-electro, electro-pop, electro-industrial.
Bands: Grendel, Frozen Plasma, Reaper, Pre.Emptive Strike 01, Orange Sector, E-Craft, Menschdefekt, Skyla Vertex, Modulate ao.
Content: More and more labels are promoting digital releases and that's precisely what this "Digital Infaction"-compilation is all about. You get a total of 16 bands at a so-called 'discovery price'. It first of all is an interesting selection of some of Infacted's finest formations. The fans of the label will not exactly discover 'new' stuff, but it's a great tracklist mixing the different electronic genres the label is dealing with. The majority of the songs are remixes, which always remains an opportunity to discover familiar songs in a different version.
The debut part reveals one of the new potential hits of Reaper, which is taken from the latest EP. "Der Schnitter (Mit Der sense Im Club)" is a great piece of electro-body-tech music. Orange Sector is one of the label's veterans and their "Sturm" song is another smasher. This track was originally released at their last EP and has been remixed by Martin Bodewell in a merciless old-school EBM way.
E-Craft last year took me by surprise releasing the hard and intelligent EBM-driven "Re-Arrested" album. The song "Blast Zone" was not directly the biggest attention grabber and yet the overwhelming power and heavy blasts are simply terrific. It reminds me a bit of FLA-influences.
The final part of the album is absolutely amazing. Skyla Vertex deals with their usual dark-electro genre, which is absolutely remarkable. Frozen Plasma will please to the electro-pop freaks getting us back to their last year released successful song "Crazy". Grendel takes us back into the realms of dark-electronics. The famous song "Timewave Zero" has been remixed by Modulate in a hard and merciless way. ES23 is another great electro formation experimenting with the coldest paths of electronics. The track "Enjoy The Light" has been originally released at their last year released album "Mutatio Ex Machina" and is a total smasher.
Last, but not least I also have to mention the terrific and electro-industrial driven side-project of C-Lekktor. Circuito Cerrado last year released the promising debut-album "Distortment" featuring the sexy and somewhat rave-like "Bad Girls Go To Hell". This song is one of the absolute favorites from this great sampler.
The only negative point is the mastering, which could have been much better.
Conclusion: The first volume of this new digital sampler-series is a great summary of the sound Infacted is dealing with. You'll be not disappointed to (re)discover this amazing selection of great bands and successful songs.
Best bands: Circuito Cerrado, ES23, Frozen Plasma, E-Craft, Orange Sector, Reaper.
Rate: (DP:8½)DP.
Label: www.infacted-recordings.de / www.facebook.com/pages/Infacted-Recordings/124099254321690