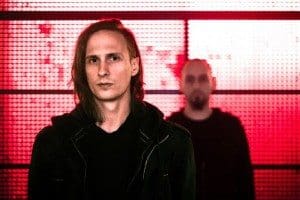 Horskh is a French duo hailing from Besançon. I discovered this band by their dynamic and merciless EP "Dawn", which has been recently re-released as an 'extended version" featuring extra songs and remixes. The EP has been released on Audiotrauma and will maybe remember to bands like Cubanate, Sheep On Drugs, Combichrist ao. There's an impressive and powerful boost, which the band experienced as 'orsk'-sound. As this name already existed, they finally added an H in the beginning and the end to create 'HORSKH', which according to the band sounds like their music. I've been in touch with Bastien to give you more details about this real interesting formation.
(by Inferno Sound Diaries)
Q: How did you guys met and set up Horskh and what are the main influences in your sound?
Bastien: We both play music for a long time in different bands and in the same city. I liked how Brioux (the drummer) played, so I told him if he wanted to play with me! We have many influences: EBM, metal, EDM, dubstep, hip-hop and bands like Prodigy, Combichrist, Depeche Mode, Owl Vision, Black Tiger Sex Machine, Nine Inch nails, Noisia…..
Q: How would you define your 'sound' and tell us a bit more about the composing process?
Bastien: Electronic/ebm/heavy electro/metal/ ?step…….. I'm writing the music. Afterwards, I write vocal parts, and I modify some things to adapt the music with my voice. After that, we adapt the songs with acoustic drums for live shows with Brioux
Q: The original "Dawn"-EP has been released a while ago now so how do you look back at it right now and are there some elements of the production you would change/improve right now?
Bastien: Of course, some sounds and choices seem strange to us when we listen to the songs right now. But what we did is a mirror of a period. And we try to learn from our mistakes!
Q: It was because of the fans that you finally re-released the "Dawn"-EP as an extended format featuring extra songs and remixes. Tell us a bit more about the 'new' songs featured and the remixes?
Bastien: We wanted to release these 3 songs which were recorded during the "Dawn"-EP sessions. These songs show some new facets such as tainted which is more electro-like and without vocals. The atmosphere became more 'ambient'-like while the "Host"-song reveals a 'metal' aspect.
Q: There's a live-video on the net revealing a rather 'rock' attitude on stage. What does it mean to you to perform in front of an audience and what are you trying to express on stage?
Bastien: We both come from the rock- and metal scene. We played in bands such as Jack And The Bearded Fishermen, Run Of Lava, Black Code, Lost Cowboy Heroes…. We want to exchange a strong and powerful energy with the audience. From dance floor to pogo!
Q: You're actually working on your debut album, planned for early 2017. Can you already reveal some information about this work?
Bastien: The new album is planned for the beginning of 2017 and will reveal an evolution of what we did. The production will be more powerful and some influences will be more visible…
Courtesy by Inferno Sound Diaries