Genre/Influences: Dark-ambient, soundscape.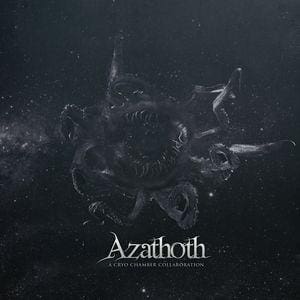 Content: Last year Cryo Chamber released one of the most noticeable conceptual albums in history of dark-ambient music. "Cthulhu" was a collaboration of multiple artists in the genre accomplishing a phenomenal work around Lovecraft's famous Cthulhu mythos and Dream Circle.
"Azatoth" is the successor to this impressive work. It again deals with the fantasy universe of H.P. Lovecraft, which has been transposed into dark sonorities by an impressive list of bands. It's important to mention this is not a compilation, but an amazing collaboration featuring Atrium Carceri, Kammarheit, Foundation Hope, Taphephobia, Alphaxone, Alt3r3d Stat3, Apocryphos, Aseptic Void, Cryobiosis, Dark Matter, Darkrad, Dronny Darko, Halgrath, Mystified, Wordclock, Sabled Sun, Neizvestija, Randal Collier-Ford, Sjellos, Svartsinn, Tarradaemon and Ugasanie.
Each disc features just one single track. The 1st disc featuring "Azathoth 1" will hold you in its grip for almost an hour. It's hard to imagine how this collaboration took part, but it once more stands for a real coup de force. You simply don't get the impression this work resulted from the common efforts of all those bands. You'll immediately get the impression of embarking on a heavy ambient trip leading you to imaginary freaky places. Low sound waves reinforced by overwhelming dark treatments are emerging to the surface creating a dark and frightening sensation.
Multiple sound treatments suddenly emerge like small pieces of a wider sonic puzzle. "Azathoth" stands for the chemistry of dark sounds, but especially for the chemistry between all those great artists. It's hard to find the real input of every single formation, but I can assure you the impact of their common labor simply will leave you stupefied. This is for sure one of the most ambitious releases in history of dark-ambient music!
Cavernous passages joined by icy chain and humming sounds of imaginary spirits, plus multiple field recordings imprison the listener in a great, but freaky sonic cage from which you don't really want to escape. You'll progressively beg for more, just like reading a thriller which you cannot but down until the very end.
The 2nd disc featuring the track "Azathoth 2" will bring you more than 60 minutes of new chilling experiences. The style hasn't changed and will directly lead you again towards the darkest corners of your imagination. I get the impression of being aspirated by the mouth of an evil force. This composition is carried by low vibrating sound waves featuring a kind of white noises. There's a very progressive evolution towards darker and overwhelming passages.
This composition is also characterized by a few more accessible parts accentuating some prosperity. The work however remains ultra dark revealing chilling strings and echoing sound treatments.
Conclusion: It simply sounds incredible how this album has been realized while revealing a perfect cohesion between the input all of artists. I guess there's no better sonic ode to Lovecraft than this work.
Best songs: "Azathoth 1", "Azathoth 2".
Rate: (DP:8½)DP.
Label: www.cryochamberlabel.com / www.facebook.com/CryoChamber