Genre/Influences: Experimental, industrial.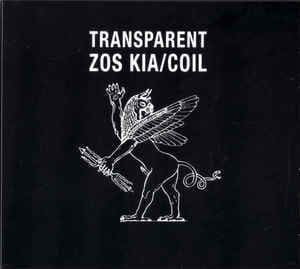 Background/Info: The "Transparent"-album is more than simply history. It brings artists and friends with a common passion together. This album was originally released in 1984 as a cassette on Nekrophile Rekords. Later on it has been re-released on CD- and vinyl format, but Cold Spring Records bring it back to life with some extra goodies.
But let's get back to Zos Kia which was originally set up by John Gosling, Min Kent and John Balance while assisted live with mixing by Peter Christopherson (Throbbing Gristle). Balance and Christopherson were of course partners in crime and world-wide recognized as Coil. Zos Kia and Coil did some concerts together playing the tracks originally featured on "Transparent". This album also features 2 extra cuts by Ake, which was a band featuring John Gosling, Min Kent and 2 extra members. Ake was active before Zos Kia.
Content: "Transparent" sounds like the good-old industrial and experimental music from the early 80s. It has something apart and definitely unique compared to the later and contemporary industrial music. It was all about originality and noise creation, sterile and/or shouting vocals and rather provocative. Some tracks reflected controversial persons such as Aleister Crowley and Charles Manson.
It all sounded like industrial music with an attitude. The work of Zos Kia was raw and without any possible compromise. It sounds a bit anarchistic and filled with Min's terror screams.
The work together with Coil moves even deeper into experimentalism and a kind of anti-music attitude. You'll also (re)discover some demo-like electro loops and rhythm box parts created by John Balance.
Both Ake tracks sound like pure improvisation featuring noises and effects. It's moiré chaotic, but in the truly spirit of early industrial music.
+ + + : Cold Spring Records is used to re-release old industrial- and experimental releases. It always is a kind of documentary and a way to remind people of where this music comes from. We get back to the sources and this album is a real must have. The booklet also includes an interview with John Balance about the album and multiple pictures from that period plus the concert dates. This album is pure nostalgia, but also a look back to the most creative period in history of so-called industrial music. This is about authenticity, engagement and passion.
– – – : Industrial- and experimental music both have always been extreme and back in time hard to understand for people listening to commercial- and/or pop music. More than 30 years later it remains a singular sonic experience, which only the true lovers will understand and cherish. This is 'extreme' music!
Conclusion: This is one of the re-issues by Cold Spring Records I totally support and enjoy. This work brings us back to the original soul of industrial music. It was one of the albums I ever expected to be re-released. I would be a happy man if Cold Spring or any other label could ever re-release (and for the first time on CD format) the "Shoulder To Shoulder"-album from Test Dept. and South Wales Striking Miners Choir.
Best songs: "Baptism Of Fire", "Silence & Secrecy (Section)", "Truth (Version)", "On Balance", "Rape".
Rate: (7).
Label: www.coldspring.co.uk / www.facebook.com/coldspringhq