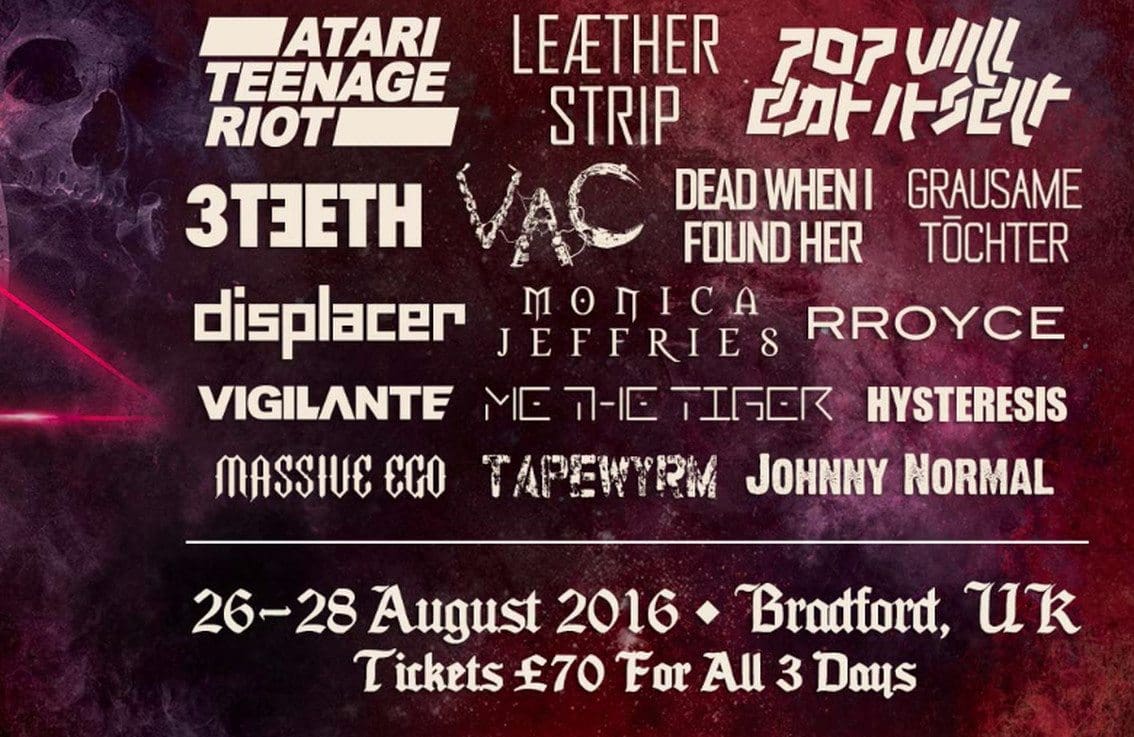 (By Fiona K.) Looming on the summer horizon is the UK's premier electronic music festival, Infest, on 26th – 28th August in Bradford, near Leeds in northern England. Now in it's 18th year, Infest's now fully-announced 2016 line-up is 3 glorious days of heavyweights of the electronic music genre, old and new.
Playing are Pop Will Eat Itself, Atari Teenage Riot, 3Teeth, Dead When I Found Her, Leaether Strip, Vigilante. to name but a few; and you'll also get 3 days of top quality DJ's to add to the fun.
Last year's festival continued Infest's long-standing reputation of impeccably-chosen line-ups of musically interesting and entertaining bands. Some of the highlights from last year included:
a beautifully messed-up and rowdy electronic assault by ex-Ministry/Revolting Cocks' frontman's current incarnation, COCKSURE;
a darkly-twisted techno set by the electronic trailblazers EMPIRION;
an introduction to the primal industrial sound of CHANT all the way from Texas (which was a festival highlight);
a sojourn in the incredibly polished theatrical-gothic niche that Germany's L'Ame Immortelle dominate;
the intense, emotive and diverse sound of KLANGSTABIL;
the Pink Floyd of dark electronica, MIND IN A BOX, delighted with an intelligent, diverse and musically-rich performance.
And then there was the karaoke (yes, your read that correctly!), the dance-floor shenanigans and the after-parties and mayhem.
Here's the thing about Infest though. It's human-scale. It's one stage. There's no running around from venue to venue; no having to chose which of your bands you are prepared to miss because of cross-over scheduling. The staff are super-friendly; there's food stalls and shots and outdoor seating and a general welcoming party atmosphere. If you haven't been, go. It's not one to miss.
Additional info on the official website. Tickets can be purchased right here. You can already watch here what to expect!