Genre/Influences: Cinematographic, dark-ambient.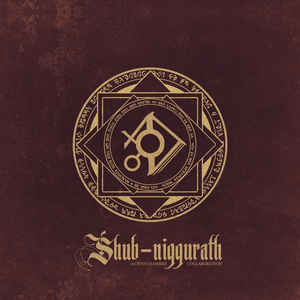 Background/Info: This album is not a compilation, but a collaboration between numerous Cryo Chamber artists. Atrium Carceri, God Body Disconnect, Dronny Darko, ProtoU, Kolhoosi 13, Neizvestija, Northumbria,
Apocryphos, Randal Collier-Ford, Dead Melodies, Flowers For Bodysnatchers, Ager Sonus, Council Of Nine, Kammarheit, Gydja, Creation VI, Darkrad, Aegri Somnia, Ugasanie, SiJ, Alphaxone and Keosz have all contributed to this work, which took them over a year to accomplish "Shub-Niggurath". It's a conceptual work inspired by H.P. Lovecraft. Cryo Chamber already released previous Lovecraft tributes as a collaboration between label mates on "Cthulhu", "Azathoth", "Nyarlathotep" and "Yog-Sothoth".
Content: "Shub-Niggurath" features 2 albums. It's impossible to know what has been the real contribution of each artist, but one thing becomes rapidly evident: it's a truly Cryo Chamber work. The influences and especially the dark-cinematic approach are easily recognizable. Each disc features a long duration track. The work is driven by the strength of the dark atmospheres and their visual appeal. From nihilistic landscapes towards cellar music, the work is joined by passages with drones, slow rhythms and an impressive arsenal of subtle noises, scratches and other sound effects.
+ + + : This kind of album featuring an endless list of artist is a real 'tour de force'. It's a fascinating concept, which I think would be interesting to realize how this album took shape and what have been the inputs of the artists. Next to the way it has been accomplished the album also reveals exciting passages and I here especially refer to low sound vibrations, the detailed format of the work with its endless number of sounds and noises, but most of all the baleful atmosphere recovering this tribute to the Master of fantasy and fiction.
– – – : Some passages are a bit long in duration and monotonous, but globally speaking there's a real flow running through his work. I personally prefer the first disc although the final part of the second disc sounds pretty cool as well.
Conclusion: I don't know other labels other than Cryo Chamber releasing this kind of conceptual work. It's not only about a conceptual theme, but also about a label, which seems to be a real 'family'.
Best songs: "Shub-Niggurath 1".
Rate: (7½).
Label: www.cryochamberlabel.com / www.facebook.com/CryoChamber