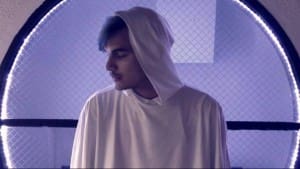 Mr.Kitty (aka Forrest Avery Carney) is not exactly the most famous name active at the wider fields of electro-pop yet it became one of our personal favorites in a rather short lapse of time. The secret of this artist can be found in the simplicity and efficiency of the work plus a fragile and sexy timbre of voice. The new album "Fragmants" has been just released by Negative Gain Productions inspiring us to get in touch with the band.
SL: While you became a kind of Side-Line 'favorite' I'm not sure all of our readers are familiar with your music. What can you tell us about main background information and the kind of sound you'd in mind when
setting up Mr.Kitty?
Mr.Kitty: I wanted to have of a sincere but over romanticized vibe to it. I wanted icy synths, pulsating drums with etherial vocals. Overall I just wanted it to be sincere and straight forward and I look at it this as my dramatic
alter ego.
SL: You've released an impressive number of productions in a rather short lapse of time so how would you perceive your evolution as a musician from the early work till the new album "Fragments"?
Mr.Kitty: I feel with the older material I was drawing influences from bands that I liked while not staying true to what I wanted to do. I have discovered that I want to be my own person. Its evolving more to see me for who I
am and not sounding like a bunch of influences thrown together. It's important to stay true to myself.
SL: What kind of album did you'd in mind when starting the writing of "Fragments" and how do you feel right now about the result?
Mr.Kitty: At first I wanted to make a b-sides album, but it didn't fit within the story line of the previous albums. A lot has happened in my life while I was writing "Life" and "Time" and "Fragments" is the end result of it all. When I look back it now, I feel that I have more of a connection with "Life" and "Fragments" than any other of my previous albums. I am very satisfied with the way the album turned out especially being finished in such a short amount of time.
SL: You're actually on tour in North-America as support of IAMX, which is a great opportunity to reach a wider audience, but what might people expect from Mr.Kitty on stage?
Mr.Kitty: What I want with Mr.Kitty live is pure chaos. Non stop anxious energy. Performing live is my way of getting out the feelings and thoughts in my head. It allows me to be an alternate being. When you hear my
recordings and then when you see my music performed live you will be able to see the different contrasts and together, that is Mr.Kitty.