Genre/Influences: Dark electropunk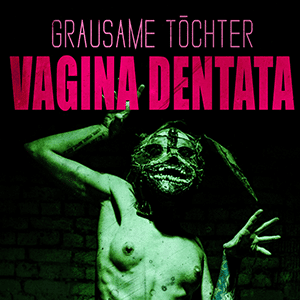 Background/Info: Anna Pehlitz a.k.a. Aranea Peel is the frontwoman of this German female industrial cabaret-act which started in 2009 in Hamburg. Before she was active as a professional singer, actress and ballet-dancer.
Content: This is already the 4th album of this provocating and shocking electropunk project. 14 tracks + 1 remix by xotox are presented in a little different way that we are used to hear from her.
This is because the album starts, after downtempo opener "Vagina Dentata", with 3 guitar-songs ("Liebe Will Beweise", "Ich Liebe Meine Vagina", "Wie Eine Krake"), which surprised me very much. I think these songs would have been better used as outro of the album because we have to wait until track #5 ("Annika Ist Tot"), before we hear Grausame Töchter on her best: uptempo electro on danceable beats!
"Tor Zur Hölle" brings a nice mixture of synths with guitars, after which the best song of this album appears: "Los Schlampe, Ficken Geht Immer!", electropunk with sharp lyrics, a dancefloor-filler for the clubs!
Time for bombastic cabaret then with "Die Ganze Welt Ist Ein Zirkus", directly followed by "Fleish Für Die Hyänen", EBM which could have been composed by And One. The dreamy voice combined with accordeon on "Nordsee – Tango" takes you away and is abruptly disrupted by the uptempo EBM on the next song ("Fette Katzen").
"Angst Entstellt Den Menschen" is very melodic synthpop and for sure one of the better tracks of this album. And then it's time for another guitar-track ("Perverse Mädchen") which unfortunately again could not charm me as much as the other electronic songs, like the last sing-a-long track "Sisyphos Will Vögeln".
Track 15, at last, is a remix of the first track "Vagina Dentata" in a very unrecognizable industrial version.
+ + +: Aranea Peel repeats herself a bit on some tracks but produces still very good danceable songs and is a great live-performer.
– – -: I expected a bit more from this album because the previous albums were already very convincing!
Conclusion: Another nice album of Grausame Töchter which contains some great dancefloor-fillers!
Best songs: "Annika Ist Tot", "Los Schlampe, Ficken Geht Immer!", "Fleisch Für Die Hyänen", "Nordsee – Tango", "Angst Entstellt Den Menschen".
Rate: (WH:8)WH.
Band:http://www.grausame-toechter.de / http://www.facebook.com/grausametoechter
Label:http://www.darkdimensions.de / http://www.facebook.com/pages/Dark-Dimensions-Label-Group/486014725206