Genre/Influences: Industrial, industrial-trance, rhythmic electro-industrial.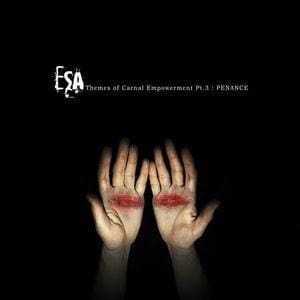 Content: It seems that Jamie Blacker considered this new album as the most accomplished work to date. The least I can say is that the 3rd part of "Themes Of Carnal Empowerment" left me rather breathless. I've known of Electronic Substance Abuse since their early work and I remember this band for its solid electro-industrial approach.
"Penance" features 10 songs, which are built up in a real progressive way, but always reaching a kind of sonic climax created by a twist of heavy, trance-industrial rhythms and dark electro-industrial arrangements. ESA has never been that hard-hitting and merciless, however the work is still elaborate and professional when it comes to speaking about the global production process. ESA is not exactly the kind of band you can compare with another, but I'm sure it will appeal to fans of This Morn'Omina and iVardensphere.
Most of the songs are quite elaborate and show a terrific progression in sound and cadence. The opening song is a good representation for the rest of the work. It takes off in a rather mysterious and somewhat ambient way, but slowly reaches a pure sonic outburst where it all becomes quite trance. "Be Still And I Shall Tell You Why" and "Master, No Servant" both are brilliant exposures of the shamanic industrial work of "Penance". Blacker has accomplished an opus magnum where he excels in intelligent sound treatments and great artistic creation. Right at the point where you think he has reached the ultimate point he simply moves injecting some extra dynamic into his work.
The 2nd part reveals a few 'softer' tracks on which he collaborated with a few guest singers. Most of the songs remain instrumentals where you can only hear the addition of a few sampled words. The vocals and samplings are mainly used in a way to create an extra sound effect. It sometimes pretty bewitching (cf. "Threnody For You"). "My Church" features a nice twist between male growling passages and spoken female words.
The title song featuring Magenta S. is different and probably the single cut where we can speak about 'classical' vocals. The song however remains pretty industrial, but more into a dark atmospheric creation.
A last element I have to mention about this work, is ESA's move from Tympanik Audio to WTII Records.
Conclusion: This album definitely is one of the most poignant releases of the year in the wider fields of industrial music. This is a fully accomplished and genius creation.
Best songs: "Master, No Servant", "Be Still And I Shall Tell You Why", "My Church", "Men Will Only Break Themselves", "Penance".
Rate: (DP:8½)DP.
Band: www.electronicsubstanceabuse.com / www.facebook.com/ElectronicSubstanceAbuse
Label: www.wtiirecords.com / www.facebook.com/WTIIRecords