Genre/Influences: Industrial-metal, Neue Deutsche Haerte, EBM
Background/Info: DIE KRUPPS are a phenomenon in the German music scene, active since 1980 and based in Duesseldorf. Together with bands as Einstuerzende Neubauten and Kraftwerk they are seen as one of the pioneers of electronic and industrial music. They inspired many famous acts like Front 242, Nitzer Ebb, OOMPH! and Rammstein.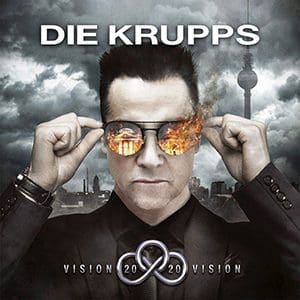 Content: On the first song "Vision 2020 Vision" Juergen is rapping in a smooth way all over the pumping staccato metal-riffs, this is for sure the best song of the album! "Welcome To The Blackout" was released as the first videoclip of the new album and warns us that the end of the world has definitely started. "Trigger Warning" has a deep EBM-bassline while some musical parts reminded me on the sax of Yello's "The Race". After the calmer "Wolfen (Her Pack)" it is time for the nice uptempo "Extinction Time", headbanger's ball with an electronic sauce over it. The Genesis-cover "The Carpet Crawlers" shows another (softer?) side of singer Juergen Engler. It is definitely a surprise to hear this song in between so much guitar violence although the cover is well done. Time to dance again on the very melodic "Fires" on which Juergen also sings a bit different (read: more Bowie-like) than normal. "Obacht" has german lyrics and is for sure one of the better powerful songs. "DestiNation Doomsday" and the earlier released "F.U." are 2 more songs dedicated to the "president of darkness" also known as Donald Trump. The anti-politics song "Alllies" has a bit of Nine Inch Nails' "Closer" in the end. "Active Shooter Situation" is driven on a deep bassline followed by the uptempo "Human" to close the album.
+ + + : DIE KRUPPS goes back to their early 90's crossover period. The artwork of the album is really amazing! The limited edition fanbox contains, besides the digipak cd and live at Wacken Open Air 2016 dvd, also a t-shirt, a pair of sunglasses, a postcard and a sticker.
– – – : Maybe "The Carpet Crawlers" should have been better as last song, because now it disturbs a bit the flow of the album.
Conclusion: Musically, this album takes us back to the "II – The Final Option" period. In this era (1993) DIE KRUPPS defined how crossover should sound. Lyrically, this album warns us that the end is very near and that the future is not looking good at all!
Best songs: "Vision 2020 Vision", "Welcome To The Blackout", "Extinction Time", "Fires", "Obacht".
Rate: (9) WH.
Artist: www.diekrupps.com / www.facebook.com/diekruppsofficial
Label: www.spv.de / www.facebook.com/spvhannover