Genre/Influences: Electro-pop.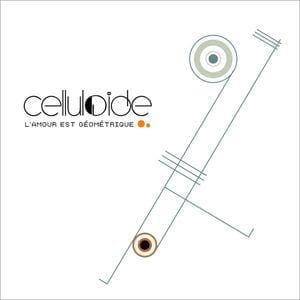 Content: Last year Celluloide released their album "Art Plastique", which already featured a few outstanding electro-pop songs with this typical sound and effects making this band unique in the genre.
This new opus is a kind of revisited version of five songs originally released on the "Art Plastique"-album plus a few new cuts as well.
The work features 11 songs and the CD format is strictly limited to 300 copies. We were really pleased to get a promo copy of this album, which I can already reveal is worthy of examination.
The opening song is a new version of "L'Amour Est Clair", which was one of the highlights of the last album. It's a typical Celluloide track, which you can easily recognize by the bleeping treatments, the retro-like input, the warm synth lines and the sensual, magic vocals by Darkléti. There also is a remix of this song by Dekad, which sounds a little less hard and less evasive as well.
Another essential song of "Art Plastique" was "Le Baiser Géométrique", which was reworked into an extended version. This song remains a great piece of body-pop music carried by an impressive bass line and refined by delicate bleeping treatments.
Label mates Foretaste were asked for a remix, which has been accomplished in a somewhat softer, but still alluring format.
The song "Art Plastique" was reworked/remixed by Missing Square into a pretty cool and somewhat Kraftwerk-inspired composition with some EBM influences on top. But the greatest and somewhat surprising song is the remix of "Gris" by Orange Sector. This version is a terrific and murderous EBM adaptation, which will set dancefloors on fire.
Last, but not least, Opéra Multi Steel is a somewhat surprising band on this album, which has remixed "La Guerre De Cent Ans" into a quiet and moody-like cut, which will bring you into a state of reverie.
Over now to the new songs and little surprises. "Intraveineuse" is absolutely magic for its originality. It's a cover version of Bel Canto that was translated into French and sounded as if it was originally written by Celluloide. This is a great song, which sounds as pure robotic music.
Another noticeable song is the harder-like "Rêve Idéal", which was originally written by Eric Ferrand and here again totally transposed into the particular electro universe of Célluloide. This song is one of the absolute highlights.
The two songs left are a kind of breaks, and I especially want to mention the adaptation of Eric Satie's "Gnossienne N° 1". This classical song has been reworked into a kind of cinematographic approach with some interesting, but experimental influences.
Conclusion: "L'Amour Est Géométrique" is a fully successful and original way to bring some familiar songs to life in a different version plus great new cuts. This work sounds as the ultimate robotic-music composition.
Best songs: "Gris – Virussé par Orange Sector", "Art Plastique – Stylisé par Missing Square", "Rêve Idéal", "L'Amour Est Clair – Surexposé", "Le (Long) Baiser Géométrique".
Rate: (DP:8½)DP.
Band: www.celluloide.online.fr / www.facebook.com/celluloidemusic
Label: www.boredomproduct.online.fr / www.facebook.com/boredomproduct