Genre/Influences: Industrial, electro-industrial, experimental.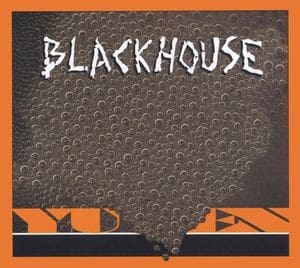 Content: Blackhouse is one of those 'living-legends' active in the wider fields of industrial music and noise. Brian Ladd can look back at an impressive discography. He released his work on an impressive list of labels, but it's the first time he got an album released by the Hong Kong based Ultra Mail Prod.
This label already released a very select number of industrial and dark-ambient artists. The releases are limited editions characterized by a very artistic packaging. We were very lucky to get a final copy of this new Blackhouse opus featuring 8 compositions.
"Yuen" is a quite accessible work by Blackhouse, which is mainly constructed from electro-industrial loops carried by a low cadence. Ladd invites his fans to join in for a minimal sonic adventure on, which he excels in sonic manipulations. The tracks are overloaded with multiple effects and different noises. The work is accomplished by great ambient atmospheres injecting a dark and somewhat tormented touch to the work.
"Yuen" might be easily considered as belonging to the most sophisticated work of this band. Brian Ladd became a truly talented noise surgeon who's mixing harsh passages with sophisticated sound treatments. The work is spiced with a kind of field recordings reaching a kind of noise climax at the last track (cf. "WOMANifesto").
I personally prefer the minimalism from the debut part which moves into some modernism. "(Keep Your) Eye On The Hog" is a great composition, which totally stands for this 'progressive' style while I also recommend "Hell Done Froze Up" revealing deep, vibrating bass sounds and buzzing noises.
"Breathe Deep, The Holy Spirit" is totally different for switching into a kind of ghost-like ambient atmosphere. This track appears to be a kind of intermezzo, but still confirming the never-ending diversity of this artist.
Conclusion: I'm not addicted to the entire Blackhouse work, but "Yuen" is the kind of exception to the rule. This album reveals the most intelligent side of Blackhouse.
Best songs: "(Keep Your) Eye On The Hog", "(I'm On) A Mission From God", "Hell Done Froze Up", "WOMANifesto".
Rate: (DP:8)DP.
Band: www.sonic.net/~lfmusic/blackhouse / www.facebook.com/Blackhouse-62087096216
Label: www.facebook.com/yuen.k.wah