tsū guide for musicians, labels, magazines and artists in general
The past 12 days the industrial music world has gotten to learn about that new upcoming social network called tsū, especially since Side-Line decided to launch its presence on there with a big bang. After 12 days Side-Line is now being followed by over 6000 people on tsū, and there is no sign that the rate of followers joining our page is slowing down, on the contrary. We also have generated over 50.000 page views since we started posting on the platform, so those claiming it's impossible to reach these number are basically a bunch of amateurs.
As a result a lot of artists, labels and magazines (content providers that is) have asked us feedback in how they could manage their account the best on tsū (some probably drawn by the fact they can earn money on there via the revenue sharing program). Since we also work professionally as social media consultants it was just a matter of time before we'd start using it. The money we raised – when we start cashing in – will go towards the charities we support anyhow, so we are not in it for the personal gain. It's also the reason why we are always talking about #tsūcoffees on our page and not about money :).
So let's see what you should be looking out for when using tsū. First of all keep in mind that although a lot of things are similar compared to other social platforms, this platform also requires some native tweaking, and that's where it gets interesting as you will see.
Should you have a presence on tsū first of all?
tsū is a young emerging social network which has gotten a lot of traction and this after being only 1 year in existence. It would be stupid to have your preferred handle on tsū cybersquatted (which is already the case for several brands). Only for that reason already you should be present and have a profile secured.
But there's another reason to set foot on tsū now (and be an early adopter) if you are active in the industrial music scene. Namely, there is an industrial scene already available on there right now, especially after Side-Line landed like a tornado on tsū the past week with thousands of fresh signups as a result. As we all know, early adopters usually will benefit the most from a platform since you can count on extra visibility (less competition) and people will network easier since everything is brand new.
A third reason – and not the least important one – is that tsū is currently the only platform monetising your content correctly – and that's where it becomes really interesting for magazines for instance. We did a calculation at Side-Line and if Facebook was paying us (like tsū does at the moment), Zuckerberg should have to write us a cheque of roughly 245.000 US$. Huge no? In short, while Zuckerberg and co are earning a lot of money on (y)our back, tsū offers you the option to keep a large portion of the revenue generated by your content in your hands. That revenue is similar to what the revenue is CPM wise for entertainment websites. If your content catches the attention of a lot of eyeballs you will benefit from it, whether the traffic comes from outside tsū or from the network itself.
Can you earn a lot of money in a very short time on tsū?
We have been inundated with questions from artists begging us almost for us to explain how they can earn (a lot of) money asap on tsū. Here's the good/bad news: you can't and never will, neither will you in the real world. Also tsū requires that you work on your presence. But the advantage is that you can see your progress bit by bit and talking to a few bigger account holders on tsū, they are making a very nice extra with it.
That should sound like music in your ears because that is exactly what Facebook is not doing. Instead Facebook has basically been ripping you all off in every way they can these days as a content provider: limited post reach, promoted posts, pay for a like (and not being able to reach that person afterwards), censorship, …
How did Side-Line get to over 6000 followers in just a few days?
As you probably know by now, Side-Line is a rather well known name in the industrial music scene which means that we can easily reach lots of people with just one message via the platforms we handle, from our own website to our social media channels (although Facebook is making it really hard on purpose). Add to that that we have informed a lot of people via email that we had opened a page on tsū. And that brings us to the next point…
For years Side-Line has been bringing articles with plenty of tips and tools to help artists to contact their following. A lot of bands have been reading these articles well and have been doing well. But surprisingly, today, we still see artists that have no mailing list, have no social media channels, don't send out press releases etc.. It's usually also the same bands that complain that they don't get featured on Side-Line, but that's another subject (which we will tackle again very soon).
So what if you still haven't build up a database of fans? Then start NOW. We are using this newsletter provider (trustworthy and dead cheap – sign up now before reading the rest of this article, so you're sure to be ready) to send out our newsletters and to let people sign up. It's a must for artists to build up their newsletter database and then let it work for you in terms of boosting an action. You can easily ask people to sign up too your newsletter via social media (you'll have to do this repeatedly in order to get your database populated, if you are a big or a small band).
Send out a newsletter informing your fanbase / readers of your tsū presence
At Side-Line we have sent out a mailing informing people of our tsū presence, plus we also added our invitation link so that people could sign up directly (important because tsū is an invitation only platform). But be aware that it really is not a good idea to beg people to sign up. Instead, make sure they can read, see, hear something exclusive on tsū that will push them to sign up (and highly possible also become a follower of your page).
Don't befriend people you don't know
What we hate about Facebook is that the personal profiles of people who have an extended network (like journalists, artists etc.) can't turn off the befriend button so that you only can be followed. tsū has this, and we have been using it to avoid running into the same trouble as on Facebook where befriending has become an international sport creating lots of extra work for you to keep all those people outside your newsfeed. Follow people instead if you really want to know what they are up to, but keep your friendliest only for your close contacts so you can easily find them back on tsū via your friends list.
Communicate
Communicating is easy, however we often get questions from bands asking us what they should communicate. One thing you shouldn't do is start selling from your first post on. That really looks bad and reflects badly on your image. Nobody will like such a post. Instead, build up your communication on there, post pictures from inside the studio, add some new lyrics, post a rare video, … the list is endless and as a band you should have no problem providing your fans with such material. As such tsū is not different from any other platform.
Tag us
In order to get your posts shared more rapidly, make sure to tag Side-Line for instance (or other news outlets) so that we are aware that something is out there waiting to be shared by us. Keep in mind that we can only share a limited amount of posts per day (the system thus avoids and blocks excessive sharing aka spam), so we will usually pick only the most interesting ones, and that you are selling an album surely won't do it. A charming picture on the other hand…
Use your own content, don't strip Google etc looking for memes
Since we landed on tsū, we've seen a lot of people there stealing content from Google images, especially memes in order to get likes. That is not the correct way to use tsū and in the end it will get you barred from the network if the original content creator stumbles on you thieving the net. Instead, why not create your own memes, because the built-in image processing tool is a charm and makes it very easy to let your own humour go haywire. Front 242 for instance created an own meme (their name got tsū'd so to speak) and they have been using it several times already, you can see one example below from this morning. We're pretty sure that our Tomcat post this morning also brought them some extra inspiration. It's those personal touches that makes you stand out on tsū.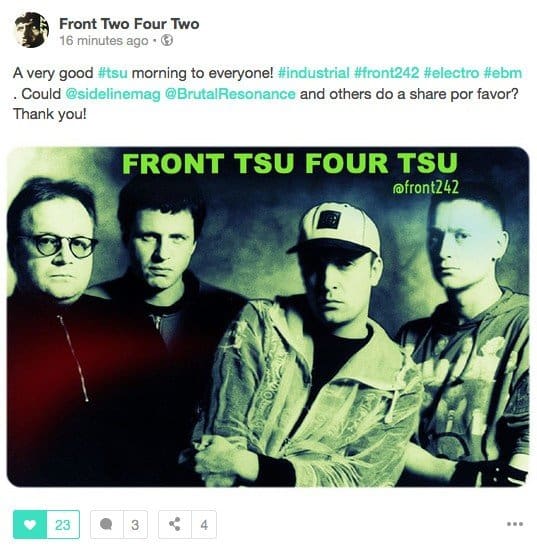 Another thing which seems to do very well on tsū are pictures of female band members. Helalyn Flowers for instance is playing well with this and have their front woman Noemi Aurora featured on several pictures, each time with a nice result as far as likes is concerned. It's advised to add your own @ handle in the description field to invite people to follow you. This works like a charm if you picture gets shared on bigger accounts like the one of Side-Line for instance.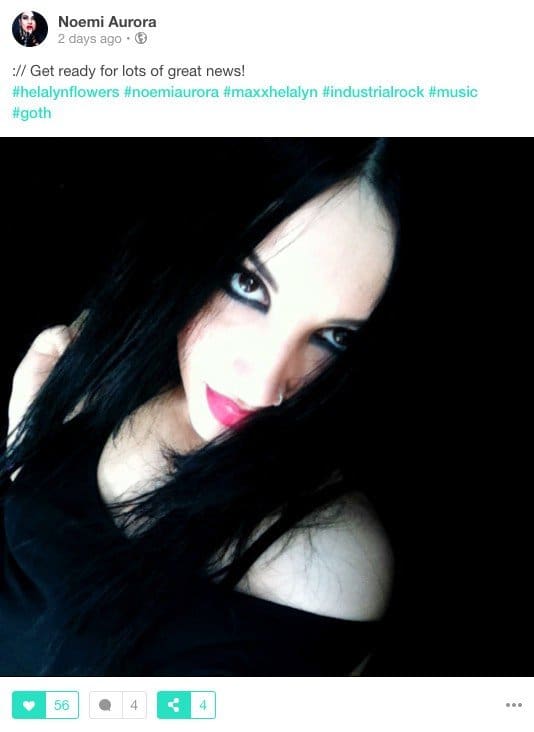 Content still is king
Good content (textual or graphical or both) usually gets shared and read rapidly once it gets some traction. So take care of your content (like you should do anyhow). For graphic artists, play with the medium.
We have played a bit around with all kinds of posts and have noticed that basically all content works well on tsū as long as it has the seed in it to attract attention. Our text only updates even tend to work better than linked articles. Probably because it does not lead people away to another site. Pictures do quite well, just like on other social platforms. Today we posted a good picture of our feline office resident Chewie, and he instantly got some cat like/love back, not surprising. However, you might want to consider a mix of both to stay on subject and make sure that you spend some time in making a good photograph of what you are about to post. We will be continue to experiment so follow closely what we are doing so you can pick up a few ideas.
A good graphic example is Cryo Claire who caught our attention just after a few days. Her graphic material is stunning and is the reason why we are pushing her via Side-Line. Below is a screenshot from the share we did, and which instantly increased the number of people which saw his post. We also advised her to add her own @ handle in the description field to invite people to follow her. And a next step would be to create artwork that is special made for tsū, which would get lots of traction as tsū is in the spotlights right now with Facebook blocking every link leading towards it, making the tsū residents just a little bit pissed of.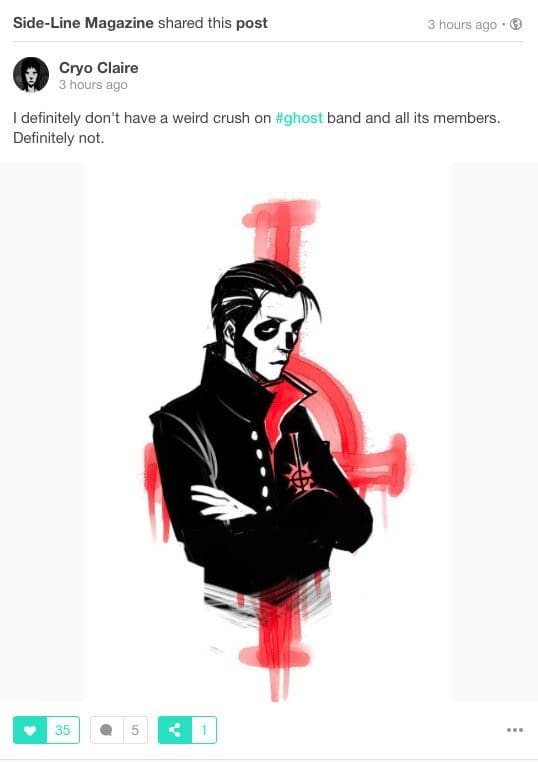 Use the hashtags correctly
tsū works a bit like Twitter (and in a lot lesser extent Facebook) does when it comes to hashtags. The platforms makes it very easy this way to discover other content. At the moment you see a lot of new hashtags popping up that are directly connected to the industrial scene. So it's easy to surf on those hashtags to let other people discover your posts. However, don't use those hashtags lately. It makes no sense to use #industrial as a hashtag when you post about your garden, and it certainly won't help if you add #porn to every post either.
Listen to our tips
You can only join tsū when you have received an invitation link (ours is here). What we at Side-Line do is follow closely the people that signed up via our link and get in touch with those accounts that have it to get bigger (artists, labels, other magazines). We are already giving tips directly and contact users to help them establish their presence, and to boost their followers. This makes that you better remain in good standing with us so that we keep on helping you out. 🙂
Keep away from scam tips
Just like on any other platform, you will also find scammers on here that will like you so you like them in return, share your content if you share theirs etc.. That's not the way to do things on tsū. At Side-Line we are blocking such people to keep our newsfeed free of trolls and spammers.
Block the 'hi', 'nye', 'nice', one letter commenters
tsū, just like any other platform, also has its fair share of comment spammers, we therefor advise to clean out the comments on your page as much as possible and block the people who post with 'hi', 'nye', 'nice', demands to follow them etc.. Although these not so well targeted followers don't hurt your reach (unlike with Facebook where fake likes – a real plague on there – completely destroy the reach of your page), you do not want them to leave spam in your page's updates. We were told that tsū is working on a solution for this. But for the moment, block those spammers and delete their comment.
Conclusion
All in all tsū will need some dedication in order to work properly. You won't reach your goal each day, but you will after a while when people start to realise you have something interesting to say or show. The good thing about it is that you can see your progress day after day. So if your articles get picked up and shared then you'll also see the page views and your 'tsū Coffees' increase in volume.
But remember, Rome wasn't built in one day.
Since you're here …
… we have a small favour to ask. More people are reading Side-Line Magazine than ever but advertising revenues across the media are falling fast. Unlike many news organisations, we haven't put up a paywall – we want to keep our journalism as open as we can - and we refuse to add annoying advertising. So you can see why we need to ask for your help.
Side-Line's independent journalism takes a lot of time, money and hard work to produce. But we do it because we want to push the artists we like and who are equally fighting to survive.
If everyone who reads our reporting, who likes it, helps fund it, our future would be much more secure. For as little as 5 US$, you can support Side-Line Magazine – and it only takes a minute. Thank you.
The donations are safely powered by Paypal.