Genre/Influences: Electro-pop, new-wave, electro-clash.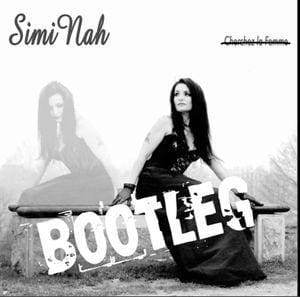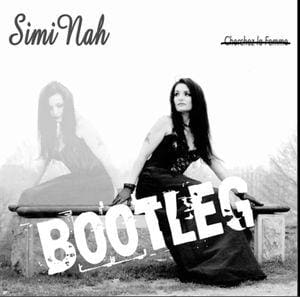 Content: It always is hard to remain objective when you really like the sound of a band. Simi Nah is an artist I discovered more than 10 years ago now with the brilliant electro-pop and new-wave driven debut album "Cherchez La Femme". It took several years for Simi Nah to achieve new work, but the albums "5" and the last year released cover-concept "Be My Guest" simply confirmed the pop talent of this formation.
Simi Nah is now back on track with the somewhat weird "Bootleg". The title is more meant as 'fun' instead of being a real bootleg. It here concerns 8 songs that were originally released on the debut album "Cherchez La Femme", which have been reworked, remixed and remastered by Simi Nah and her partner in crime Kenny Blomme (aka KGB).
It's hard to say which album I prefer, the original one or the limited bootleg edition. I maybe prefer the original version of "Cherchez La Femme" although the reworked version remains pretty faithful to the sound of this band. Simi Nah resulted from the mix of good-old electro new-wave influences with some electro-clash touch on top and the fragile and sexy vocals of Simi, which she sings in her Mother tongue (French).
I've seen a lot of comparisons with French pop acts, but I think we also might speak about an influence reminding me of Serge Gainsbourg for some of the lyrics and I here especially refer to "L'Ange Je" and Brigitte Bardot (who also was a cool singer). Bardot also was an artist for whom Gainsbourg had written many songs.
And if I've to mention more typical electro artists it will be hard to not mention Kraftwerk for the song "Le Passé – Le Présent – Le Futur", which sounds a bit like an adaptation of Kraftwerk's "We Are The Robots".
Another possible source of inspiration might be Taxi Girl. The great "Cherchez Le Garçon – B-Movie Track" simply is a cover version of this French 80s formation. We all know that Simi Nah likes covers, but we might have forgotten she also made this remarkable cover of "Alice" (originally performed by The Sisters Of Mercy). I like the Simi Nah-adaptation on, which you'll recognize the original song, but reworked in an electro-like style while featuring the fragile and somewhat childish vocals of Simi instead of the deep growls of the original song.
Conclusion: This "Bootleg" is a pretty good way to get back to the debut-album of Simi Nah by rediscovering some of the most essential cuts of the album.
Best songs: "Sans Se Voiler La Face", "Le Passé – Le Présent – Le Futur", "Cherchez Le Garçon – B-Movie Track".
Rate: (DP:8)DP.
Band: www.siminah.com / www.facebook.com/simi.nah.music
Label: www.why2k.com