Genre/Influences: Gothic, post-punk.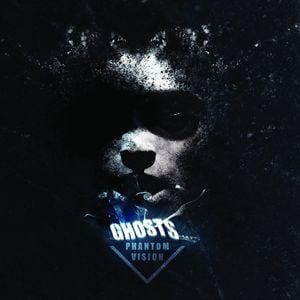 Content: Phantom Vision has resurrected after a 10 year hibernation. The Portuguese gothic formation got some recognition right after the millennium by releasing their debut-album at the now gone gothic label Nightbreed Recordings. The next 3 albums got released by COP International, but the last 10 years nothing new happened in the studio.
"Ghosts" is maybe not a new start, but it's clear that after all these years they'll again have to conquer the audience. The work is not exactly what I would call a typical gothic release but rather a mixture of gothic and rock elements with some extra electronic arrangements on top.
There's a well-crafted balance between all the elements, but the main strength of this work is the vocals by singer Pedro Morcego. He can sing in different ways, which inject some diversity into the work. His deep and somewhat sensual timbre of voice at "Behind The Scenes" reminds me of Leonard Cohen while the more nasal and theatrical style at "Human" is more like Gary Numan meeting Anna-Varney Cantodea. Last, but not least some of the last songs, which are like into a post-punk spirit might remind me of Billy Idol. Morcego is a real talented singer and he clearly injects a real true spirit into this album.
Phantom Vision is not reinventing gothic music, but their new work clearly reveals a will to do it a different way. It's not exactly the dark and depressive gothic sound, but a more open-minded vision, which is still touching other grounds. The electronic passages are absolutely great and essential, like illustrated at "Fairy Tales And Broken Dreams", but still other songs like "Behind The Scenes" and the brilliant "Naked Machine" reveal great sequences.
I already mentioned the some more post-punkish approach, which sounds a bit into rock as well. It makes me think of a contemporary version of Billy Idol and I even dare to say that this is probably the best part of this release. "No Limits", "Right City, Wrong Time" and "Millionaire" are pretty cool songs in the genre. Those songs still feature an electronic touch, but it's less explicit now.
"Ghosts" features 15 new songs, which is a nice gift for the fans who had to wait for years since the "Instinct"-album (2005).
Conclusion: The new Phantom Vision work sounds more diverse in sound and even into some modernism. I'm just missing a potential hit at this album to speak about a fully successful comeback.
Best songs: "Naked Machine", "Behind The Scenes", "Right City, Wrong Time", "Millionaire".
Rate: (Elise Din:7)Elise Din.
Band: www.facebook.com/pv2000.band
Label: www.copint.com / www.facebook.com/copint