'Click Interview' with Raison D'être: 'Symbols Are The 'Common' Language Between Our Inner And Outer World'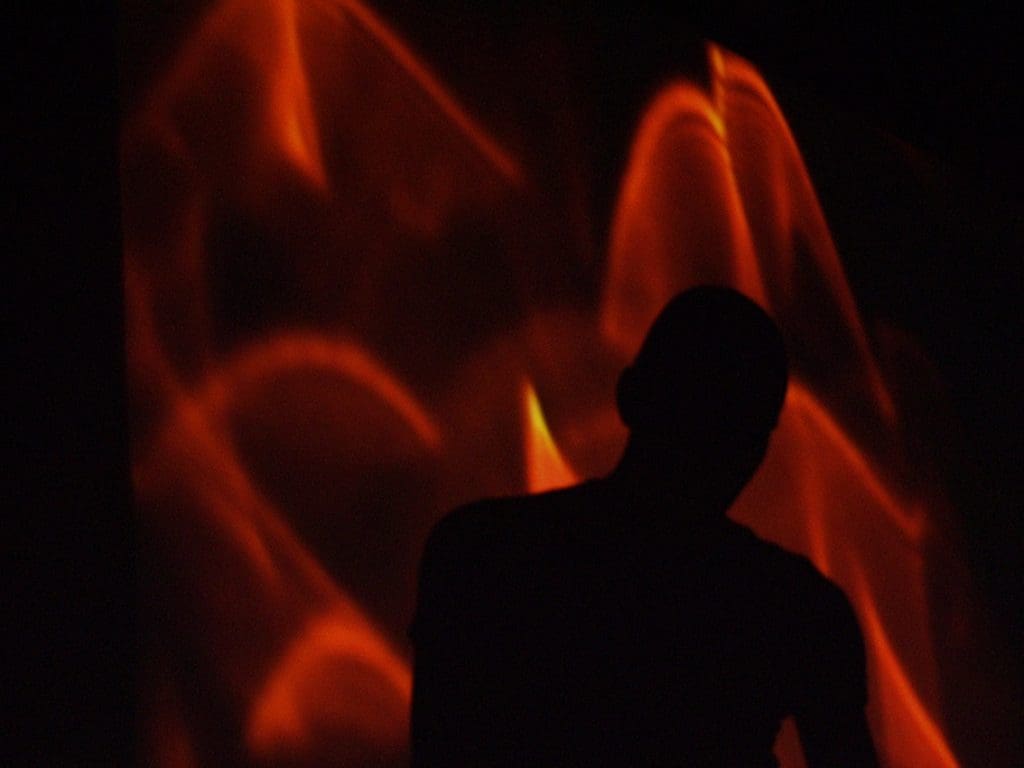 Swedish artist Peter Andersson set up Raison D'Être in 1991. He rapidly became one of the most praised- and influential artists from the dark-ambient scene. He became one of the flag holders from the legendary and now defunct label Cold Meat Industry. Peter Andersson set up different side-projects such as Atomine Elektrine, Bocksholm, Necrophorus, Stratvm Terror, Panzar, Anonyma Alkoholister ao but always moved on with his main project. He this year joined hands together with Canadian label Cyclic Law to unleash his newest creation "Alchymeia". It's a new opus revealing the dark- and artistic sound approach of Peter Andersson. It also was an opportunity to make an interview with this talented and unique musician.
(Courtesy by Inferno Sound Diaries)
Q: I first of all want to ask you if you're satisfied with the new album and what kind of work did you want to accomplish by releasing "Alchymeia"?
Peter: I can't be anything, but satisfied with a new album, else it would not have been existing. The previous album was the same, just as the next one will be. With all of my albums I want to establish and accomplish some sort of connection with my inner self; to get to know myself better.
The process of creating the album is the most important phase because then the connection is deeper and more intense than when listening to a completed album a few years later, but after a few years I might start to understand things in or around the album better, like pieces of a puzzle finding their correct places.
Q: When listeners are listening to music they only hear the result of a long-time during process featuring numerous aspects such as sound creation, the equipment/gear to compose music, influences, eventually a conceptual theme, the writing and recording process, mixing, mastering, artwork etc… How do you manage all these aspects and do you have a specific way of working/proceeding?
Peter: Yes, there are many aspects, and the ways may vary in different degrees from album to album. I don't lock myself to one specific way, even if that may seem like a safe and confident way. But I don't want to be safe, it would mean stagnation. I want to find new/other methods and work with new/other gear which give raise to new/other possibilities.
The concept is never the same for one album to another, even if there may be similarities and relations between them.
Q: During the last years Raison D'Être has released several live recordings and these albums together with Troum. Does it mean it becomes more and more difficult to compose a new studio album after more than 20 years of involvement and maybe finding new challenges?
Peter: No, it's not the case really. Sure it's a challenge to create an album, but as long as ideas, inspiration and curiosity is part of my life I know there will be ways to do good material. The truth is this: in the early and mid 90's I released a new Raison D'Être album each year because I had the time to do it. I was young and searching for employment, but did not get any job. In the late 90's I got an employment and from that moment it took longer time between the albums. And times seem to go faster the older you get. And in recent years I have a family and a house to take care of, so at the end there is very little time for music.
Not many can live on their music alone, they need some kind of employment to pay the bills. I wish I would only work half as much and make more music, but at the moment it's really not possible for various reasons. I choose to release live albums because they are unique and very different from studio albums, and the material that are performed are almost always (at least since ten years back) tracks that does not exist in studio versions, they are made on the fly during the performances. The live tracks may remind of studio tracks, but that's just because they may share some common sounds, and then they evolve into something else.
And the two collaboration albums with Troum, well it is like making one normal studio album in effort I guess. These albums were released within a two year period but the material for the first album were completed between 2011-2014 and the second album between 2013-2017, so they were pretty slow processes. To complete a Raison D'Être album I would typically need a year (noneffective time) from the start of making sounds to complete everything including the release of the album, but before that start of making the first sounds a concept has been developed, and my mind has been accumulating energy and adopted itself to the concept maybe two years earlier.
Q: What I especially like in your sound is that Raison D'Être –and a few other number of dark-ambient projects, has created a kind of very own sound DNA; I mean you directly can recognize it's Raison D'Être! What do you think makes your sound that specific and recognizable and what does it say about your perception of composing music?
Peter: I agree that artists can have a specific and recognizable sound profile. I think the most important (and maybe the only way) in order to get a unique and very own sound DNA is to find one self in the creative process and to find where I belong in all this, what is my talent so to speak. When this has been found, and it may take many years, than that unique sound profile will follow naturally and be a natural part in every creative process. This kind of profile is not unique to music, it can be about any type of creative output. It's just a matter of finding one self.
Q: The album has been introduced as 'diving deep down to the shadows of the unconsciousness'. What fascinates you in the inner world of human being, which is a path mostly explored by psychologists, and how do you transpose these themes into a sound, a track and finally an album?
Peter: What does not fascinate with the inner world? The dream world, the subconscious, the unconscious, archetypes, symbols and imagination is perhaps the most fascinating for me I think.
How things work between the inner world and the creative output, how things are rendered into music, is a bit of an enigma. It's just happens and it works as it was a natural process. But I believe the language of symbols plays a big part. Symbols are the 'common' language between our inner and outer world, but the decoding process is the difficult issue. Anyway, I believe it works, a connection with the inner world must be there and I follow the voice of my inner which guides me to follow a path that may not exist, but are created while I follow it. When a sound is the right sound I will feel it, when a track is the right track I feel it, and when an album is final I feel it, and this feeling resonates in accordance with my inner resonance.
Q: I read that this album will be the first time a Raison D'Être production will be released on vinyl format. How does that feel and how do you explain the come-back of vinyl while CD sales are going the other way round?
Peter: Yes, and we are still waiting for the vinyl production. The aim was to release the vinyl at the same moment as the CD and digital release, but there is a very large queue and all is crazy because of all the records that need to be produced for the record store day. It screws up the production for the rest that are not interested in the that specific day. I think the return of the vinyl is good, but the production companies and equipment are not enough to meet the greater amount of possible vinyl releases. I like the impact and size of the vinyl, but I prefer the sound quality of the CD, at least for my own music.
Eventually all my studio albums will get a vinyl release. After "Alchymeia" I will start to make vinyl master for "Prospectus I" and then go in chronological order. I guess the return of the vinyl has to do with a reaction against the digital and less physical world of music, and also the 80's is in retro fashion at the moment, and vinyl were big in the 80's just before CD's got popular. Vinyl is a collector's item with high status while a CD don't have high collector status at all.
Since you're here …
… we have a small favour to ask. More people are reading Side-Line Magazine than ever but advertising revenues across the media are falling fast. Unlike many news organisations, we haven't put up a paywall – we want to keep our journalism as open as we can - and we refuse to add annoying advertising. So you can see why we need to ask for your help.
Side-Line's independent journalism takes a lot of time, money and hard work to produce. But we do it because we want to push the artists we like and who are equally fighting to survive.
If everyone who reads our reporting, who likes it, helps fund it, our future would be much more secure. For as little as 5 US$, you can support Side-Line Magazine – and it only takes a minute. Thank you.
The donations are safely powered by Paypal.