'Click Interview' with BySenses: 'We Are Not Chosen, We Are People'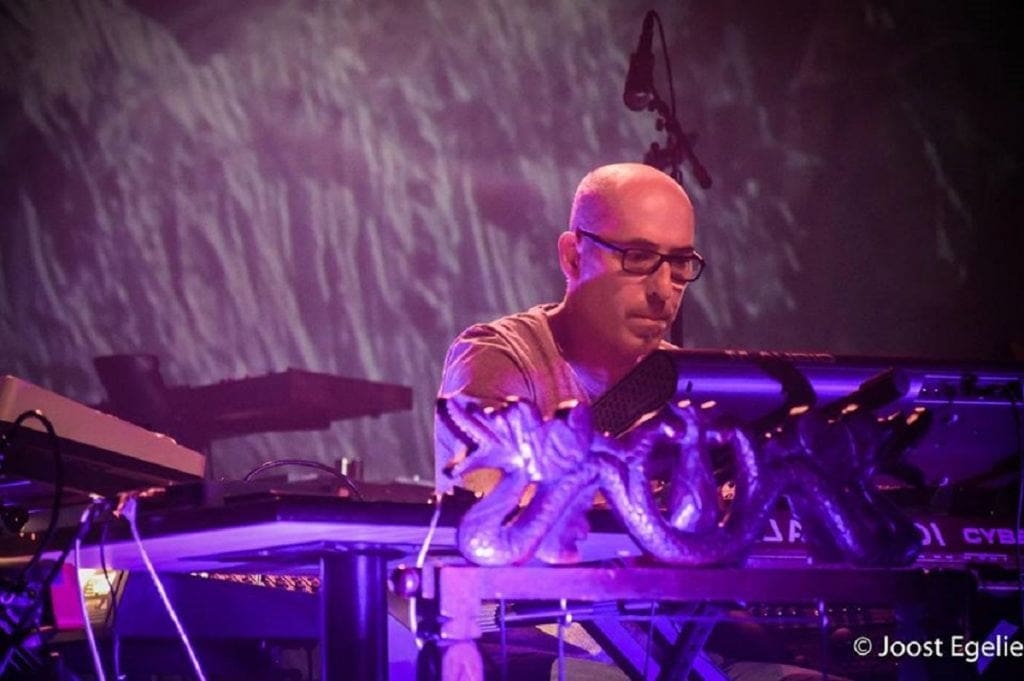 Didier Dewachtere is a Belgian artist from 53 years old. He started to like electronic music at his 15th birthday. It was the good-old time of new-wave music, which still remains a source of inspiration. Later on he discovered artists such as Jean-Michel Jarre, Klaus Schulze ao. The 'Berliner School' had a real great impact on Didier. It is very obvious, that BySenses was partly taken from a song from Schulze entitled "Sense". BySenses now has released its third full length entitled "People" on the Belgian label Wool-E-Discs. It's a beautiful and styled ambient release, which also brought me in touch with the artist.
(Courtesy by Inferno Sound Diaries)
Q: BySenSeS has been featured at the Wool-E-Discs series "Belgian NeuMusik". How would you introduce the sound and approach of BySenSeS and what does it mean to you to be part of this label-series devoted to Belgian ambient music?
Didier: My first album came out on an independent label Multidisc. But when Dimitri Idunno told me he would start up a new label Wool- E Discs, pure Belgian music, I thought it would be nice to be part of it. So he said yes and now "People" and a lot of other albums have been released on his label. I'm thinking on Sensory++ , Venja or Galactic Underground, The Rosswell Incident, Rhea and a lot of other.
Mostly they say 'Berlin School' is the base of 'Belgian Neu Music', but that is not really right.. If you listen to Nothing But Noise, another Belgian group, I think there is no Berlin School in it. It is a great honor to be part of it. I think Belgian Electronic Music can be placed amongst the German School, or French School.
My sounds and my music is how I feel… how I think, how it is in my mind. Starting a song is searching for sounds and I use this bases to create songs. It can start with a melody or with a simple rhythm… or something that comes into mind while going home.
Q: What means music to you and what importance does it take in your daily life?
Didier: Music is very important to me. It has always been a part of my life. When I was a young boy, I spend all time at my bedroom listening to music, playing cards with headphones or going to sleep with music and getting up with music… I just came home in the weekends, because I was at a boarding school, but over there they played music as Vangelis.. At that time I didn't pay any attention to it. I was nearly 9 years, but later on it got really an impact. I still think that I kept this music in my mind. When I was 20 years old, I started living on my own and the first thing I did was buying a Korg MS20 and MS50. In the beginning I made some tracks with the Korg MS20, but they are all lost. My parents didn't believe in the music I wanted to make and certainly not in 'the synthesizer'. Because my life at that time was a bit other than it is right now, all my money went to discotheques and going out.. Later on, when I came back from Afghanistan, I decided to buy more instruments, and my son Pieter did all the technical support. It was great to see him doing these things although he never made music (lol).
Q: The first BySenses production were released in 2014. How do you look back at the earlier work and what have been the main evolutions and steps forward towards "People" and is there a hidden message behind the front cover?
Didier: My first album "InSense", which is only available at Bandcamp was not mastered. I made the music and put it on Bandcamp. It was only a bit later I got in touch with some people like Dries De Vreeze, who do some mastering. "Frigmants Fragments" is mastered by Dries and is a bit different, more experimental. It tells us the story of a part of my life, a moment where during a short time things were not so good… a story about good and bad things… "Slaap Stil Mijn Kind" can been considered as an example. The track is dedicated to a child I lost.
Next to Dries, Sarah Joos came into the picture. Sarah is incredibly good in what she's doing. She makes really dreamy pictures and has her own style. I think there is a mutual respect for each of our work. In these times people are living so separated, living all alone without contacts etc… People are so tired of politics. People are scared and getting afraid while I think politicians should bring people together and help them. I don't like populism and I don't like Nationalism… not in that way… Using migration to get votes is abusing people. That's a bit the hidden message. So quite progressively, the idea came to make an album for all people around the world. I asked Sarah if she would make some pictures of people; just their faces and all colors while I asked a friend to be on front. His has a real expressive face.
Alain Kinet, who I already knew from earlier times, did the sleeve design. He listened to my story and so the artwork got created. I wanted to make an album from birth to death, from loneliness to happiness, from feelings to non-feelings, from things that happened in my life such as relations etc. So "People" was born.
I really think that music can feature a message. I want to put a message in it, but also maybe a message that people has to find listening to the music… that message is not necessarily the same as I want to give. Nothing around us reflects the open-mind of humanity. We are not chosen, we are people.
Q: Tell us a bit more about the global production process of this work; potential sources of inspiration, way of composing, addition of guest artists and how do you look back at the album right now?
Didier: To be honest, it has been a lot of work producing "People". It took me 2- 3 years to have it all done. It is not a secret that I've been seriously impressed by Klaus Schulze, but also Vangelis, Roedelius, Tangerine Dream ao. So am I influenced about them? Maybe, but I really try to put my own ideas and feelings in the compositions. It's always a pleasure when someone says that he can hear BySenses in my music.
As I said I start with some sounds, looking for some nice patterns and work on it. Sometimes the melody comes, like on "Nightdancer", where I played the melody in one night. I surely can not replay it again, I was in 'The Zone' and when you are there, you can do a lot of things. So 'Frakke' came in for drumming on "Nightdancer", as he already did on "OGF" on "Frigments Fragments". I know Frank De Coster ('Frakke') as a collegue and he's really rock and roll.
Next came Thomas Betsens. I saw him live at a little festival in Drongen (Belgium), where I played live with my other project The Tower Tree (collaboration between BySenses and Owann). I asked him if he was interested for singing on "People". So he came over and had a listen. The music was already composed and then it happened… It blew me away. He never heard the song which I wanted him to sing. And he also sung on "Sensitivity", which I think is the best song I ever made. There're so much feelings in it, which doesn't mean that the other songs are less important. The song "Birth" was made when my son told me he was becoming father himself and I became grand-father. So all feelings are in it. I like to work with other musicians and I like to give them enough space to do their own thing. So did Thomas and Frank.
When I look back, I think it is a step forward comparing to "InSense" and "Frigmants"; technically and musically I think all albums have their a different sound.
Q: When I hear ambient music I often think to concepts featuring diversified forms of arts like films, documentaries, pictures, paintings, sculptures, theatre etc… What's your perception about it and what are your further plans?
Didier: The 80's music of Klaus Schulze, Vangelis, J.M. Jarre was played on the radio. I even heard Tangerine Dream on 'Studio Brussel' (national broadcasting). Later on I discovered other programs late at night. I remember I was 15 years old and asked my teacher if I could listen to these programs. As he was fan of Vangelis he let me listen to it, but It was forbidden to say it to my friends. Nowadays there is a totally different way of making radio.. It all is about how many listeners you can reach, money etc. So nowadays our music is played on internet radio, even Klaus Schulze or Tangerine Dream. I really respect that, but it's a pity that national broadcasting is not giving time to this kind of music. There is a lot of beautiful- and modern electronic music.
When people ask me what 'ambient music' is all about, I often say that they can listen to the music of a documentary etc.. but it's much more than that.
Nowadays I take some rest and simply enjoy spending some time with my little daughter Eleonora. I'm still searching for new sounds and there'll maybe a new album from The Tower Tree. I really would like to see "People" getting released on vinyl format. I remixed some songs, made them a bit different and now they'll be mixed by Alain Wymeels. I'm just waiting what Wool-E-Discs will say. Don't expect a new BySenses-album within one year.
Since you're here …
… we have a small favour to ask. More people are reading Side-Line Magazine than ever but advertising revenues across the media are falling fast. Unlike many news organisations, we haven't put up a paywall – we want to keep our journalism as open as we can - and we refuse to add annoying advertising. So you can see why we need to ask for your help.
Side-Line's independent journalism takes a lot of time, money and hard work to produce. But we do it because we want to push the artists we like and who are equally fighting to survive.
If everyone who reads our reporting, who likes it, helps fund it, our future would be much more secure. For as little as 5 US$, you can support Side-Line Magazine – and it only takes a minute. Thank you.
The donations are safely powered by Paypal.