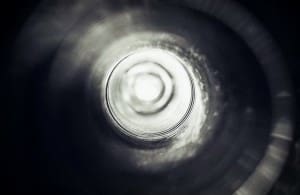 Behind Alphaxone is hiding a talented dark-ambient artist hailing from Iran. Mehdi Saleh is a passionate and prolific musician who has been involved in numerous dark-ambient projects. Alphaxone got signed to Cryo Chamber and has released multiple significant and poignant obscure productions during the past months. His last opus entitled "Echoes From Outer Silence" is a new exploration of sonic darkness and tormented ambient fields, but according to me it also appears to be the an intimate work.
(by Inferno Sound Diaries)
Q: I'm not familiar discovering dark-ambient music made by an Iranian musician so how did you get in touch with this music genre and can you briefly tell us something about your musical background?
Mehdi: I begin my music career in 2005, but my official work started in 2009 when I set up my dark-ambient project Alphaxone. After that, in 2011 I started another ambient-soundscape project named Spuntic. Beside these, till 2014 I was busy with other music projects called Inner Place and Monolith Cycle, which both had different elements and concepts.
Q: You've released an impressive number of productions in a rather short lapse of time. Where do you find all this energy & creative spirit and what's your procedure to compose music?
Mehdi: I've spent a lot of time composing and listening to music; my main focus is on music, working on several music projects at the same time is really hard for every artist, however it's the best way to emit my inner dark and bright senses and convert them into music… so music is not boring to me.
Q: What fascinates you working with conceptual themes and how do you transpose the content into your music?
Mehdi: In my opinion this kind of music is really impressive and important. I believe this music can help us to know the inner truth of the artist and the absolute understanding of artist's outer ambience. The atmospheres and the FXs on this kind of music are good leaders to realize the story behind the artist's mind and his/her experiences in life …
Q: I experienced your newest album "Echoes From Outer Silence" as your most intimate album to date. How do you look back at this work and how do you see your own evolution as musician throughout the years?
Mehdi: Normally I don't talk that much about my productions because I believe that others should listen, judge and leave comments. Certainly my sights are different from the audience's sights. There are some secrets in every pieces of art, so these secrets are the keys to know more about an artist.
I think I have a long way and vast path to go in this music genre. There are many great artists dealing with dark-ambient and I am just a member of this gorgeous family. I wish I can do better.
At last I want to thank you for your consideration about Alphaxone and my music, also I want to thank Simon Heath and my old friend Morego Dimmer (Xerxes The Dark) for their supports.
Courtesy by Inferno Sound Diaries