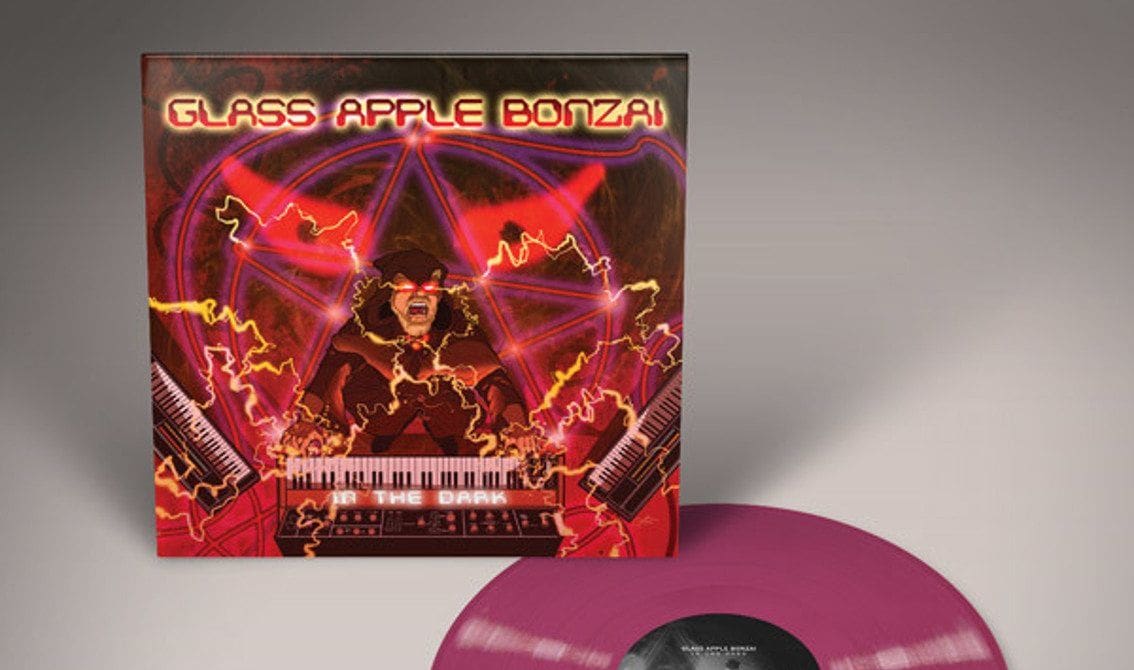 Synthpop act Glass Apple Bonzai aka the solo creative output of Daniel X. Belasco, is back with a new album, "In the Dark" via the Toronto-based Artoffact Records. Side-Line readers who follow us on Spotify will already have noticed that the band landed on our popular playlist today thanks to their authentic 80s synthpop touch.
So far Glass Apple Bonzai has self-released two albums of synthwave and synthpop, and with quite some success as the band won the 'Album of the Year' and 'Electronic Dance Music Artist of the Year' awards at the Niagara Music Awards in 2015 and 2016. They also performed at this year's Iceland Airwaves Festival in Reykjavik, and played in Canada at the Terminus and Aftermath Festivals.
It's the project's third album and the first for a label. "In the Dark" will be released on December 9th as a 2CD digipak (order it here directly from the label's mail-order) and with both black and purple vinyl formats following in the new year (but already available for ordering from the label's mail-order). The album also features guest contributions from Alex Reed (Seeming) and fellow Canadian Hello Moth. The limited edition double-CD digipak includes an entire bonus disc of outtakes, demos, weird shit, and remixes.
Below is Glass Apple Bonzai with "Holy War", the 2nd track from the album.
We also asked Daniel X. Belasco to define us the 5 albums that inspired "In the Dark":
My Life With the Thrill Kill Kult – I See Good Spirits and I See Bad Spirits
Daniel X. Belasco: "Let's start with the obvious. The first few My Life With the Thrill Kill Kult albums played a large part in the general tone and campiness I was going for with In the Dark. Most notably the usage of movie dialogue."
"And This is What the Devil Does"
Talk Talk – The Party's Over
Daniel X. Belasco: "To me, Talk Talk are one of the greatest bands ever and they serve as a constant source of inspiration for me in terms of songwriting and general attitude."
"Talk Talk"
Killing Joke – Brighter Than a Thousand Suns
Daniel X. Belasco: "Like with Talk Talk, I view Killing Joke as one of the greatest bands that has ever existed. The lyrical content, the song construction, their power. Brighter Than a Thousand Suns has a wonderful ethereal quality that find its way into my music in various shapes, but it's the raw awesomeness of Killing Joke that continues to inspire me."
"Rubicon"
Front 242 – Official Version
Daniel X. Belasco: "I was listening to Official Version a lot while working on In the Dark and the influence is fairly obvious in spots, notably anywhere where the synthbass and drums are locked in tight with each other."
"Masterhit"
The System – Sweat
Daniel X. Belasco: "I only discovered The System a couple of years ago while on a synthfunk binge and since then I've been hooked on their raw and emotional, yet simple funkiness. I'm a total sucker for strict mechanical beats and basslines and The System have that locked down hard."
"You Are in My System"