Genre/Influences: Post-shoegaze, gothronica, ethereal-psy-rock.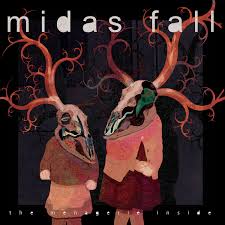 Content: The 3rd full length by this UK formation originally founded in 2009 in Edinburgh (Scotland) is a beautiful surprise.
The 4 headed band gracefully led by singer Elizabeth Heaton reveals a hard to define masterpiece. Multiple influences are running through this work. There's a non-stop twist between rock- & psychedelic-like guitar parts, electronic arrangements and ethereal inspired vocal parts. Midas Fall defines their music as 'post-shoegaze' and 'gothronica', which is more revealing about their influences instead of their genre. Music doesn't necessary belong to an established genre and especially when the result is that outstanding.
"The Menagerie Inside" is a truly coup de force in its global production and inspiration. The sound is refined and often moving towards real climaxes, which are mainly accomplished by genius guitar playing. Together with the sublime vocal parts it elevates the work towards an orgasmic sound experience.
There are no songs to throw away. From the very first notes of the first song you'll discover the heavenly sound universe refined by piano arrangements and the passionate, ethereal like female vocals.
The next few songs reveal phenomenal guitar parts, which are a little less psychedelic-like. There's a beautiful symbiosis between music and vocals. It's all a part of reverie and the kind of composition that would be fine for a soundtrack experience.
Right in the midst of the work you'll discover 2 unique masterpieces. "Low" is an outstanding song, which will bring you to an ultimate apotheosis when guitar, drums and vocals are merging together. It sounds fragile and transcendental. "The Morning Asked And I Said No" even goes a step further. The guitar play left me breathless for its sensational psychedelic consonance, which reminds me now and then to softer U2 songs. This song would be a brilliant title song for a soundtrack. The climax is elevating you towards an unknown musical dimension, which brings you happiness."Tramadol Baby" coming up next is one more outstanding song revealing similar elements and artistic beauty.
After such masterpieces the album never stagnates, but remains fascinating until the end. The influences are constantly melting together in a beautiful mould of musical creativity. "A Song Built From Scraps Of Paper" is progressively reaching an ultimate climax while I now more enjoyed the delicacy of the piano playing.
Conclusion: Midas Fall is certainly not the most familiar name, but I can assure you that their new opus has the grace and beauty to make them immortal. This is without a shadow of a doubt one of the most poignant and artistic albums of 2015!
Best songs: "The Morning Asked And I Said No", "Low", "A Song Built From Scraps Of Paper", "Tramadol Baby", "Afterthought", "Circus Performer".
Rate: (DP:9)DP.
Band: www.midasfall.com / www.facebook.com/midasfall
Label: www.monotremerecords.com / www.facebook.com/MonotremeRecords