Genre/Influences: Psy-trance.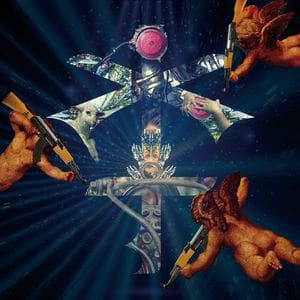 Content: Juno Reactor is back with an album full of remixes. Ben Watkins, the Godfather of goa-trance, is an artist who has released an impressive number of great albums and influential compositions. The last full length "The Golden Sun Of The Great East" was in my opinion one of his greatest releases ever and it's precisely this album that has been remixed.
Ben Watkins told us in a flash interview it took him some time to find all the projects for the album. Watkins didn't want to buy a cat in a sack so he had to meet them first and had to get an idea about their potential. Well, that's for sure the main reason why this work sounds absolutely amazing.
If you're not into the current psy-trance scene you'll probably discover an entire list of unknown bands. Names like GMS (Spain), Bliss (Israel), Zeologic (Serbia) and Tortured Brain (aka Dino Psaras) are established artists in the scene, but Ben Watkins also choose less familiar names revealing interesting ideas.
The 9 original songs of the original full length were remixed plus 1 song originally released on the "Gods & Monsters"-CD (2008) –which is only available on digital format as a bonus song. Extrawelt opens with a rather minimal electro-minded remix of the famous "Final Frontier". GMS comes next with an impressive remix of "Zombie", which was seriously uplifted by guitar sounds. The remix of "Guillotine" by Bliss is one of the high lights for its rough and merciless sound while I here again fully enjoyed the kind of guitar-electro arrangements.
The beginning sounds terrific, and the rest of the work moves in a similar way. The remix of "Invisible" by Ritmo is the next masterpiece. I especially like the sitar play running through this cut while the tribal elements get it only more trance-minded. Zeologic did a great job as well, remixing "Tempest" with some icy, psy-trance elements.
"Trans Siberian" is another noticeable remix on, which Cylon tried to reinforce the trance feeling. The remix of "Byculla" by Tortured Brain sounds more into mystic fields injecting some diversity to the work. I especially like the female chants in this cut.
Last, but not least I also have to mention the powerful remix of "Tanta Pena" by Mickey Noise, which is only available on the digital release. This song that was originally released on "Gods & Monsters" totally fits to the tracklist of this album. This mix is driven by an impressive bass line and great, mystic female chants.
Conclusion: There's no better way to bring an album to life than great and artistic remixes. Ben Watkins has a nose to select interesting bands, which all did an amazing job. This work is a real cool surprise!
Best songs: "Guillotine – Bliss Remix", "Invisible – Ritmo Remix", "Zombie – GMS Remix", "Trans Siberian – Cylon Remix", "Byculla – Tortured Brain Remix" + "Tanta Pena – Mickey Noise Remix".
Rate: (DP:9)DP.
Band: www.junoreactor.com / www.facebook.com/junoreactorofficial
Label: www.metropolis-records.com / www.facebook.com/MetropolisRecords