Genre/Influences: Industrial-ambient, IDM, ambient-dub.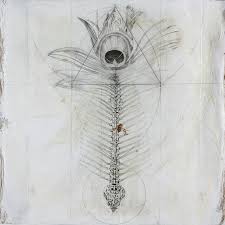 Content: Danielle Antezza is an artist who earned some fame as one half of Dadub, but he's also known as the manager of the Undogmatisch label while he's still running a mastering studio. A few years ago the multi-faced artist started the solo-project Inner8, which after years of secret experiments and sound exorcism has now unleashed an album revealing 12 compositions.
It's not that easy to define the sound of this Berliner based Italian artist, but he clearly merges different influences together. The opening cuts are quite fascinating for the way they've been meticulously built up. It takes off like a soundscape experiment revealing the ambient involvement of the artist, but moves towards heavier structures characterized by elements of dub, mystical chants and solid industrial components. The debut of this album is absolutely great. Inner8 brings icy elements together with a kind of dubby rhythm, which on the next song becomes pretty industrial like. It all sounds like a delicious osmosis of sounds and different influences, Antezza revealing himself as an inspired sound alchemist.
There clearly is a fascination for creating unique sound treatments and a passion to find the ultimate offspring between different genres. That's why Inner8 doesn't really belong to one established genre, but appears to be a genre on its own. That's often the mark of a creative mind and that's precisely what Inner8 stands for. The mix between all the sound ingredients results in something unique and definitely original.
"The Paradox Of Authority" sounds like pure sonic earthquake. The rhythm is absolutely overwhelming while a mysterious, but poignant ambient sound atmosphere weaves through this cut. The rhythm again moves into industrialism on "Praxis" while the sounds become very raw. Rhythm and ambient together lead to a sonic cataclysm called "The Irony Of Karma (Part 2)". This is the ultimate offspring between the different elements used on this composition. The dense atmosphere and tormenting loops accentuate the mystery hanging over this production, which is only reinforced by the impression of chants.
Conclusion: Inner8 introduces the listeners to a delicious eclectic sound travel characterized by an endless passion for sound creation and the search of an hybrid between different genres.
Best songs: "The Paradox Of Authority", "The Irony Of Karma – Part 2", "Daimon Anthem", "Praxis", "Eudaemonia", "The Irony Of Karma – Part 1".
Rate: (DP:8)DP.
Band: www.facebook.com/Inner8 / http://aleatory-am.com/e/inner8
Label: www.undogmatisch.com / www.facebook.com/undogmatisch.bln