Genre/Influences: Breakcore, industrial.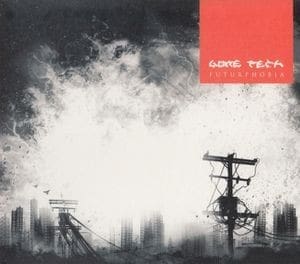 Content: Gore Flett is a young artist who's progressively making his name in the wide fields of industrial music and more precisely in the breakcore district. We discovered this artist now two years ago with the EP "Machine Throne" released by Ad Noiseam. He released a few more EPs on different labels, but now moves back again to Ad Noiseam to unleash the debut album by Gore Tech.
"Futurphobia" is a totally appropriated title for this work, which starts straight ahead with monstrous sound blasts and zombie-like spoken parts. The heavy blasts of the sound treatments definitely are one of the main aspects of Gore Tech. It sounds cold and industrial, but very familiar to the breakcore style. But it rapidly becomes clear that Gore Tech is much more than simply a breakcore artist. He experiments with different influences, sometimes creating the illusion of listening to industrial-dubstep. "Optical Hybrid" is another noticeable passage for the opening reggae-like sampling part, which rapidly evolves into an explosive sound cocktail.
I prefer the heavier stuff featured on "The Ghost Particle" and "Dubwar", these songs are carried by buzzing and vibrating loops where elements of techno and industrial have been roughly mixed together. Gore Tech sometimes sounds like a sonic rape or a violent sound uppercut without a final point. The tracks move on a merciless way and only a few cuts bring some relief in this sonic mayhem.
Those who know Gore Tech" and are already familiar with the "Machine Throne"-EP will recognize the already mentioned "The Ghost Particle" and "Dubwar" while the 3rd song featured on the EP (cf. "The Plague Of Zion") can be found as well.
And one of these softer and most noticeable tracks is "Mechanica." This is a special one as it has been written with Ben Lukas Boysen (Hecq) who also mixed the entire album. I like the cold treatments of this track, which is a familiar element in the music universe of Hecq while adding some diversity to "Futurphobia."
Last, but not least I'd like to say a word about the cool digipak format of this album and there is the fact that you can also purchase a vinyl format as well.
Conclusion: "Futurphobia" stands for complexity and a tough production, but more than that, it's a sonic enigma in pure avant-garde music.
Best songs: "The Ghost Particle", "Dubwar", "Mechanica", "The Zerofinity Event".
Rate: (DP:7)DP.
Band: www.gore-tech.net / www.facebook.com/goretechmusic
Label: www.adnoiseam.net / www.facebook.com/adnoiseam