Genre/Influences: Ambient.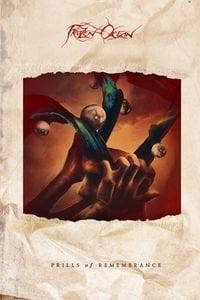 Content: Frozen Ocean is a solo-project set up by Vaarwel (which is a Dutch word and means 'goodbye') and based in Moscow. I never heard of this band before, but I discovered a few albums from the Frozen Ocean discography.
Vaarwel appears to be a real prolific artist who has already released several albums. The main style and source of inspiration appears to be ambient music, but I noticed there's a real difference from one album to another. The previous work (cf. "The Deison Swarm") revealed a kind of metal-ambient format while earlier work leads us towards enigmatic and chilling dark-ambient work (cf. "Oneiric In Geocentricism"). The new work again appears to be something totally different and definitely in a more 'classical' ambient format.
This album sounds like a total dreamy, electronic experience, which might remind you of the early synthesizer pioneers.
You get an instant wafting sensation, which with some imagination will lead guide you to an astral fantasy universe. The songs have been accomplished by delicate arrangements while some atmospheric passages are sometimes reaching a mysterious level.
This is the kind of work revealing beautiful songs and elevating passages. "As White Supergiant Illumines Petrified Streets" is a fully achieved piece, which is carried by a slow rhythm.
The low cadence running through most of the songs injects an extra fascinating touch, which makes it more accessible for a wider audience. But the album also reveals diversity. A few songs, which are a little less into darker moods are reminding of the complexity of Benestrophe. "Of Blurred Signs Once Carved On Full Moon" and "Chains Hang Down The Abyss" both are noticeable cuts in the genre. The work is subtle and elaborate. It sometimes sounds a bit like a soundtrack composition.
The ultimate cinematographic experience for sure is the final song "White Birds Thaw On Toy Soldier's Burial", which clearly appears to be a little jewel in the genre. I like the melodic loop running through this song while the crystalline sound treatments simply confirm the great artistic skills of this project.
Notice by the way that this CD has been released in a DVD-box, which also reveals a global artistic approach of the band.
Conclusion: I never heard of Frozen Ocean before, but I now had the opportunity to discover different albums dealing with different genres although always sounding like pure ambient music. This artist is worthy of examination.
Best songs: "As White Supergiant Illumines Petrified Streets", "Of Blurred Signs Once Carved On Full Moon", "Chains Hang Down The Abyss", "White Birds Thaw On Toy Soldier's Burial".
Rate: (DP:7½)DP.
Band: http://frozen-ocean.net / www.facebook.com/frozenoceanrus
Label: http://haarbn.com / www.facebook.com/Haarbn