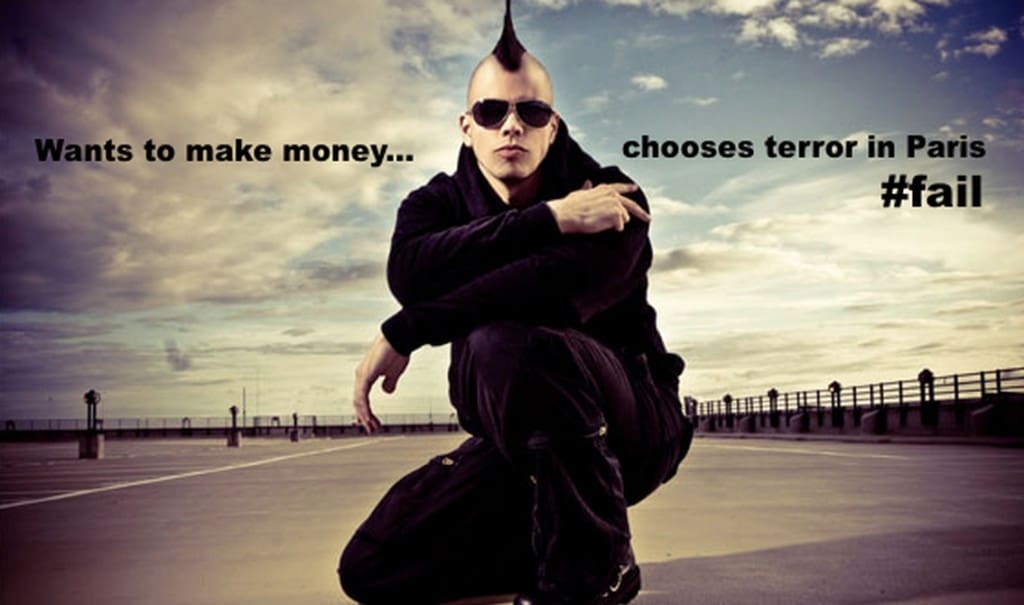 Update: All revenue from Side-Line goes to charity. Also for this article.
The German act Faderhead has reached an all time low point in his career so it seems. The recent move of the band's main member Sami Mark Yahya to commercially release a new track titled "No Gods, No Flags, No Bullshit" a week after the terroristic attacks in Paris has been badly received by both fans and people from the Parisian industrial scene. Sami announced the single as being his "personal reaction to the Paris terror attacks of Nov 13, 2015 and as a statement about all the reactions by media, politicians and mostly those of regular people."
"A very cheap attempt to make some money on the misery and deaths we suffered last week here in Paris, Faderhead is just trying to make money on the back of the recent terror attacks here in Paris", says Guillaume Allaire, a french Side-Line reader.
On top Faderhead refuses to donate the money of the single to charity with what many describe as being a very lame excuse: "Singles (this includes top mainstream chart hits) are usually loss-leaders. That means they will cost more to make than they create in revenue. This is especially true for the industrial/ebm/goth scene and is the same for "No Gods, No Flags, No Bullshit"."
Guillaume Allaire: "Utter nonsense since the single is a download only and didn't cost any extra money to make since it was recorded for the band's new album. The fact that it is released via Bandcamp makes me think he wanted to cash in asap. An appalling attitude for a musician."
And the comments didn't just arrive in our mailbox but also straight on the Facebook page of Faderhead. Read along 2 comments that show very well why this move is a bad one.
Greg Bird: "Yay, way to capitalise on the deaths and suffering of the innocent."
Sean Ook Curtis: "Coming across as a cheap shot to cash in on a seriously horrific tragedy dude if you're taking money from a song referencing the Paris incident without making a donation to a support charity for the injured/affected. Bad form. Really bad form."
And we end this article with a quote from another Side-Line reader Valérie Abbé: "That guy is showing a total lack of empathy combined with a parasite attitude. Screw him!"
Harsh words for what has been a total PR miss by Faderhead.