Genre/Influences: EBM, dark-electro.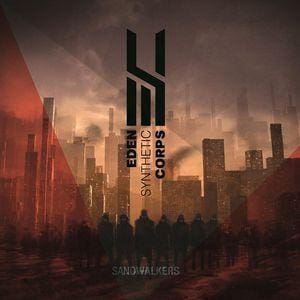 Content: I've always considered Eden Synthetic Corps (ESC) as the Portuguese answer to bands like FLA, Suicide Commando and Hocico. They strike back with their 5th album, which seems to have already gained some positive reactions.
The sound formula of ESC hasn't really changed and that's maybe one of the single reproaches I can say about "Sandwalkers". The work moves in between dark-EBM and (h)el(l)ectronics. It's a powerful exposure of dark lyrical themes, which will not make you happy. The sound universe of this band covers pure defeatism, which has been transposed into a dynamic and enraged sound creation. Some of the songs are driven by hopping sequences while supported with icy leads. Some icy elements are filled with a kind of raw technoid touch, but I can assure you it all remains dark and tormented electronics from hell.
The production reflects a raw and unpolished production, which must be for sure voluntary. But if there's one real minus point is the mixing and maybe the mastering. I regret some leads are not more getting through, especially when they're quite carrying and composed with a cool icy sound texture. The song "Oil Of The Feathered Serpent" is a good example to illustrate the mix, which I think might have been better.
But globally speaking this is a new great work by ESC. Some of the songs are clearly covering FLA influences, but with this extra rough touch on top. Most of the tracks are merciless and even mind-blowing, but it's one of the softer songs entitled "Neuri" which sounds like the potential hit. The chorus is absolutely irresistible and before you'll realize it you'll start shouting the words 'Shape-Shifter' together with the singer. This is for sure one of the best songs this band has ever written.
"Sandwalkers" features 14 songs and that's quite an impressive tracklist. The songs are not that diversified, but that rather is a positive item if you like the work of ESR. And belief me, there are no songs to throw away!
Conclusion: ESC progressively becomes a warrant for qualitative dark-electronic music and this new work simply confirms it. I'm just convinced the mixing/mastering could have been better!
Best songs: "Neuri", "Dystopia", "Catarse", "Atsinganoi", "Lamiae", "Oil Of The Feathered Serpent".
Rate: (DP:8)DP.
Band: www.edensyntheticcorps.pt / www.facebook.com/edensyntheticcorps
Label: www.darkdimensions.de / www.facebook.com/pages/Dark-Dimensions-Label-Group/486014725206