'Click Interview' with Tycho Brahe: 'It Is Painful To See Very Little Financial Return On The Recorded Work Through These Streaming Services'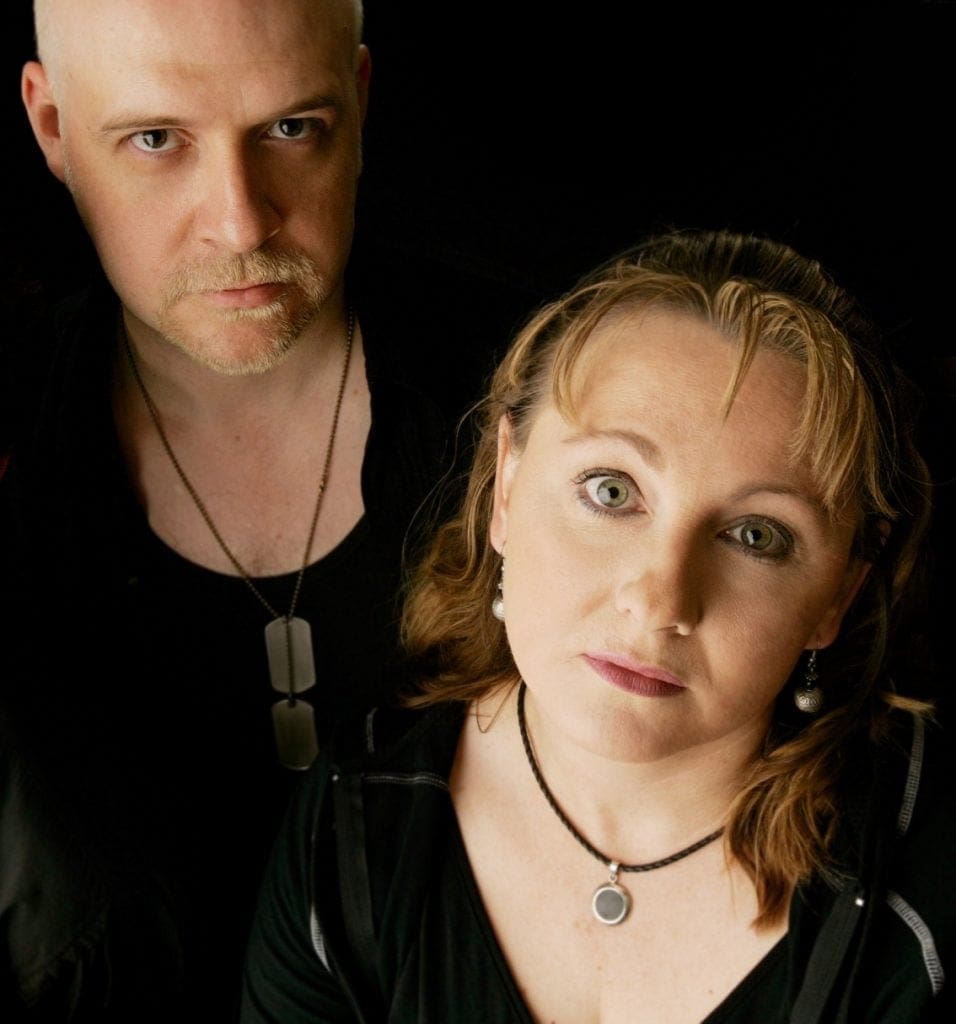 Set up in 1993 by Ken Evans and Georgina Emery, Australian formation Tycho Brahe recently released the "Triplex [complete] "-album on ScentAir Records. It's without a shadow of a doubt their most accomplished work to date. The songs will probably ravish 80s synth-pop lovers, but it first of all is a great production the band might be proud of. This was a real good reason to organize an interview with the band.
(Courtesy by Inferno Sound Diaries)
Q: Tycho Brahe saw the daylight in 1993. What have been the main facts about your career and how much of early Tycho Brahe do you still recognize in your writing today?
TB: We started off as something different and evolved into our current form. The consistent thing about us though, is that we have always approached every situation with a total sense of self-belief. We've never been afraid to take a risk and do something 'crazy' or to do the impossible when others might say it can't be done eg like organize an international support in 2 other states with 5 days' notice when we haven't rehearsed in five months. Or organize an interstate gig for an international or interstate band whose promoters let them down with one weeks' notice.
With this never say never and can-do attitude, we've ended up playing shows with other notable acts like The Human League, John Foxx, VNV Nation, Covenant, Real Life, Psyche, Pseudo Echo etc and made many great connections and strong relationships within the industry. We are self-taught in everything, including playing our instruments, programming, recording and production…everything…but have never seen that as a disadvantage. Through self-belief and determined application we have succeeded.
Compared to the earlier Tycho Brahe songs, some of the more recent work has been more unusual in structure (eg "1985" and "Valerie Perrine"), and that has been a deliberate decision to try and keep things interesting. There's also more confidence these days in being more personal about song lyrics. But the biggest difference between the early Tycho Brahe releases and the more recently recorded work is the level of production we've achieved in an independent studio setting. We feel that "Triplex [complete] " is easily our most accomplished body of work so far on many levels.
Q: I noticed your early work has been released on cassette format. What does that evoke to you and what's your perception about the evolution of technology (recording techniques, instruments, social media, streaming etc)?
TB: Our first two releases were on professionally duplicated cassette in 1996. This was the most affordable format at the time. We'd spent a lot of money in professional studios before that, which was fairly normal for a band in those days, however we made those recordings ourselves very cheaply on a borrowed 4-track system, with the intention that they would be used as demos. We were playing a lot of live shows, and we needed to be able to make our music available to promoters as well as fans, so we put the best of these recordings on a cassette – that first release is literally called "The Promotional Cassette". The reaction was great, and we realized that for our purposes it didn't matter if we recorded in a 24 track studio or on a home 4-track system, as long as the music was good, and was recorded and produced to a suitable standard. This appealed to our self-taught 'do it yourself' manifesto, so we decided to completely move away from expensive professional studios, and instead invest that money into achieving self-sufficiency for recording and producing. We were early adopters of the digital recording revolution, and the freedom to experiment with recording and production on our own time schedule was a total revelation. Our debut album "Cassiopeia" (released in 2000) was recorded on a PC running very basic 8-track recording software on Windows 98. Our studio setup has now evolved to the point where we're able to integrate and centrally control all of our vintage hardware synths, drum machines, effects units, DAW software and VST's etc quite seamlessly. We are living in a golden age of digital recording.
Social media is the great enabler for independent bands which allows us to not only connect globally with geographically dispersed fans, but to connect with other musicians and producers, creating great opportunities that otherwise wouldn't exist. Before social media, in the early days of the internet, it was still difficult as an independent act to grow beyond our local area and we were still reliant on local gigs, press and radio to generate interest and connections, which of course is very limiting. Streaming services like Spotify are both a blessing and a curse – whilst they deliver practically no income for the artist, people who otherwise may not have listened to acts like Tycho Brahe can hear the music very easily for no cost. It's just one aspect of the modern democratization of music distribution, although as an artist it is painful to see very little financial return on the recorded work through these streaming services.
Q: Your newest CD-album "Triplex [complete] " features your 3 latest digital EP's. How important is to have these songs released on CD format and how did you get in touch with Russian ScentAir Records?
TB: Digital distribution is obviously a far more pragmatic way of distributing music, but it is killing the album format. The recordings on the "Triplex"-EP's were originally intended for a cohesive album, so from an artistic perspective we feel that presenting them in a physical format such as a CD album encourages people to listen to that entire body of work rather than hearing random individual songs from a digital playlist, and that is very important to us. And to have a business external to the band share a belief in the recorded work to the point where they're willing to invest money into manufacturing and distributing physical copies of that album is a very affirming and validating process.
We became aware that there was a synth-pop scene happening out of Russia, when we stumbled across a pirated Russian synth-pop compilation which we were on with the likes of Depeche Mode, Beborn Beton and Camouflage. It was completely illegal but somehow flattering. So our curiosity was piqued, and we investigated the Russian scene a little further and realized that our musician friends Empire State Human (ESH) had recently released an album through ScentAir, who appeared to be one of the few remaining independent synth-pop labels still releasing CDs. Tycho Brahe had previously collaborated with ESH/The Garland Cult when we remixed each other, so we contacted Aiden from ESH. After he said very positive things about ScentAir, we decided to directly approach them with the idea of compiling the "Triplex"-EP series into the proper complete CD album. This had been our original plan and ScentAir were very keen to do it, with distribution through Poponaut. We're very happy in our relationship with ScentAir, and would like to release further albums through them in the future. If we could ever do so, we'd also love to tour in support of those releases in Europe, but living in Australia makes that a very expensive proposition.
Q: I've to admit I'm deeply impressed by this album revealing a perfect balance between electronics and guitar while featuring bombast and refined bleeps, alluring bass lines and catchy choruses, typical 80s arrangements with charismatic vocals on top. Tell us a bit more about the writing and recording of this masterpiece?
TB: Thank you, we're glad that you like it! "Triplex [complete] " is our fifth album, and we actually started work on it immediately after our "Atlantic" album in 2006. The first song to be completed was "Loveless", which debuted on Myspace way back in 2007, before our "Transatlantic"-remix album was released, and that recording set the writing and production standard that we wanted to achieve for the rest of the album. We were playing and refining songs from "Triplex" at live shows with bands like The Human League, Psyche etc, and that live work plus other commitments slowed progress on recording the album…
Before we knew it, four years had passed, and then our studio was flooded, completely submerged, under 4 metres of filthy flood water in the devastating Brisbane floods of January 2011. We saved all of the equipment, but then we were basically demolishing and rebuilding for the next year, but then decided to relocate to higher ground anyway as we were post-traumatic from losing a studio and a home to the flood… every time it rained we would freak out. The flood cost us two years of progress, and around that time Andy Walls (live keyboards and co-writer), decided to leave to 'take up gardening' which was another setback. We had a semi-functional temporary studio which wasn't really set up for vocals during this time, so in 2012 we recorded and released the novelty song "Sex Rocket" as a single – which is one reason why it has a vocoder in place of vocals… it was remixed by Parralox, Neuropa and Psyche, we also did a follow up song in a similar style, "Super Hot Robot", another fun novelty song but not representative of our usual work. (Both songs have videos on Youtube and were created by another talented member of the Tycho family, Thomas Evans.)
So as fate would have it, the album was shelved until we could get our studio and our lives back in order. When we finally re-established the studio and got back to the album, we found that we were being perfectionists wanting a very high production standard, and recording was slow and painstaking, so we became impatient to release something. That is when we decided to split the album into three parts, so we could complete four songs at a time and release three EPs over a longer period, maintaining some output. Georgina came up with the name "Triplex", which means 'having three parts', or a house divided into three residencies. We digitally released each EP ourselves, with artwork by our friend Stig Olsen in Denmark, who has also done graphic design work for The Human League, and on our "Sex Rocket"-CD single. Each EP was mastered in Sydney by Kathy Naunton at dB mastering, who has worked on albums by Severed Heads, Boxcar, Midnight Oil… the songs themselves range from very personal, such as "No Love", to "Castaway" which is about not fitting into society, to "Valerie Perrine" which is about the hot tub scene from the Village People movie, "Can't Stop The Music"! Our favorite track on the album is probably "Metropolis", the intro has a mobile phone recording from a New York subway which sets the mood perfectly.
Q: "1985" is an interesting song with references to the 80s. Are you guys nostalgic and what has been the impact of the 80s on you as teenagers and later on as musicians?
TB: We're massive '80s fans, obviously music especially but also movies like "Buckaroo Banzai" and "Electric Dreams", video games (Georgina has a vintage Galaga arcade machine), musical equipment… most of our synths are vintage '80s machines like the Prophet 5, Emax sampler, Juno-106, LinnDrum, Simmons, etc because we love how they sound… even the registration plates on our cars… Georgina's is "80-MIX" which is the music she's always playing in the car – a mix of '80s stuff; Ken drives a Mustang convertible with the plate 'FAC-73' which is the Factory Records catalogue number for the "Blue Monday"-single, the song that made him want to create music way back in 1983. Most people's formative years are their teens, and the '80s certainly had a huge impact on us, but it was a groundbreaking era for music, with all of that incredible new technology becoming available and affordable in the post-punk years.
The song "1985" is deliberately nostalgic and is about specific events experienced in the '80s with various friends…"Park Avenue" is referenced in the song, it was a Hi-NRG club in Adelaide that played Man 2 Man, Dead Or Alive, early Stock Aitken & Waterman… we would actually dance all night and emerge at daybreak; the song is quite personal and about still being anchored to that era. In 2011 we were able to work with Giorgio Moroder's 1980's bass player/programmer Arthur Barrow, and we released a remix single for the song "1985" in the production style of Moroder in 1985, with Arthur Barrow contributing parts using the same bass guitar and Jupiter-8 synth he used with Moroder, and our LinnDrum loaded with custom Giorgio Moroder sounds used around the Scarface/Electric Dreams era. There might even be some sneaky "Back To The Future" samples hidden in that song too…
Q: I've to ask you a last question about a real exciting project consisting of doing some programming for the upcoming tour of Peter Hook. How did you get in touch with each other and what is it all about?
TB: We became friends with Peter Hook and The Light when they toured Australia in 2010, when we shared drinks and stories with them after their Brisbane show, and we've since caught up with various members socially and travelled to see the band play overseas. They're wonderful people and an amazing, hardworking band, and one of our favorite live acts of all time. Some of the New Order songs that Peter Hook and The Light play require pre-programming and digital multi-track playback onstage (also known as backing tracks) to re-create the complex vintage sequenced synth and drum machine parts. Peter Hook initially became aware that Ken was an expert in recognizing the distinct New Order sounds and the synthesizers that made them, when he sought his help in clarifying how some early New Order equipment would have worked on certain songs for his latest book. Ken had also assisted in setting up a live vocoder system for their keyboard player, who also knew that Tycho had been covering "Bizarre Love Triangle" live. This led to Ken being asked in 2015 if he'd like to attempt new programming and backing tracks for "Bizarre Love Triangle" for them, as they weren't particularly satisfied with what they'd been using. They were very happy with the result and so Ken has been creating backing tracks for Peter Hook and The Light ever since.
About half of the New Order songs from their recent international "Substance" tours in 2017 and 2018 featured Ken's work. He's been working on new backing tracks for the "Technique" and "Republic" albums since late 2017, for a tour commencing in September 2018. By the end of the current project, Ken will have re-created the synth and drum machine parts for over 30 classic New Order songs. It is incredibly challenging work, as everything has to be completely made brand new, from scratch, without access to any of the original source material due to legal reasons, with only the released versions from albums etc as a guide. The most complex of these can take around 60 hours of work, and it involves researching the original equipment used, detailed sound design, forensic listening techniques, and then the actual programming, sequencing, mixing and production to essentially build a new multi-track recording of the electronic parts, as close to the original as possible. Ken has set up a separate business called Tycho Sound Design to accommodate this work, and he has also now done similar work for Australian '80s band Machinations.
Tycho Brahe literally would not exist if not for New Order releasing "Blue Monday", so to be working with Peter Hook brings us full circle and is a huge honor. Last year in our home town of Brisbane Ken was invited on stage to sing "Bizarre Love Triangle" with Peter Hook and The Light, which was a very surreal and emotional moment.
Since you're here …
… we have a small favour to ask. More people are reading Side-Line Magazine than ever but advertising revenues across the media are falling fast. Unlike many news organisations, we haven't put up a paywall – we want to keep our journalism as open as we can - and we refuse to add annoying advertising. So you can see why we need to ask for your help.
Side-Line's independent journalism takes a lot of time, money and hard work to produce. But we do it because we want to push the artists we like and who are equally fighting to survive.
If everyone who reads our reporting, who likes it, helps fund it, our future would be much more secure. For as little as 5 US$, you can support Side-Line Magazine – and it only takes a minute. Thank you.
The donations are safely powered by Paypal.