'Click Interview' with Stars Crusaders: 'We Like To Blend The Sounds And Mix Ingredients To Create Something Different And Hard To Label'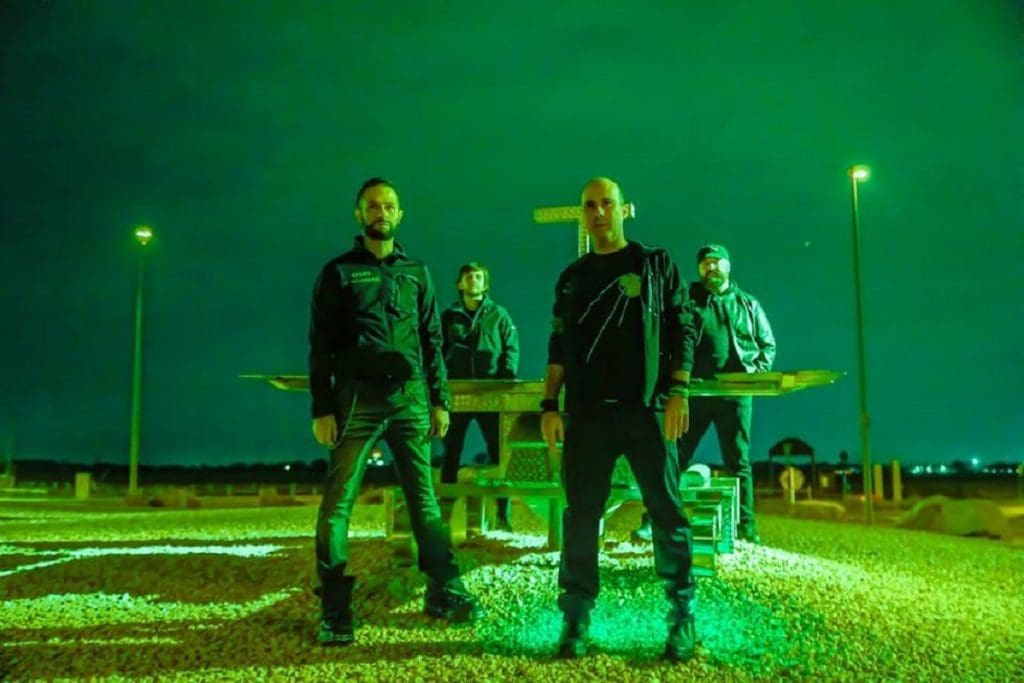 Stars Crusaders is a 'crazy' Italian electro/future-pop band, which released their first official work in 2014. The band clearly revealed alluring electronics mixed with sci-fi themes. They now have released their second full length album entitled "Welcome To Hydra", which invites the listener on a new mission towards the future, reaching the year 2517 where 'all humans are moving to Hydra, looking for a new era of peace and prosperity, but a dark shadow appears on the horizon'. I invited the sonic cosmonauts to take a break on their mission and answer a few questions.
(by Inferno Sound Diaries)
Q: Can you briefly tell us how Stars Crusaders saw the daylight and what have been the main sources of inspiration?
Yeda: Hello humans. We are Yeda, Davedax, Symorg and C1-C0. Dave and Symorg were schoolmates. They play electronic music since those years. In 2014 they started looking for a singer for a new 'electro syfy'-project. I met them for the first time during the audition, and it felt like love at first sight. STARS[+] CRUSADERS were born that day. We immediately began to compose songs together and in less than one year we got the debut album "New Horizons" finished. At the end of 2014 C-1C0 joined the band as a live drummer to add power to the live performances.
Our music combine elements of synth-pop, future-pop and EBM. The project is inspired by the world of science fiction, the songs are like chapters of a narrative, an epic saga set in distant galaxies.
Q: You're definitely into electro-pop music, but what does this music style mean to you and what kind of 'pop' band are you?
Symorg: We are electronic music lovers and science fiction enthusiasts. Our music is like a syfy movie soundtrack. Listening to our music you can choose: let your mind travel through outer space or let your body dance like never before, or both. It's up to you.
Aside from the personal tastes and influences, we try to break away from the bundle, we are not looking for something totally new or unknown but we like to blend the sounds and mix ingredients to create something different and hard to label.
Q: You're clearly inspired by sci-fi themes, inviting the listeners for a new mission through the future. What is it all about and where does this 'concept' and/or fascination come from?
Yeda: Everything starts with the syfy concept. I wrote a short story divided into chapters that we used as guide writing music and lyrics. Dave composes tracks and loops inspired by chapters of the tale. Then I create melodies. We work together changing structure, verse and refrain until we are satisfied. Last step is to choose the sounds and the final arrangements. In the writing process the rhythm comes first, then melodies and lyrics. The first song composed together is "AETERNA", and it's also the first chapter of the saga. The real beginning of the journey.
As for music we use the concept story as guide writing the lyrics. Symorg and I work together, we turn chapters into songs. However the meaning of the lyrics is intentionally mysterious to leave free interpretation. Each song is independent, you can listen to it and feel your personal emotions and find your intimate significance. For instance on the first album "AETERNA" is the beginning of the journey, but could be also about death, "IN THE VENUSBERG" is inspired by "Tannhäuser" (opera) by Richard Wagner, in the second one "THE GREAT EXODUS" is about the exodus of humans to a new planet, but also describes fear and hope of migrants and refugees of today. "UNDER ATTACK" lyrics were written just before the terroristic attacks in Paris. Those days we realized that many words of this song became headlines and breaking news around the world. We were writing about science fiction, interstellar battles in distant worlds, but we were actually describing the present.
You can free download the complete narrative on line if you want to find the 'key' to understand the lyrics or maybe you prefer to find your personal meaning by your own. All the songs and chapters of the concept have hidden Easter eggs, enjoy your hunting!
Q: Talking about the future, how do you imagine Stars Crusaders within 5-10 years and what are the items (maybe dreams) you want to achieve?
Davedax: We will soon be occupying a "WELCOME to HYDRA tour" that will be developed in 2018, while we will lay the foundations for the third album that will close the trilogy of the Stars Crusaders.
In our future there will be number 7 … to you to find out why ….
It is useless to hide the fact that we are ambitious and want to consolidate our role in the world's future-pop scene and we will do it through our music, our style and our desire to communicate with our Electro SyFy.
Q: What are the main facts and memories coming into mind when you look back at the composition and recording of the album "Welcome To Hydra"?
Davedax: "Welcome To Hydra"'s creation has lasted about two years, so we have a lot of memories and had numerous fun moments in the rehearsal and studio room. We did so many concerts when we played the first album, but we were thinking and already discussing the second album. I remember a beautiful and energy-rich episode on the "Dark Xmas Festival" in Madrid in December 2015 where we were to finish the first single "UNDER ATTACK".
We had created a very powerful song, but we needed something that definitely closed the song … well, this just happened before we got on stage, this event had given us an energy never seen before … a memorable moment. We got very beautiful and constructive moments when we worked on collaborations with female singers and other important bands such as Syrian who gave their voice (Andy Lab) for the song "SOULLESS".
Creating a song, an album is for us a SINGULARITY that, as it is analyzed for space, is a unique event that tends to endlessly … as we are infusing the time when our music will be reproduced to give access to our world, out of time and space.
Q: What did you try to express on the new clip "Gemini" and what's the importance of making clips today?
Yeda: The song is about Jungian concept of 'shadow', the unknown 'dark side' of our personality. 'Everyone carries a shadow, and the less it is embodied in the individual's conscious life, the blacker and denser it is'. (Carl Jung).
The video is inspired by "The Seventh Seal", a crusader plays a chess game with his shadow. We tried to reproduce the 'immortal game' played by Anderssen and Kieseritzky in the 1851, same game used also in "Blade runner". The "Shadow" starts with black pieces and in the end wins. It's an oniric rappresentation of the struggle between the rational side and the dark side of our personality.
Making a video is no longer essential for a band, we are no longer in the 90's and the MTV-generation. Every second is uploaded to Youtube 300 hours of video!! Spending energy and money for a videoclip is now useless but anyway we still have a lot of fun shooting videos. The director Domenico Morreale is a professional, but also a friend who always succeeds in translating our bizzare ideas into images.
Courtesy by Inferno Sound Diaries
Since you're here …
… we have a small favour to ask. More people are reading Side-Line Magazine than ever but advertising revenues across the media are falling fast. Unlike many news organisations, we haven't put up a paywall – we want to keep our journalism as open as we can - and we refuse to add annoying advertising. So you can see why we need to ask for your help.
Side-Line's independent journalism takes a lot of time, money and hard work to produce. But we do it because we want to push the artists we like and who are equally fighting to survive.
If everyone who reads our reporting, who likes it, helps fund it, our future would be much more secure. For as little as 5 US$, you can support Side-Line Magazine – and it only takes a minute. Thank you.
The donations are safely powered by Paypal.