'Click Interview' with Kloq: 'If You Don't Have The Vision To Create Something Better Then What's The Point Of Even Being In A Band?'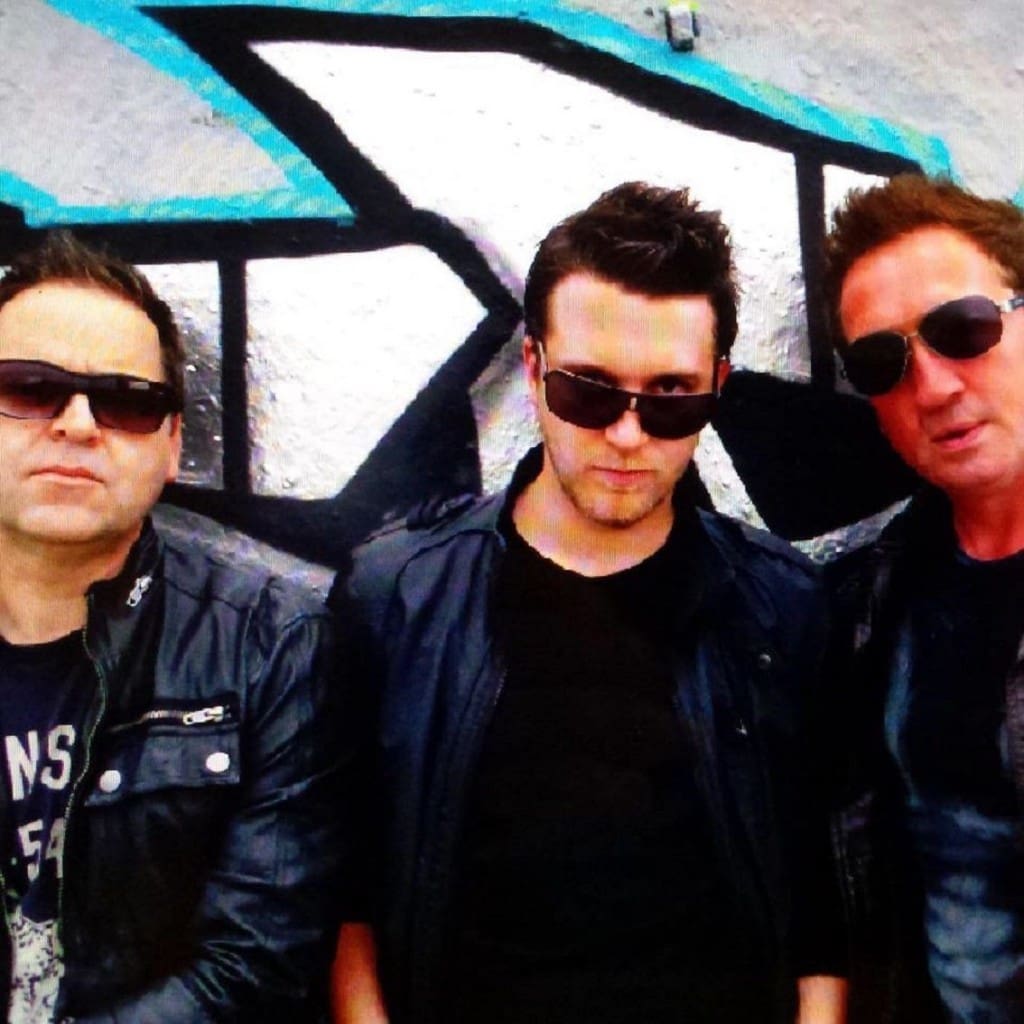 Oz Morsley will be always linked to Empirion while he is the creative drive behind Kloq for years now. After an astonishing, hard electro-danceable debut-album (cf. "Move Forward") released in 2008 on Out Of Line, the second full length (cf. "Begin Again") released in 2013 on Metropolis Records moved towards electro-rock fields. "Behind The Screams" is the third opus of this band and a kind of move back to harder electronics. I got in touch with Oz Morsley and asked him a few questions about the new work.
(by Inferno Sound Diaries)
Q: Your new album "Behind The Screams" has been released a few months ago now and it all looks like the first reactions are very positive. What kind of album did you want to achieve?
OZ: The feedback has been good but again it's a step away from the second album as that was from the first album. I wanted to add some more electronics to the writing process and I think I managed that. I wanted to create something still quite commercial but make sure it could appeal to the more left field people. I've always thought that KLOQ has a more 'band' feel to it, even on the first album I created the tracks so they could be played live with a full band so continuing that element for each album has always been important to me. The new album in my opinion is still a big step away from what I really want to do for KLOQ…..if I'm honest I don't think we have completely hit the mark musically and I can see much more to come from this band. It's about learning and growing with the feedback and reactions from people and it's all being noted down !
Q: I personally experience "Behind The Screams" as a kind of 'back to harder and raw electronics' (reminding me of your debut-album "Move Forward") while keeping on the rock-orientated approach of "Begin Again"?
OZ: Yeah absolutely and I'm encouraged that you can see and hear the same thing because it's exactly where we were heading with this one. We had to bridge the gap between the first and second album. The new album could have actually been the second album when it comes to style. The second album was such a big step away that it frightened people away that were used to the original KLOQ sound so I was hoping that this time we could bring a bit of balance back. We have to bear in mind that after the first album we lost out original singer Greg Cumbers and our drummer Steve Wilson, we also changed our management and decided to try and branch out to a more 'mainstream' audience…..all of these factors have massive effect on where you go as a musician/producer/writer.
Don't get me wrong, I'm proud of the music we wrote for the second album but we all feel it was slightly ill timed because of how far the first album had amerced us in the dark electro scene.
Q: You sometimes speak about Kloq as 'punktronica', but where's the real 'punk' aspect of the sound or is it also a kind of 'stage' attitude?
OZ: It's not so much in musical style I guess….it's just a word that stuck really. Someone was describing the attitude around the band and it just came from there. We do like to have a bit of attitude on stage so it's probably more suited to that.
Q: What have been the main reasons and motivation to release this new album by your own and what did you keep in mind from your experiences with labels?
OZ: Main reasons were that we were out of contract with our label, we didn't want to rush and sign with just anyone, we had bad experience with our last label in promoting the album to the right crowd and that if we get it wrong it would probably do us much more harm than if we organised it ourselves and also I felt that any labels I knew wouldn't be able to work the now more mainstream commercial sounding KLOQ. I only know the more darker electro underground labels so we needed to take on the tasks ourself and work it out. Larger labels want a complete full sales package nowadays so you pretty much have to have sold a ton of units before getting picked up.
The best label that I ever worked with was Out of Line on the first album, they did a brilliant job organising and working the product but obviously the second KLOQ album wasn't the right sound for that label. The one thing that you miss when you self release is the network of other companies that also work the product such as booking agents/live promotion, publishers, distributers, mercy etc. We pretty much had to start from scratch and do all of this ourselves in the KLOQ camp. I spend most of my time in the studio or doing artwork/live work and quite a lot of the day to day is down to the other guys and our manager to handle so it's quite a larger machine that keeps going. I kinda like going back to self releasing though, it's very rewarding knowing that it's all down to us.
Q: How are you managing important aspects like distribution, promotion, social media, streaming platforms etc?
OZ: Like most bands you just have to keep pushing, make the best of what's available when it comes to promotion. It's constant work as you know……at the time of the build up to a release you have to get out in people's faces and do plenty of pissing them off in order to get the product to the right place, loads of gigs, videos, social media blah blah…..I kinda get a bit bored of it all but it comes with the territory when you release your own material independently. We didn't do a physical release this time but we are planning to re release next year as a physical CD along with a couple new tracks and remixes.
Q: I noticed an interesting quote at your Facebook-page telling that 'Kloq are forged from three key elements. The love of alternative electronic music, growing up in and around Essex and the determination to create something new and expressive for the masses.' The 1st element seems logic, the 2nd one needs a bit more details while the last one is rather ambitious?
OZ: The Essex music scene has been really strong over the decades but there's been so many live venues closing down that its harder for bands to get any help along the way, there's a load of cool bands that we know and the people here are very focused on what they want to achieve. There's also healthy competition which makes you want to do better and stand out from the rest. Trying to create something fresh is always a double edged sword because for every person you please there's always another person that you can't please but we do have the determinations to create something that appeals to the masses while still holding on the whatever makes you cool and not to cheesy. If you don't have the vision to create something better then what's the point of even being in a band? You may as well do what everyone one else if doing and copy each other just in case you get it wrong maybe ? ……Nuh…….fuck it…….we'll do what we're doing and keep working at it until we get it completely right thanks. I'm not saying I think we're 100% right in the way KLOQ is going but at least we're following our hearts and working it our as we go.
Q: I get the impression that Empirion was more into the creation of something 'new and expressive' while today it's really hard to innovate. What's your perception on this point?
OZ: Very true. Back when we started Empirion it was a lot easier to stand out from the rest of the bands out there. I mean, we started using guitar samples and heavier noises and people were just freaking out about it, even the way you'd program your hi hat and snare patterns were ground breaking back then! The whole way of making music on limited equipment back then really worked in our favour, using samplers that had 15 seconds of sample time etc…..it created new and exciting genres! it made you work bloody hard to get good result……..something you don't get today. Having said that, it does make you create music differently and you should use that to your advantage.
I had a conversation recently with a friend and we were discussing how a lot of 'producers' now days are using certain software/programs to create their music and the over use of 'pre made' loops and samples. The conclusion was that if your mind is set on creating the generic music that you think the audience wants then that's fine as it leaves plenty of room for other people to carry on trying to push the envelope and stand out. I may not the best producer in the world but I really do try and put thought into what I'm doing. I always want people to feel that when they listen they can hear something original of different to what else is going on musically………it may not work all the time but even if it works some of the time I'll be happy.
Courtesy by Inferno Sound Diaries
Since you're here …
… we have a small favour to ask. More people are reading Side-Line Magazine than ever but advertising revenues across the media are falling fast. Unlike many news organisations, we haven't put up a paywall – we want to keep our journalism as open as we can - and we refuse to add annoying advertising. So you can see why we need to ask for your help.
Side-Line's independent journalism takes a lot of time, money and hard work to produce. But we do it because we want to push the artists we like and who are equally fighting to survive.
If everyone who reads our reporting, who likes it, helps fund it, our future would be much more secure. For as little as 5 US$, you can support Side-Line Magazine – and it only takes a minute. Thank you.
The donations are safely powered by Paypal.