'Click Interview' with Golden Apes: 'We Never Cared About Stylistic Drawers And Templates'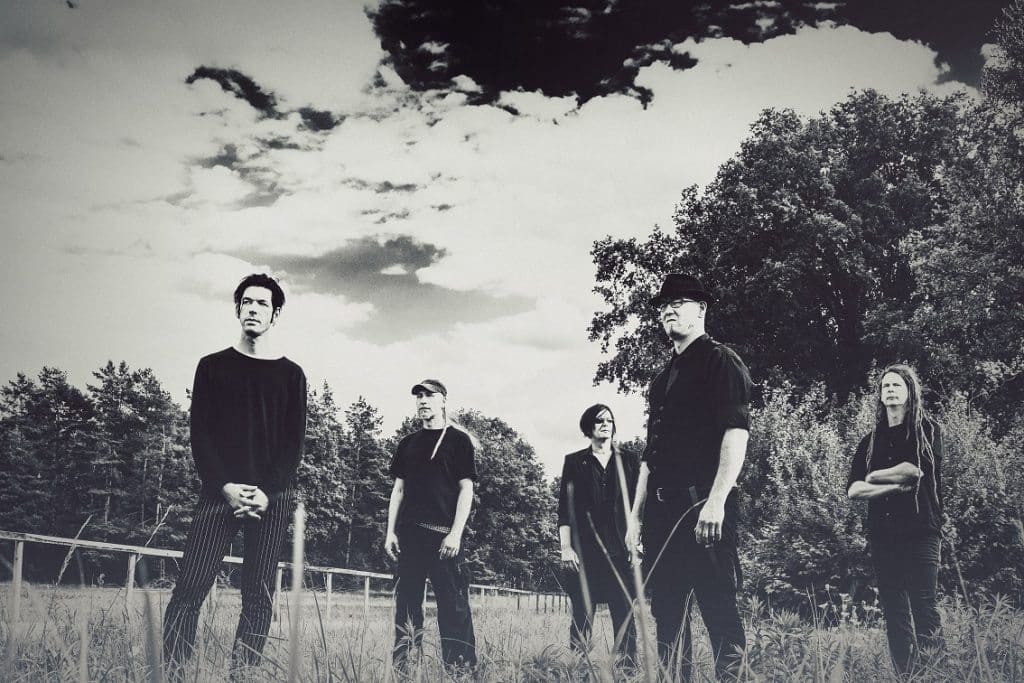 Berliner formation Golden Apes saw the daylight in 1998. Nearly 20 years after their creation the band has released an impressive number of productions on labels such as Shadowplay Release, Echozone and AFmusic. They recently released their newest opus "MALVS", which according to me maybe sounds as their best work in history. The sound of the band is hard to define, but clearly inspired by darker new-wave and rock influences from the 80s. I've been in touch with singer Peer Lebrecht for an interesting chat.
(by Inferno Sound Diaries)
Q: Do you see main changes/evolutions in the original goal of Golden Apes and today?
Peer: So what was our goal when we started the band some 20 years ago? I think it was about making music, which had to be 'absorber' and 'reflector' at the same time. That mixture of external musical influences and passions, and internal creative impulses and restless unsubduedness. We started with no template, no route, neither musically nor conceptually and I think this was and is the best condition for doing something substantial (at least in your own perception, what is the only one important).
We´ve never intended to do this whole Goth/Wave thing without objection, we just came all from that musical background. We´ve never thought about the idea to become a part of something like an economical machinery, roaring and disgorging rates and decimal places (and we failed in that moment when we got close to this), we just wanted to do songs, play them and stick them in a sonic diary now and then.
And we never wanted to fit any schemes or serve expectations. From the very first tune on that left our amplifiers, we created music with gut instincts, guided by the aspiration to feel right with it, to have it stirring the own soul.
And in this light it seems that there was no change at all during the years. It is still the same (maybe naïve) fervent idealism that keeps us running, that keeps us curious and restless.
Q: It's maybe because of this thought to 'never become a part of something' that it has been always difficult to define your music as a particular genre! Can you give me a definition and tell me something more about potential sources of inspiration throughout the years?
Peer: You are so right; defining music is always a hell of job, especially if it´s your own. As mentioned above we all have a similar socializing musical background, lined with names like Joy Division, The Cure, The Psychedelic Furs, Fields, Sisters, Nick Cave and so on and consequently you can find traces of those all over our work. But apart from this common nucleus our musical passions are widely scattered, linking Bowie to Beethoven, New Model Army to Amon Düül and Pink Floyd to John Cage. And those with eyes to see can find shades of these too.
So how to frame all this? And why? In the end we never cared about stylistic drawers and templates and for a flawless classification we don't possess enough historico-cultural knowledge. For us it was and is important how it feels, how close it comes and how well we feel in its waters.
Q: Referring to your influences, I experienced your new work as a move back to the 80s for the new-wave inspiration while mixed with darker rock elements. What is it all about?
Peer: As I said – there is no conceptual layout we muse about before we start writing music and I would be a liar if I would say "MALVS" sounds the way we intended it to sound – because there was no intention! Between the albums first finished song ("Verity") and the last one ("Halving Moons") are stylistic light years and every incident, every condition and every mood swing has an influence on the atmosphere under which the things inside your head are coming into life. And how many mood swings you may face in a period of four years! So there was no way to presage the albums final atmosphere and to be honest –it is always so exciting to see it grow, changing shapes and colors, names and places. I think we even would get bored quickly if everything would be predictable.
And of course it is no surprise that there are palpable traces of the 80s sprinkled on our songs. That was the decade that saw us grew up, that shaped us musically and culturally. Take a look above at some of our musical influences! We can´t hide them and we never tried to do. One dogma while doing the record was to let "MALVS" become what it wants to be, to let it be the sum of our sentiments, perceptions, experiences and souls. And finally we all are not much more –the sum of our sentiments, perceptions and experiences
Q: What else can you tell us about the new album "MALVS", which I think has been written and conceived far away from external involvement? How comes?
Peer: 'MALVS was the moment when we stopped our way down the ladder for the first time for realizing the mirrored surfaces below, the grandeur of a hollowed veracity and the echoing falsities hidden under sticky clouds so far…
MALVS was the wrong word in our mouths, the huge, black stone, blocking our throats from swallowing the poison of a rushing moment, the toxic essence of a creed that brushed our eyes…
MALVS was the page we tore apart when the anvil hit the ground, the cloth of skin inscribed with the names of lovers and deities, with histories and heresies…with all the atrocities we failed to forget…memories of days bygone…
MALVS was the bundle of bones we danced around on open fields. Disengaged from leaden verities and the burden of doubts. Snow-white smoke and the cathartic fires of a past contrived…
MALVS was the desert we wandered through with our hearts full of hope and our faces turned away from heaven. And we ate the dark and we drank the ignorance, welling from a shiny moment, when we stopped our way down the ladder for the very first time…'
These were my thoughts when I was listening to the album in its entirety for the first time and even if this sounds quite confusing, it bears the core of the meaning for me. "MALVS" is the album we worked towards for 4 years, without any pressure, without any need to do something by anything else than the own intuition, waiting for the moments that just feel right. And so "MALVS" became not just an collection of 13 songs, but a fabric of all the things that left an imprint on us. Musically, emotionally, intellectually.
But it was not only a musical unleashing, because its creating was also a kind of a ritual, binding together interpersonally. After the release of "Riot", our last studio album in 2012, there was an odd figure of changes within the bands structure. Our drummer left, our guitar player Eric, one of the founding members left and with Aris Zarakas we found a guy, who was more than a substitute, for he contributed new impulses and new ways of dealing with sounds and textures. And when the "Langsyne Litanies", our acoustic album from 2014, became a kind of musically getting acquainted, then it was "MALVS", what was our fire ordeal. And the time in the rehearsal room and in the studio makes me confidently state that at no time before the band was more bound together, had more self-conception of the things we do and more creative output that in the here and now.
And so "MALVS" was a catharsis also – the first five letters on a blank page.
Q: what can you tell us about the artwork of "MALVS", which sounds a bit different from past releases?
Peer: The artwork is closely related to the album's title, what is a pity now because I had and have no intention to reveal the meaning of it. ´Asshole´ you may think, but I like the fact when not every possible semantic level is unveiled for free, when some veils may be lifted by help of the context, by coincidence or even never. Maybe it is no random choice then that the title track is an instrumental! Or that there are these 5 pieces of wood on the cover.
By doing the artwork, I enjoyed to play with metaphors and ciphers, reflecting the lyrical landscape visually. I just want to say that the riddles solution is not that complicated, but will cast light on some contextual meanings. But this is just one of the keys….
Q: How will you transpose the songs of the album on stage and what do you expect from the new performances and places you'll play?
Peer: We were never one of those bands who felt comfortable with a certain kind of studied show on stage. I think the main ingredient is the music and this is where our focus rests, but I agree that a proper atmospheric habitat can support the effect of the music. That´s why we like to play with the setting now and then, adding details, softening the topography of the stage. Recently we worked on some projections, some visual subtitles, which act as an additional layer of perception.
But the last shows have proved that the new songs are strong enough to work on stage, to keep some of your senses busy for a while.
According to the upcoming shows we hope that the well-being continues that we feel on playing "MALVS". It is really special to invoke the songs on stage, to feel them blazing their trail through our veins every time anew. In other words -it just feels good!
And we hope of course that the people will like what they get. It is always the biggest reward to reach places beyond the edge of the stage and getting echoes from there is more than just a touching experience…
Courtesy by Inferno Sound Diaries
Since you're here …
… we have a small favour to ask. More people are reading Side-Line Magazine than ever but advertising revenues across the media are falling fast. Unlike many news organisations, we haven't put up a paywall – we want to keep our journalism as open as we can - and we refuse to add annoying advertising. So you can see why we need to ask for your help.
Side-Line's independent journalism takes a lot of time, money and hard work to produce. But we do it because we want to push the artists we like and who are equally fighting to survive.
If everyone who reads our reporting, who likes it, helps fund it, our future would be much more secure. For as little as 5 US$, you can support Side-Line Magazine – and it only takes a minute. Thank you.
The donations are safely powered by Paypal.