Click Interview with Caldon Glover: 'I Love The Freedom And Fluidity That Came From The Early Industrial Scene'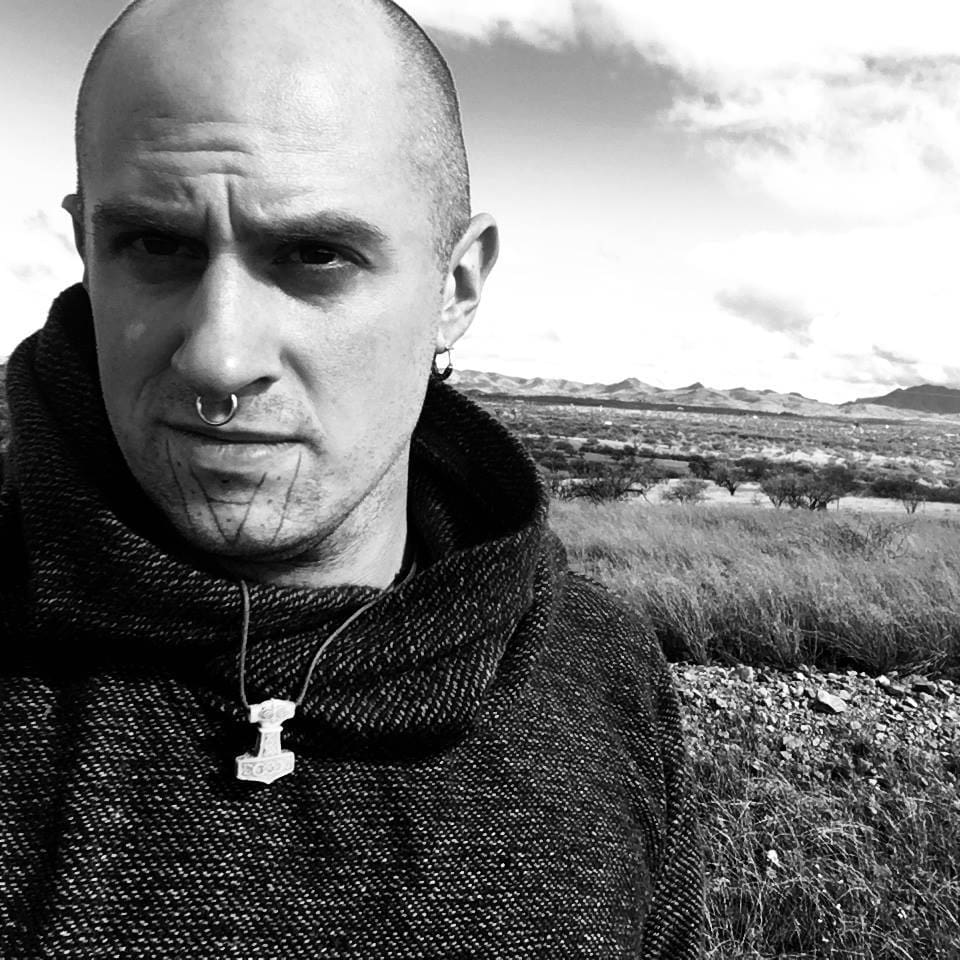 American artist Cal Glover-Wessel last year released a new album as Caldon Glover. "Labyrinth" released by Cyclic Law became without a shadow of a doubt my favorite Dark-Ambient production from 2022. The work is carried by dense and poignant, tormented, atmospheres reminding great productions from the early 80s. I got in touch with Cal to get more info about his work.
(Courtesy by Inferno Sound Diaries)
Q: Most of the people probably know you for your work under the Azfarat moniker. So how did you finally come to start releasing work as Caldon Glover and what makes the differences between both projects?
Cal: I actually stopped using the Azfarat name/ project a few years ago, I'm a bit surprised you've heard it! When I started making music as Azfarat, around 2013 or so, I was much more inspired by harsh Noise and early Industrial Soundscapes, but as time went on Azfarat started becoming more atmospheric, until it got the point that you couldn't really tell my Azfarat releases apart from my Caldon Glover ones. I ended up retiring the project because of the similarities between the two, and because I felt I had more creative freedom simply releasing music under my own name, more like a composer or a writer, and worried that if I stuck with a project name than people would expect every release to sound the same.
Q: Did you'd specific ideas in mind, influences and eventually criteria when setting up this project?

Cal: I didn't really, when I started releasing music under my own name, about four years ago, it was just because I had some ideas I wanted to explore that didn't fit under the Azfarat moniker. My influences early on were more 90s and early 2000s Electronic music, the stuff I grew up listening to like Orbital. My first Caldon Glover release, "Peddlers Of Pastel Delights", is markedly different from what I've been releasing recently (there're drums!), but it was always my intention to let my style and focus shift with what I found exciting. There's quite a disparity between all of my releases because of this, and it's entirely possible that what I end up recording in a few years will sound very different than what I'm releasing now.
Q: You already released a few productions during the past few years. How do you see the project growing and evolving in sound, production and global approach?
Cal: It's very important to me to gravitate towards what's exciting to me, right now I'm very fascinated with Drone and subtle dissonance, and utilizing found sound and field recording. I have a deep love for early Industrial music, especially Einstürzende Neubauten and Coil, and I try to let those influences permeate my current work because I love the freedom and fluidity that came from the early Industrial scene. The way that it was filled with people who weren't really musicians in the technical sense but felt such a powerful urge to create that they ended up creating something new and strange and wonderful because they didn't really know what they were doing, I try to hold on to that ethos with everything I do.
I also have trouble doing the same thing twice, I get stagnated and bored, so I'm always looking for something new to try. Soundwise, I can't really predict how I'll shift in the next few years, but I know I'm getting more focused and allowing myself to take more time with my projects, which I thinks makes them better. I'm trying to take more risks as well, which could result in better music or much, much worse music but either way I'm excited to find out.
Q: Let's talk about the new album "Labyrintia" which seems to be a conceptual work. What is it all about and how did you transpose the concept/themes into sound?
Cal: I've always been really fascinated by mazes, not really solving them so much but more by their meaning and their presence. They're strange, filled with mystery, and a bit spiritual in some ways. And it always struck me as interesting that mazes and labyrinths seem to exist in a lot of very different and isolated cultures across the world. And so I thought, what if it's all one maze? What if a single massive labyrinth, older than humanity, cuts across and through our universe and through all of time and that's why the maze is such a ubiquitous symbol across the world? And I let my imagination run from there.
Soundwise, I wanted to convey not only a structure that was massive and timeless, but the culture of the people caught in this colossal otherworldly structure, so I combined the old with the new. There's a lot of electronic Soundscapes in "Labyrintia", but I also recorded, and in some cases heavily altered, a lot of acoustic instruments, such as a mountain dulcimer and a reeded Kaval. It can be hard to tell because of how much heavy editing I did, but quite a lot of "Labyrintia" is found sound too, lots and lots of extremely processed field recordings went into the album. In the end there ended up being very little actual synth work, which I think added a lot to the overall strange texture of the piece.
Q: What have been the different stages in the writing and achievement of "Labyrintia" you'd to go through? And did you experience challenges and major difficulties?
Cal: The beginning was the hardest. The concept came to me easily, as I mentioned I've always been a little obsessed with mazes, but early on I hit a bit of a wall trying to figure out the best way to convey the theme sonically. It came to me while I was camping on a mountain with my partner, we had taken a bit of acid and I was laying down, I may have fallen asleep or maybe my mind was just really wandering, but I had my eyes closed and I started seeing all of these tableaus of alien worlds where strange creatures danced in circles with even stranger instruments. At one point I saw these four creatures, like thin grey people with extremely long necks all dressed in gold singing towards the sky, and their singing created a star. These images of a sort of alien bacchanal broke through my writers block and inspired me to use acoustic instruments as part of the process, to try and create a world both familiar and alien.
After that it started to fall into place. I spent a lot of time just collecting sound, recording and processing all these bits and pieces and then stitching them all together later. I work at a store that sells all sorts of musical instruments so I'd come home each day with some new thing to try to record and I'd run the recording through all sorts of effects or pitch it up or down, just trying everything and seeing what stuck. It was a little chaotic and I had to kind of take a breather every once in a while and let myself get focused again so I could actually finish a piece. Eventually I felt like the album was very nearly finished but was still missing something, so I had my friend, credited on the album as Ryan Wade Ruehlen, come record a few parts. He does a lot of very out there Experimental music based around wind instruments, and he brought over a baritone sax and a home-made instrument that was a few lengths of flexible pipe with a sax mouthpiece on one end a removable funnel on the other, and we recorded these insane otherworldly sounds using just those instruments, and that was what finally tied the album together for me.
Q: How do you expect things evolving for Caldon Glover and what's in the pipeline for 2023?
Cal: It's hard to say what I expect from the future, but I'm always creating, always exploring sound, and hopefully always getting better! I don't want to say too much yet, but I've recently finished another album that I think complements "Labyrintia", and we'll hopefully be seeing it in the spring this year, so keep an eye out! And thanks for having me!
Since you're here …
… we have a small favour to ask. More people are reading Side-Line Magazine than ever but advertising revenues across the media are falling fast. Unlike many news organisations, we haven't put up a paywall – we want to keep our journalism as open as we can - and we refuse to add annoying advertising. So you can see why we need to ask for your help.
Side-Line's independent journalism takes a lot of time, money and hard work to produce. But we do it because we want to push the artists we like and who are equally fighting to survive.
If everyone who reads our reporting, who likes it, helps fund it, our future would be much more secure. For as little as 5 US$, you can support Side-Line Magazine – and it only takes a minute. Thank you.
The donations are safely powered by Paypal.