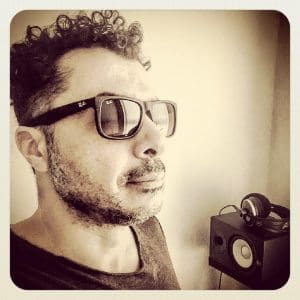 Does the name Gil O. Santos make ring a bell? He got involved in the Brazilian EBM formation Morgue, which became a praised and recognized band during the 90s. Gil O. Santos is now back into electronic music and set up Amorphous. After the promising debut EP "Behaviourism" he now accomplished the full length "Shapeshifting". This work has been released on Wave Records and is a real great and intelligent EBM experience.
(by Inferno Sound Diaries)
Q: Can you briefly tell us how you got back into music and what incited you to set up Amorphous?
Gil: I never stopped making music, but there was a hiatus between my industrial/EBM productions. I've been involved in other styles, mainly on demand (lounge, remixes and film scores). I think when I saw Skinny Puppy during their "Handover Tour" I'd to go into my studio and make some industrial/EBM music again.
Q: Amorphous clearly sounds driven by EBM influences while the lyrical content seems to be inspired by psychology and human behavior. Tell us a bit more about the global approach and concept?
Gil: Before studying electronics I was fascinated about psychology (and I still am). I find it is so fascinating trying to understand human behavior (if any one can do), so I like to talk about it and put it in my music.
Q: I also noticed electro-industrial influences and overwhelming, spooky atmospheres recovering the songs. What does this darker side stands for?
Gil: There is certain romance in darkness and melancholy. There is something mysterious about that which is hidden and unknown. Just like the poem "The Raven" by Edgar Allen Poe, which is an example of a delightfully spooky dark poem, I try to express certain darkness delight within some of my songs.
Q: Next to psychology, what have been the main ideas/elements you tried to put into "Shapeshifting"?
Gil: Life's mysteries, ritual of passage, visionary ideas, time & space.
Q: What's your perception of contemporary EBM/dark-electronics and do you notice differences between the 90s and today?
Gil: There are so many new ones out there I would love listening to, but the ones that sound like too close to fascist electro-music or psychedelic-trance with just kick, bass & acid arpeggios plus screaming, tortured vocals do not excite me at all… there is no art or ideas and just appeal for cyber ravers.
Q: How do you look back at your involvement into Morgue?
Gil: Morgue is where my roots are in electronic music; it was so good to work with a vocalist, drummer and keyboard player. I had loads of fun in the 90s and I miss the good times playing live nearly every weekend. But I am glad where I am now and I like to live in the present.
Courtesy by Inferno Sound Diaries