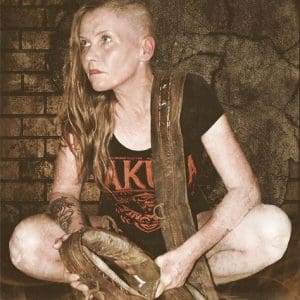 Aengeldust is an electro-industrial solo-project set up and driven by Nadine 'Cooraz' Engel. She's one of the few women involved with this 'hard' kind of music revealing a sound, which is much harder than the other projects she's been involved with. You maybe remember her from HausHetaere, but you for sure know her from Totem Obscura and especially Acylum, which are all projects she's running together with her husband Pedro Engel. Aengeldust has now unleashed her second album "Agent Orange" on Alfa Matrix while there also is a new EP entitled "Zucht". Nadine 'Cooraz' Engel's new work has been introduced as 'the bitch is back' and this is what she has to say.
(by Inferno Sound Diaries)
Q: Nadine, we all know you from you involvement with Acylum and Totem Obscura, which are bands you're running together with your husband. So what means Aengeldust to you as an artist and as a woman?
Nadine: Aengeldust is my own baby. I can realize this project and do all the crazy things I always wanted to do.
Q: Aengeldust clearly sounds more into industrial influences although I noticed an evolution from "Freakshow" towards "Agent Orange". How do you see this evolution and tell us a bit more about this new opus?
Nadine: It always depends on my mood, as the song sounds at the end of the day. It is important to me that I continue to develop. I think that I succeeded well.
Q: What can you tell us about the song writing referring to your way of working, sound research/creation, favorite equipment and potential sources of inspiration?
Nadine: It always comes out of my stomach. No rules. That's the difference to Acylum and Totem Obscura.
Q: The title of your album is pretty intriguing, referring to chemical/herbicidal warfare used by the US during the Vietnam war. What did you try to express on "Agent Orange" and tell us a bit more about the numerous spoken samplings you're using (instead of vocals)?
Nadine: I am a big fan of Asia, the culture and architecture and people as well. "Agent Orange" is the worst war crime of our time and therefore it should never fall silent.
Q: Next to the "Agent Orange"-album you've just released the "Zucht"-EP featuring new songs that haven't been featured on the album. What did you want to accomplish with this extra release and tell us a bit more about the choice of the remixes?
Nadine: I had the need to tell and finish the story a bit further. Since I deliberately had no remixes on the album, they were realized on the EP. Cool bands like Acylum, Siva Six, Parasite of God and some more have made really good remixes.
Q: Why are there less women involved with industrial music and do you notice any form of macho attitude against the women (like you) who are involved?
Nadine: I do not care who does industrial music. Woman or man, it does not matter to me. It just has to sound different from others and only that counts to me.
Courtesy by Inferno Sound Diaries