Genre/Influences: Body-techno music.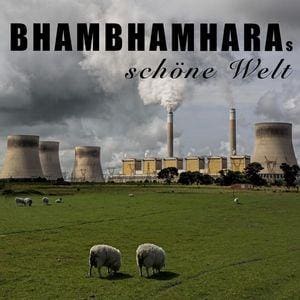 Content: The guys of BhamBhamHara last year took us by surprise releasing a stunning debut album "Progressive Body Music". The title also revealed a part of their sound, which is judicious mix of EBM and techno music.
The band is back on track unleashing their 2nd opus featuring 11 new songs plus a remix by Eisfabrik. The sound remains quite identical although BhamBhamHara experimented a bit more with techno and trance ingredients. It makes the work indeed pretty 'progressive' although not new, but it first of all appears to be a real challenge. I can imagine this is the kind of sound that will be too techno for EBM die-hard fans and too dark for pure techno lovers.
I personally like a band, which makes no compromises, but simply focuses on the ideas they want to exorcize. Some passages and arrangements are maybe a bit 'cheap', but globally speaking this is the kind of work I like. There's a great and accomplished EBM basis, which has been reinforced by various techno arrangements like trance breaks, filtered bleeps and pitched vocals. BhamBhamHara sometimes abuses a bit of the techno influences, but it doesn't really bother me.
The debut songs are worthy of examination revealing great writing skills. This band has found a great balance between different styles, but when it finally moves a bit more into EBM you get a few potential hits. I especially refer to "Ich Bin Ich", which sounds a bit like a softer version of Fixmer/McCarthy. Another attention grabber is "Right And Just", which sounds more in the pumping line of Noisuf-X, but with extra EBM influences instead of the industrial-rave style of Jan L.
There's a constant twist between EBM and techno music. "Ich Hör Die Single Nicht" is a cool and darker-minded EBM driven song while "Hand In Hand" coming up next moves back into heavier techno fields. "Helden Der Nacht" is a surprising final song, which reveals a pure wafting side.
We next get a cool remix of "So'ne Schöne Welt" by Eisfabrik, which is for sure one of the newest sensations in electro land. Last, but not least there also is a 13th song, which reveals a more minimal approach in sound. It remains pretty EBM minded and maybe a path to follow for further compositions.
Conclusion: BhamBhamHara probably is one of the weirdest EBM driven bands in the scene, which for sure will not make unanimity, but they dare to open forbidden doors. You gone like it or not, but I'm fully convinced!
Best songs: "Right And Just", "Ich Bin Ich", "Schau Auf", "Wir sind", "So'ne Schöne Welt – Eisfabrik Remix".
Rate: (DP:8)DP.
Band: www.bhmabhmahara.de / www.facebook.com/BhamBhamHara
Label: www.darkdimensions.de / www.facebook.com/pages/Dark-Dimensions-Label-Group/486014725206