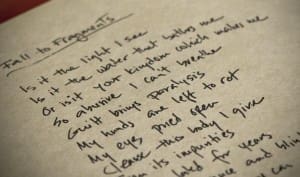 Android Lust's Shikhee is kickstarting her newest album "Berlin (Crater Vol 2)". Says Shikhee: "Since v.1 came out (…) I needed something new to inspire me. I've been experimenting with location recording for a while, and it's something I've wanted to delve deeper into. But it wasn't until I was in Nepal earlier this year and recorded a group of monks chanting in Nagarkot that the idea really hit me — I needed to combine the experience of discovering new places, capturing sonic snapshots of that place and time, and base the record around that! So now I want to go to a city that has become the center of my musical focus, Berlin."
Basically Shikhee wants to walk the streets of Berlin with a portable recorder and soak up the ambient sounds including placing contact mics on surfaces of historic structures and pick up their resonance.
This will be Android Lust's 3rd release on Kickstarter and the project's 6th full length record. Rewards this time include handwritten lyrics on Japanese archival paper; the "Venus Flytrap for the Dragonfly" music video, designed and hand made by artist, director Dan Ouellette; the last remaining copy of the "Foreign Body" demo cassette; the entire catalog in physical and digital format with the "Resolution" box set which includes "Resolution", "Evolution", and "Rarities" CDs; the entire catalog in physical and digital format, etc..