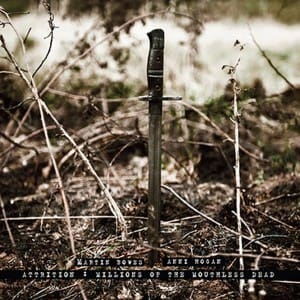 Martin Bowes has joined forces with Anni Hogan to record "Millions of The Mouthless Dead". "Millions of The Mouthless Dead" is a concept album about the horrors of The Great War, that is World War I in case you didn't know (shame on you in that case).
Since Side-Line is partially based in Ypres too, the historic conception of this album as explained by Martin Bowes is rather personal for us: "June 1917. Ypres. Flanders. Belgium. Private William Bowes of the West Yorks Regiment, British Expeditionary Force was hit by a German shell while out working on trench defences. He suffered a severe stomach wound. Rescued by stretcher-bearers, his life was saved by Canadian army medics in a front line field hospital. He was repatriated to England where he stayed and recuperated for the remainder of the Great War. William Bowes was my Grandfather."
The albums – which can be ordered here – holds original war poetry and spoken word in English, French and German, with special guests including Wolfgang Flur (ex-Kraftwerk), Peter Rainman, Karla Aelswitha and Alexander Nym and this on the background of dark ambient soundscapes powered by pianos, strings, organ, etc..
The album art includes never before published wartime photographs and newspaper cuttings, letters and postcards from the Western Front from William Bowes, the BEF and the Canadian Army field hospital, to his mother back home in England.
A video of the title track, The Mouthless Dead, taken from a 1915 poem by Charles Hamilton Sorley, is available below.