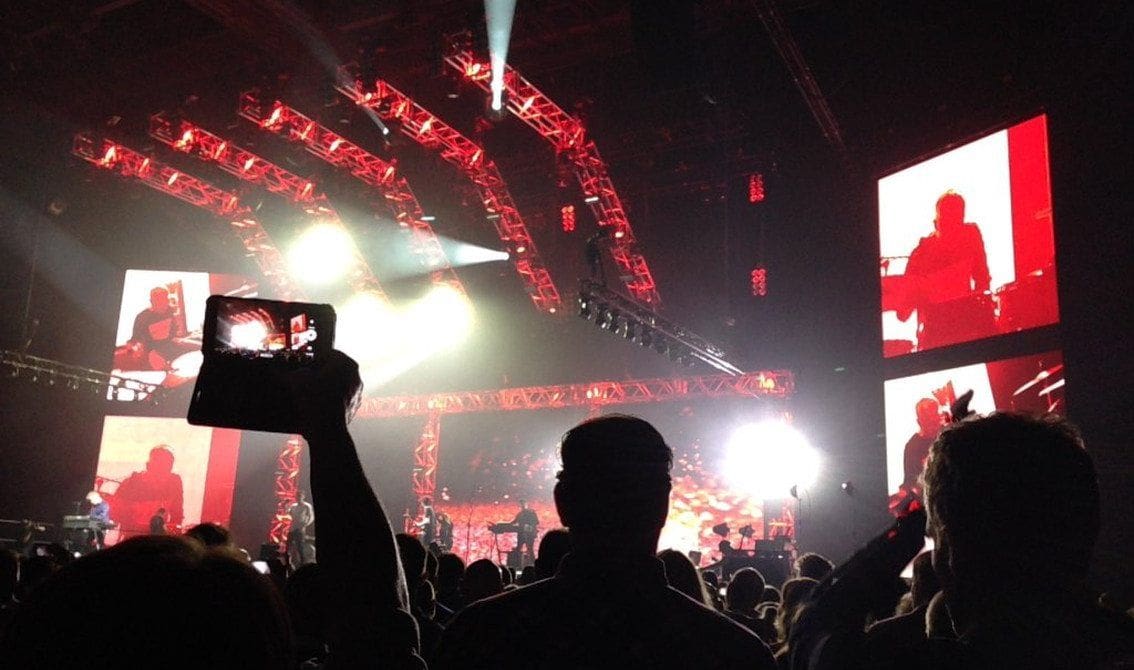 When a-ha announced (yet another) farewell tour, it was my guess that the best place to see them live would be in Oslo, Norway. After all they formed in that very city in 1982 and the public there is always that little bit more enthusiast.
I quickly booked my wife and I seats for the April 30 concert at the Spectrum venue near the Oslo Central Station, got some really cheap Ryanair tickets and found a good Airbnb flat in the Majorstuen area (just a few minutes by tram from the city center and in walking distance from the Vigeland park) to spend a few days. At the same moment we also took some time to meet up with Norwegian correspondent Jan Ronald Stange and family, producer John Fryer and his wife, plus the members of the Norwegian acts Kant Kino, Essence Of Mind and Electro Spectre.
The support act for the a-ha's shows in Oslo on April 30 and May 1 was Frøkedal & Familien. Frøkedal is a Norwegian songstress who mixes minimal pop music with folk, traditional music and bits of electronics. It was quite well received by the public, not in the least thanks to Frøkedal's very modest way of talking to the public. Whilst watching the support act I noticed that there was free wifi available (a service unknown in Belgium) with some pretty good connection, so instead of just taking pictures I decided to just start tweeting out live. As a result you can follow the concert below via the tweets sent out. Enjoy!
For those still in Norway tomorrow night (May 3rd), know that a-ha will play a one-off live show called "Afterglow" with advanced scenography by Void. The concert will equally take place in Oslo at the Spectrum venue. For the show, a-ha will clear away their normal stage-production to give room to a very different concert performance in collaboration with Void, a computational design studio working in the intersection between design, architecture, art and technology.
If the live show we saw this weekend was already offering an excellent visual experience (Anton Corbijn should have a close look to get some inspiration) then the "Afterglow" show will probably be stunning. Judge for yourself below.
Prepping for @aha_com in #Oslopic.twitter.com/mtHptrzknB

— Side-Line Magazine (@sidelinemag) April 30, 2016
#mortenharket#selfie#ahaoslo2016#ahaoslo16 promises to be a great evening! pic.twitter.com/jssY9mnnNc

— Side-Line Magazine (@sidelinemag) April 30, 2016
@aha_com has started playing in #oslo#spektrum#ahaoslo16 opening track… pic.twitter.com/C7gvWl8loG

— Side-Line Magazine (@sidelinemag) April 30, 2016
#ahaoslo16 fans go nuts #oslo#spektrum 🙂 good vibe. pic.twitter.com/EMmPawBjXK

— Side-Line Magazine (@sidelinemag) April 30, 2016
The swing of #ahaoslo16 things in #oslo@spektrumpic.twitter.com/aYqtxWZ3wK

— Side-Line Magazine (@sidelinemag) April 30, 2016
Looking for the whales introduced by @mortenharket#ahaoslo16#oslo@spektrumpic.twitter.com/SqrHh4FLW9

— Side-Line Magazine (@sidelinemag) April 30, 2016
Pål Waktaar goes velvet with @annelidrecker#ahaoslo16@spektrum#oslopic.twitter.com/5eTZJ5WgHm

— Side-Line Magazine (@sidelinemag) April 30, 2016
#smartphone lifeline #flashmob at #ahaoslo16pic.twitter.com/tmEFavyjCK

— Side-Line Magazine (@sidelinemag) April 30, 2016
Absolutely top visual work at #ahaoslo16 with @annelidrecker doing an excellent intro @spektrumpic.twitter.com/xAkvupqEfh

— Side-Line Magazine (@sidelinemag) April 30, 2016
Lots of live recordings being made at #ahaoslo16 , if you don't have tickets, youtube will be your #firstaid#ehbopic.twitter.com/Sc5MAl9nNh

— Side-Line Magazine (@sidelinemag) April 30, 2016
Hunting high and low #ahaoslo16 you now know what you are missing @spektrum in #oslopic.twitter.com/wjcZ0oo4rE

— Side-Line Magazine (@sidelinemag) April 30, 2016
Hunting high and low singalong moment #ahaoslo16@spektrum#oslopic.twitter.com/MXeSBsX6Ln

— Side-Line Magazine (@sidelinemag) April 30, 2016
Sun always shines on tv #depechemode#wime shot at #ahaoslo16@spektrum#oslopic.twitter.com/cOOJPaTObr

— Side-Line Magazine (@sidelinemag) April 30, 2016
Major fun during the living daylights #jamesbond#ahaoslo16@spektrum#oslo thanks for tuning in. CU in next concert pic.twitter.com/dSdHFmveWD

— Side-Line Magazine (@sidelinemag) April 30, 2016
Take on me #ahaoslo16@spektrum@aha_com did it again. #oslo and thank u @Ryanair for the great flights! pic.twitter.com/I2p9dy7Hs0

— Side-Line Magazine (@sidelinemag) April 30, 2016
Gente molona que conoces en los conciertos de @aha_com . Directo desde #Belgica@sidelinemag#ahaoslo16pic.twitter.com/JqLGZsGN3Z

— Mónica Castelao (@castelao19) April 30, 2016
Me han pillado ! Gracias @sidelinemag ! ? #ahaoslo16@aha_comhttps://t.co/KZ1UKlP40q

— Mónica Castelao (@castelao19) April 30, 2016
@sidelinemag@spektrum@aha_com@Ryanair thank you for posting the pics

— Sabrina Crunch (@sabrinacrunch) April 30, 2016