Genre/Influences: Metal, rock & electro.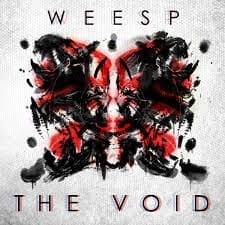 Content: Weesp is a combo hailing from Minsk (Belarus), which already released several EP's and singles. They claim to compose a kind of alternative rock music mixed with electronic- and metal elements.
"The Void" is their debut full length featuring 13 songs. Some of the last previous singles like "Solar Empire" and "Murderers" have been featured on the album, but the work will be for sure an introduction to their work for numerous music lovers.
The work indeed mixes solid guitar riffs, which are moving in between rock- and metal music with some electronic arrangements on top. The production sounds powerful and eclectic. The electronic parts also move on the edge of pop music, which together with the metal spirit of the compositions create a metal-pop approach. That's what you'll find back at songs like "Unstable Matter" and the already mentioned "Murderers". "Murderers" is one of the best cuts of the album for its cool mix between frozen-like electronics and furious guitar outbursts while the enraged vocals totally fit to the power of the song.
The vocals by singer Lex Falcon have been produced a quite furious and possessed way. There however are softer passages with the vocals as well, which come through in a few softer and even melancholic minded tracks.
Weeps likes to experiment with different influences, which probably makes the strength of their composition. Speaking for myself I clearly prefer the heavier part of the band. Next to the aforementioned cuts I also recommend the furious "Omen" outburst and "Solar Empire" for its mix between electronics and metal music.
Last, but not least there also is a noticeable and somewhat indie-rock orientated cut entitled "Icarus Flight".
I also want to mention the picture of the front cover revealing a Rorschach drawing. The interpretation of such a drawing appears to be rather symbolic for the multiple musical ideas running through their composition.
Conclusion: "The Void" is not exactly setting the world alight and will not take you by surprise, but the eclecticism of Weesp make it fully enjoyable.
Best songs: "Murderers", "Bruises And the Cuts", "Unstable Matter", "Omen".
Rate: (Elise Din:7)Elise Din.
Band: www.weespband.com / www.facebook.com/weespband