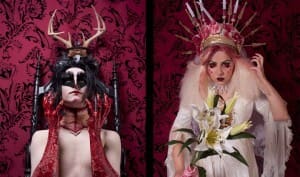 Out on 15 May 2015, but available from Bandcamp now as pre-order is the 2-track single "Emulgent disfigurement" by Venal Flesh, the band which recently signed to Alfa Matrix.
Since the release of the "Sacrament To The Scalpel" download EP by the label's new American signing Venal Flesh, Alfa Matrix has been asked by fans to re-release the band's back-catalogue. Originally released in March 2014, the "Emulgent Disfigurement" single features a completely revamped version of "Emulgent Disfigurement", originally from the "Remotum Ex Carnis Sancta" demo, along with the exclusive b-side "Mizbehi (Blood Of Angels Upon My Altar)" which is a tribute to Venal Flesh's love of dark ambient & post industrial acts such as In Slaughter Natives.
Check out the new single below.