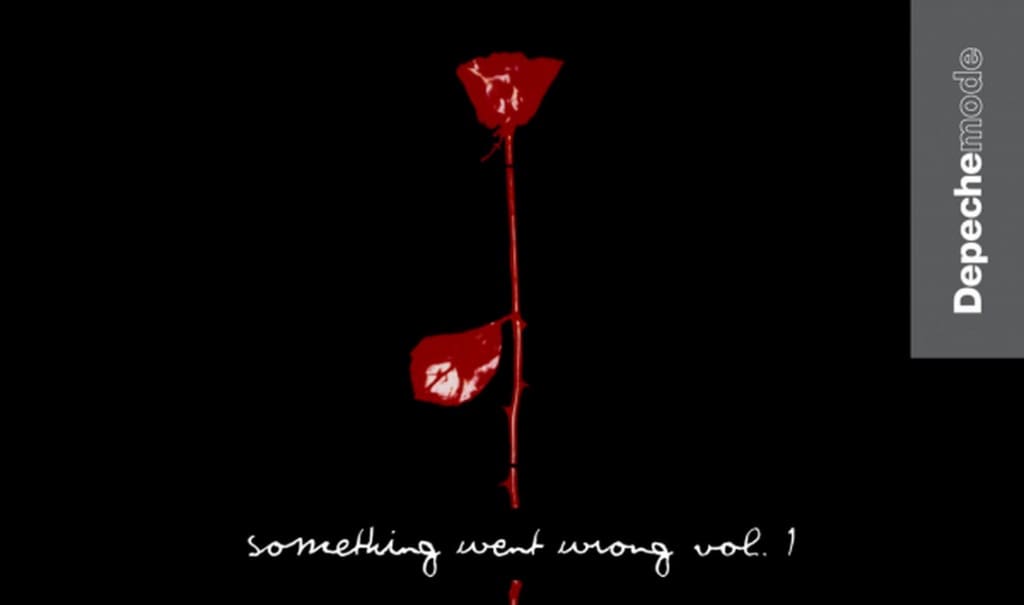 It's not often that bands release live errors (wrong lyrics, wrong notes played etc), actually it never happens. The only way to get to hear such errors is often via the bootleg circuit, and as it happens, there's a bootleg out there, called "Something Went Wrong" which is a compilation of Depeche Mode's live mistakes, glitches, technical problems and the like, spanning from 1980 to 2010 (!).
Yes, you have people going through hundreds of bootlegs to find the errors played live and compiling them afterwards. Why not, others make Depeche Mode tribute albums or even cover a complete album, n'est-ce pas?
Although the compilation counts 139 tracks and over twelve hours of music, it's not the complete list of errors that Depeche Mode ever made. As you may expect, the quality of tracks varies of course, but none are so terrible that you can't make out the music or find the mistake after a couple of tries. The makers promise that there may be future additions to this compilation if/when Depeche Mode hits the road again.
To be clear, we are talking about a bootleg, so don't ask for a link. As such this article is only posted to give you an idea of how collectible some things might get, even when things go wrong during a live show. To make you thirsty, here's the complete setlist, but first 2 SWWs…
CD1
[9:52] Shout (1982-03-24 Hamburg – Tape Problems & Restart)
[4:50] New Life (1981-07-23 London – Tape Problems)
[5:13] Master And Servant (1986-04-16 London – Microphone Problems)
[5:40] Behind The Wheel (1993-06-12 Mannheim – Dave Starts Too Early)
[7:29] Stripped (1987-11-09 Berlin – Tape Problems)
[4:28] Miles Away / The Truth Is (2010-01-25 Malmö – Martin Starts Too Early)
[4:02] See You (1982-05-07 New York City – Dave Has Text Problems)
[4:57] Policy Of Truth (1998-09-13 Stockholm – Keyboard Problems)
[6:27] Walking In My Shoes (1993-05-19 Lille – Alan Starts Too Early)
[6:30] Never Let Me Down Again (1998-09-25 Zurich – Dave Sings The Wrong Line)
[8:42] Personal Jesus (2006-03-31 Birmingham – Guitar Problems & Restart)
CD2
[7:24] My Secret Garden (1982-11-28 Bochum – Tape Problems)
[4:20] Photographic (1985-07-09 Nice – Dave Starts Too Late)
[4:38] Halo (1993-06-29 Paris – Dave Starts Too Early)
[3:46] Ice Machine (1982-05-07 New York City – Dave Has Text Problems)
[3:30] Sweetest Perfection (1990-08-05 Los Angeles – Martin Starts Too Late)
[4:32] Rush (1993-06-21 Munich – Keyboard Problems)
[6:41] In Your Room (1993-07-22 Cologne – Dave Sings The Wrong Verse)
[6:02] Personal Jesus (1990-08-05 Los Angeles – Dave Has Text Problems)
[4:47] I Feel Loved (2001-09-06 Berlin – Dave Starts Too Late)
[4:49] Never Let Me Down Again (1993-06-16 Berlin – Dave Sings The Wrong Verse)
[6:53] Enjoy The Silence (1998-10-06 Cologne – Martin Starts Too Late)
[4:55] More Than A Party (1984-06-02 Ludwigshafen – Dave Misses One Verse)
[5:45] Barrel Of A Gun (1998-09-13 Stockholm – Timing Problems)
CD3
[10:48] Personal Jesus (2009-11-12 Valencia – Timing Problems & Restart)
[5:08] Behind The Wheel (1994-06-12 Cleveland – Tape Problems)
[5:20] In Your Room (2001-07-29 Seattle – Guitar Problems)
[4:15] Shame (1984-11-20 Essen – Dave Sings The Wrong Verse)
[4:38] Shout (1982-02-16 Exeter – Dave Starts Too Late)
[3:48] New Life (1982-05-07 New York City – Dave Has Text Problems)
[4:29] Ice Machine (1980-11-14 Essex – Dave Has Text Problems)
[4:07] See You (1984-10-23 Brighton – Keyboard Problems)
[5:46] Policy Of Truth (1994-03-16 Hong Kong – False Start)
[4:33] Rush (1993-11-24 Los Angeles – Microphone Problems)
[4:13] A Question Of Time (1988-04-19 Nagoya – Timing Problems)
[7:09] Enjoy The Silence (2001-06-28 New York City – Dave Sings The Wrong Verse)
[2:55] Master And Servant (1988-01-09 Newport – Tape Stops Too Early)
CD4
[5:58] Clean (2001-09-04 Prague – Sound Problems)
[3:23] Get The Balance Right (1984-03-10 Madrid – Keyboard Problems)
[5:37] Behind The Wheel (1993-05-24 Brussels – Guitar Problems)
[7:02] I Feel You (1993-05-31 Hannover – Dave Misses One Verse)
[7:01] Never Let Me Down Again (1990-10-28 Hamburg – Keyboard Problems)
[4:05] See You (1983-04-03 Tokyo – Keyboard Problems)
[5:02] Stripped (1993-10-03 St. Petersburg, FL – Timing Problems)
[8:55] When The Body Speaks (2001-09-22 Oslo – Guitar Problems & Restart)
[5:55] Personal Jesus (1993-07-22 Cologne – Drum Problems)
[5:05] More Than A Party (1983-12-12 Sindelfingen – Dave Sings The Wrong Verse)
[5:46] Home (2001-09-18 St. Petersburg – Guitar Problems)
[4:29] A Question Of Time (1994-07-08 Indianapolis – Dave Has Text Problems)
CD5
[5:01] Policy Of Truth (1994-03-12 Sydney – Dave Starts Too Late)
[5:44] Behind The Wheel (1993-07-11 Lisbon – Dave Starts Too Early)
[4:39] Two Minute Warning (1983-09-24 Manchester – Keyboard Problems)
[7:04] I Feel You (1993-05-29 Stockholm – Dave Has Text Problems)
[4:57] Never Let Me Down Again (1993-05-21 Zurich – Dave Sings The Wrong Verse)
[4:02] New Life (1982-03-28 Rotterdam – Technical Problems)
[5:03] Stripped (1993-07-24 Zeebrugge – Keyboard Problems)
[3:56] Pipeline (1988-01-19 Manchester – Microphone Problems)
[6:16] When The Body Speaks (2001-07-28 Vancouver – Dave Starts Too Late)
[4:17] A Question Of Lust (1987-11-09 Berlin – Keyboard Problems)
[5:49] Home (2001-08-18 Anaheim – Microphone Problems)
[6:02] Personal Jesus (2001-08-14 Los Angeles – Dave Starts Too Late)
[6:07] Everything Counts (1987-10-23 Barcelona – Dave Starts Too Early)
CD6
[4:19] New Life (1984-11-17 Lund – Technical Problems)
[4:01] A Question Of Lust (1986-04-30 Aachen – Alan Sings The Wrong Backing Vocals)
[4:57] Black Celebration (1986-05-03 Munich – Keyboard Problems)
[4:40] Pleasure, Little Treasure (1987-10-22 Madrid – Dave Starts Too Early)
[4:56] Judas (1993-06-16 Berlin – Martin Starts Too Late)
[6:35] In Your Room (1994-03-18 Manila – Sound Problems)
[4:33] Behind The Wheel (1990-10-08 Frankfurt – Timing Problems)
[5:01] Policy Of Truth (2006-01-31 Geneva – Keyboard Problems)
[3:51] Condemnation (1993-07-22 Cologne – Dave Has Voice Problems)
[6:58] When The Body Speaks (2001-10-11 Frankfurt – Dave Misses One Verse)
[5:17] Blasphemous Rumours (1984-11-17 Lund – Misses Some Sounds)
[6:45] Enjoy The Silence (1990-07-09 Dallas – Martin Starts Too Early)
[6:25] Never Let Me Down Again (1998-09-30 London – Dave Sings The Wrong Verse)
CD7
[7:10] Everything Counts (2005-11-03 Tampa – Timing Problems & Restart)
[4:20] A Question Of Time (1998-10-13 Munich – Keyboard Problems)
[5:28] I Want It All (2005-11-05 Gwinnett, GA – Restart)
[4:50] Told You So (1984-06-02 Ludwigshafen – Dave Misses Some Lines)
[7:28] Never Let Me Down Again (2009-12-10 Dublin – Keyboard Problems)
[3:03] The Meaning Of Love (1983-05-28 Schuttorf – Keyboard Problems)
[4:36] Master And Servant (1987-10-25 Munich – Alan Starts Too Early)
[6:02] Personal Jesus (2005-11-16 Seattle – Guitar Problems)
[4:24] Photographic (1985-04-07 Tokyo – Timing Problems)
[3:55] Condemnation (1993-06-16 Berlin – Broken Piano)
[3:50] Ice Machine (1984-11-17 Lund – Keyboard Problems)
[0:30] Clean (2001-09-09 Leipzig – Wrong Song Started)
[3:00] Boys Say Go! (1986-06-08 New York City – Sound Problems)
[4:07] A Pain That I'm Used To (2006-02-15 Munich – Keyboard Problems)
[4:39] Insight (2009-12-01 Nuremberg – PA Problems)
CD8
[4:43] Two Minute Warning (1984-11-17 Lund – Missing Some Sounds)
[2:33] Ice Machine (1984-11-26 Florence – Feedback Problems)
[5:36] Everything Counts (1984-11-15 Copenhagen – Keyboard Problems)
[6:40] Policy Of Truth (2010-01-25 Malmö – Timing Problems & Restart)
[4:44] More Than A Party (1983-09-12 Bristol – Keyboard Problems)
[4:18] Mercy In You (1993-06-21 Munich – Guitar Problems)
[4:25] A Question Of Time (1994-02-12 Johannesburg – Timing Problems)
[2:48] Boys Say Go! (1983-12-08 Berlin – Dave Starts Too Early)
[4:27] Just Can't Get Enough (2006-01-20 Dusseldorf – Dave Has Text Problems)
[3:54] Tora! Tora! Tora! (1981-06-27 Rayleigh – Tape Problems)
[23:19] Walking In My Shoes (2009-08-20 Santa Barbara – Power Outage & Restart)
CD9
[4:14] New Life (1985-04-08 Tokyo – Sound Problems)
[7:57] Enjoy The Silence (1990-07-11 Denver – Guitar Problems)
[7:02] I Feel You (1993-06-01 Rotterdam – Dave Has Text Problems)
[5:48] Clean (2001-08-19 Anaheim – Dave Has Text Problems)
[5:25] Lie To Me (1984-11-26 Florence – Sound Problems)
[5:39] Home (2006-02-15 Munich – Drum Problems)
[8:57] Shake The Disease (1990-10-15 Stuttgart – Tape Problems)
[6:07] Personal Jesus (2006-03-25 Douai – Guitar Problems)
[4:52] Behind The Wheel (2009-08-17 Hollywood – Dave Starts Too Early & Sound Problems)
[6:11] World In My Eyes (1994-05-20 Laguna Hills – Martin Sings The Wrong Backing Vocals)
[3:53] Ice Machine (1982-02-16 Exeter – Sound Problems)
CD10
[7:06] I Feel You (1994-05-21 San Bernardino – Drum Problems)
[4:08] Macro (2006-01-31 Geneva – Timing Problems)
[5:14] Everything Counts (1986-03-31 Brighton – Keyboard Problems)
[5:33] Waiting For The Night (2001-09-08 Hamburg – Martin Starts Too Early)
[2:16] It Doesn't Matter Two (1986-04-29 Hannover – False Start)
[4:36] Just Can't Get Enough (2006-02-01 Marseille – Keyboard Problems)
[5:44] Behind The Wheel (1993-07-22 Cologne – Dave Starts Too Early)
[5:05] Shake The Disease (1986-04-29 Hannover – Keyboard Problems)
[3:44] New Life (1982-03-26 Berlin – Tape Problems)
[4:08] Things You Said (1987-10-22 Madrid – Keyboard Problems)
[4:04] Leave In Silence (2006-02-23 Paris – Martin Has Text Problems)
[5:56] Home (1998-09-02 Tartu – Microphone Problems)
[5:04] Policy Of Truth (2006-01-29 Antwerp – Keyboard Problems)
[5:22] In Your Room (1998-09-02 Tartu – Timing Problems)
CD11
[6:03] Come Back (2010-02-17 London – Dave Starts Too Early)
[4:01] It's No Good (1997-04-10 London – Dave Starts Too Late)
[4:24] A Question Of Time (2006-06-23 Bucharest – Timing Problems)
[3:35] Judas (2009-08-29 Dallas – Timing Problems)
[2:35] It Doesn't Matter Two (2006-05-14 Holmdel – Martin Has Text Problems)
[5:05] Fly On The Windscreen (2009-07-06 Carcassonne – Keyboard Problems)
[10:02] I Feel You (2005-12-11 Universal City – Technical Problems)
[4:52] Policy Of Truth (2009-07-24 Toronto – Timing Problems)
[5:19] Stripped (2006-06-29 Arras – Timing Problems)
[4:26] Strangelove (2009-06-13 Munich – PA Problems)
[6:13] Never Let Me Down Again (2006-07-12 Berlin – Dave Starts Too Early)
[5:47] Home (2006-05-21 Washington DC – Guitar Problems)
[4:16] Master And Servant (2009-06-23 Budapest – Dave Doesn't Sing)