Genre/Influences: Industrial, IDM, industrial-rave, indus-tribal.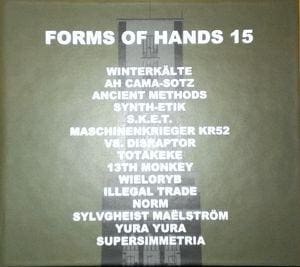 Bands: Winterkälte, Ah Cama-Sotz, S.K.E.T., Totakeke, 13TH Monkey, Wieloryb, Sylvgheist Maëlström, Supersimmetria ao.
Content: This is one of the 'industrial' compilations fans in the genre are eagerly awaiting and, which accompanies the now legendary label festival "Forms Of Hands".
This new edition features 14 bands the Hands freaks perfectly know. The exception to the rule is Ancient Methods, which previously never released any production on Hands. The industrial-trance style of this band however results in one of the strongest cuts of the sampler and matches with the modernism of the somewhat IDM & industrialism of Supersimmetria (one of the latest new sensation on Hands), the hard and merciless industrial-rave by Wieloryb and S.K.E.T. and the indus-acid treatments by 13TH Monkey. Last, but not least I also can add the electro/industrial minimalism of Sylvgheist Maëlström and Synth-Etik featuring a song, which didn't get featured on their newest album.
Several bands are featuring new songs and that's what makes this compilation even more interesting. Ah Cama-Sotz stands for the tribal-industrial side of the label and here again we get a new and cool cut.
In a harder and definitely 'purer' industrial way you'll get heavy exposures from bands like Norm, Totakeke, Yura Yura and the unavoidable sound terrorist of Maschinenkrieger KR52 Vs. Disraptor. Winterkälte reveals an intelligent approach of industrial music while the one and only sound anarchists of Illegal Trade (side-project Ambassador 21) remain a unique experience in sound.
Conclusion: The Hands troops remain one of the most murderous and terrific industrial killers of the scene. This new sampler confirms why Hands is one of the absolute leading labels in the genre!
Best bands: Wieloryb, Ancient Methods, Supersimmetria, S.K.E.T., Ah Cama-Sotz, Synth-Etik, 13TH Monkey, Totakeke.
Rate: (DP:9)DP.
Label: www.handsproductions.com / www.facebook.com/hands.official